Aaron Carter has a Star Named After Him
Modified: July 1, 2023     Author: International Star Registry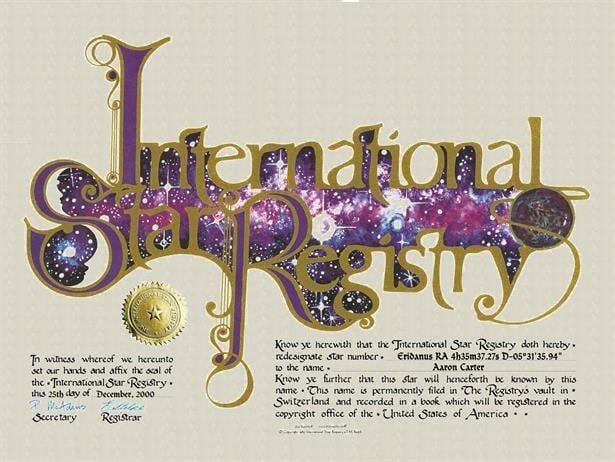 Aaron Charles Carter (December 7, 1987 – November 5, 2022) was a celebrated American singer and rapper who captivated audiences with his undeniable talent. Rising to prominence as a teen pop sensation in the late 1990s, Aaron Carter quickly became a star among preteen and teenage audiences during the early years of the 21st century. With four studio albums to his name, he left an indelible mark on the music industry. 
Aaron Carter's journey in the world of entertainment began at a tender age. At seven years old, he started performing following the formation of his brother Nick's group, the Backstreet Boys. In 1997, at the age of nine, Aaron released his self-titled debut album, which resonated with listeners worldwide and sold over a million copies. His second album, "Aaron's Party (Come Get It)" (2000), achieved immense success, selling three million copies in the United States alone. Following the album's release, Aaron began making guest appearances on Nickelodeon and embarked on tours with the Backstreet Boys. 
Continuing his musical triumph, Aaron Carter's third album, "Oh Aaron," achieved platinum status, solidifying his position as a beloved artist. In 2002, he released his fourth studio album, "Another Earthquake!," which was followed by the release of the "Most Requested Hits" collection in 2003. Aaron's impressive discography showcased his versatility as an artist and his ability to resonate with a wide range of listeners.   Beyond his music career, Aaron Carter ventured into other artistic endeavors. He showcased his dancing skills on the popular show "Dancing with the Stars" and demonstrated his acting abilities in Broadway musicals such as "Seussical" and the off-Broadway production "The Fantasticks." In addition, he made numerous one-off performances, leaving a lasting impression on his fans. 
Throughout his career, Aaron Carter's contributions to the music industry were widely recognized. In 2014, he released a single titled "Ooh Wee," featuring rapper Pat SoLo, which showcased his evolving sound. Carter continued to experiment with his music and released the single "Fool's Gold" in 2016, followed by the EP "Love" in 2017. His fifth studio album, also titled "Love," was released in 2018, showcasing his growth as an artist. Tragically, Aaron's sixth and final album, "Blacklisted," was released just two days after his untimely death due to an accidental drug-related incident. 
In addition to his remarkable accomplishments in the music industry, Aaron Carter received a special gift from the International Star Registry. A star was named in his honor on December 25, 2000, with the following details: 
Star Name: Aaron Carter  
Star Date: December 25, 2000  
Coordinates: Eridanus RA 4h 35m 37.27s D-05° 31′ 35.94″ 
The star is located within the constellation Eridanus. Eridanus is a prominent constellation in the southern sky, representing a river in Greek mythology. It is one of the largest constellations and contains several notable stars, including Achernar, which is the brightest star in the constellation. 
Astronomy, the study of celestial objects and phenomena, has fascinated humanity for centuries. It explores the vastness of the universe, delving into the intricacies of stars, galaxies, and cosmic phenomena. Observing the stars and constellations has been a significant part of human history, inspiring countless tales, scientific discoveries, and a sense of wonder about the universe we inhabit. 
The International Star Registry offers a unique and memorable gift for special occasions such as Christmas, birthdays, and anniversaries. By providing the opportunity to name a star, individuals can create a lasting tribute to their loved ones. The act of naming a star through the International Star Registry allows people to symbolize their affection and appreciation for someone special, making it an exceptional and heartfelt gift. 
In conclusion, Aaron Carter's life and career were marked by his undeniable talent, infectious energy, and lasting impact on the music industry. He charmed audiences worldwide with his music and made a lasting impression with his performances on stage and screen. Additionally, the International Star Registry bestowed him with a unique gift by naming a star in his honor. Aaron Carter will forever be remembered as an extraordinary artist whose music touched the hearts of millions. 
References:
[1] Aaron Carter – Wikipedia. Retrieved from: https://en.wikipedia.org/wiki/Aaron_Carter
[2] International Star Registry – Name a Star. Retrieved from: https://www.starregistry.com