Amy Adams has a Star Named
Modified: July 1, 2023     Author: International Star Registry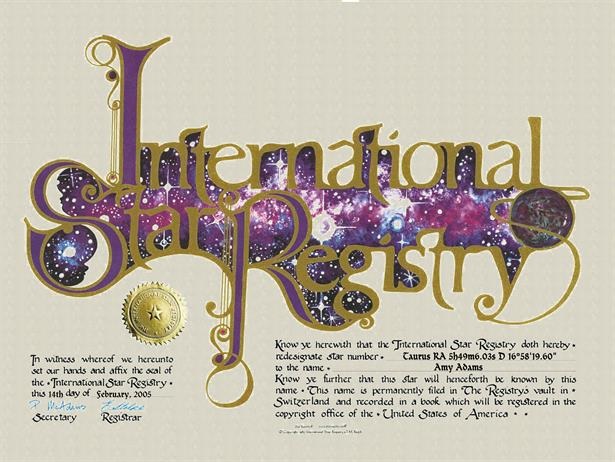 Amy Lou Adams, born on August 20, 1974, is an immensely talented American actress who has captivated audiences with her versatile performances in both comedic and dramatic roles. Over the years, Adams has consistently proven her talent, earning her a place in annual rankings of the world's highest-paid actresses on three occasions. With an impressive array of accolades, including two Golden Globe Awards and multiple Academy Award nominations, she has firmly established herself as one of the industry's most respected and accomplished actresses. 
Amy Adams embarked on her career as a dancer in dinner theater, dedicating herself to this pursuit from 1994 to 1998. Her journey into the world of acting began with a supporting role in the dark comedy film "Drop Dead Gorgeous" (1999). As she honed her craft, Adams made guest appearances on television and portrayed "mean girl" characters in low-budget films. However, her breakthrough came when she landed a significant role in Steven Spielberg's biographical crime film "Catch Me If You Can" (2002). Despite the exposure, she faced a year of unemployment before her fortunes changed. 
In 2005, Amy Adams rose to prominence with her portrayal of a loquacious pregnant woman in the independent comedy-drama "Junebug." This exceptional performance earned her the first of her Academy Award nominations and catapulted her into the spotlight. Building on this success, Adams captured the hearts of audiences worldwide with her enchanting performance as a cheerful princess-to-be in the musical fantasy film "Enchanted" (2007). The film marked her first major success as a leading lady, showcasing her ability to portray naïve and optimistic characters. 
Adams continued to impress critics and viewers alike with her diverse range, taking on more assertive roles in subsequent films. Her performances in the drama "Doubt" (2008), the sports film "The Fighter" (2010), and the psychological drama "The Master" (2012) received widespread acclaim. From 2013 to 2017, she portrayed the iconic character Lois Lane in superhero films set in the DC Extended Universe. During this time, Adams won consecutive Golden Globe Awards for Best Actress, earning recognition for her captivating performances as a seductive con artist in the crime film "American Hustle" (2013) and as the painter Margaret Keane in the biographical film "Big Eyes" (2014). She further showcased her versatility with her role as a linguist in the science fiction film "Arrival" (2016), as a self-harming reporter in the HBO miniseries "Sharp Objects" (2018), and as Lynne Cheney in the political satire "Vice" (2018). 
In addition to her accomplishments on the silver screen, Amy Adams has also made a mark in the world of stage acting. She starred in the Public Theater's revival of "Into the Woods" in 2012 and showcased her talents in the West End theatre revival of "The Glass Menagerie" in 2022. Her remarkable contributions to the entertainment industry have earned her widespread recognition, including a spot on Time magazine's list of the 100 most influential people in the world in 2014. Additionally, she has been featured in the esteemed Forbes Celebrity 100 list, further cementing her status as an influential figure in the industry. 
Amy Adams' achievements have not gone unnoticed by her admirers, and one fan even chose to honor her with a unique gift from the International Star Registry. This special gesture involved the recordation of a star name in her honor. On February 14, 2005, a star named "Amy Adams" was officially recorded with the International Star Registry. The star is located in the constellation Taurus at the following coordinates: Right Ascension (RA) 5h 49m 6.03s and Declination (D) 16° 58′ 19.60″. Taurus, known as "The Bull," is one of the oldest recognized constellations, dating back to ancient times. It is visible in the northern hemisphere during winter months and is associated with various mythological stories and astronomical phenomena. 
Astrology, a belief system that interprets celestial events and their influence on human behavior and personality, has fascinated humanity for centuries. Many individuals find a deep connection with their zodiac signs and constellations. Taurus, symbolized by the bull, is associated with traits such as determination, sensuality, and loyalty. People born under this sign are often known for their persistence, reliability, and strong-willed nature. Understanding the significance of the constellations adds an extra layer of wonder and fascination to our world. 
The International Star Registry provides a unique and heartfelt gift for special occasions such as weddings, holidays, and birthdays. Their services allow individuals to name a star and have it officially recorded, providing a lasting symbol of love, celebration, and remembrance. When you buy a star package from the International Star Registry, you have the opportunity to bestow a personalized and meaningful gift upon someone special in your life. By naming a star after them, you offer a truly memorable and enduring gesture that will forever be associated with their unique identity and the wonder of the cosmos. 
In conclusion, Amy Adams has undoubtedly left an indelible mark on the world of entertainment through her exceptional talent, versatility, and captivating performances. With numerous accolades and a diverse body of work, she continues to inspire and entertain audiences globally. From her early beginnings in dinner theater to her breakthrough role in "Junebug" and subsequent success in films like "Enchanted," "American Hustle," and "Arrival," Adams has consistently proven herself as one of the most talented actresses of her generation. Furthermore, her star, recorded in her honor by the International Star Registry, serves as a lasting testament to her enduring legacy and the impact she has made on countless lives. By recording a star name through the International Star Registry, individuals can create a timeless gift that embodies the majesty of the cosmos and celebrates the unique essence of their loved ones. 
References: