Alan Alda Has a Star Named after Him
Modified: July 1, 2023     Author: International Star Registry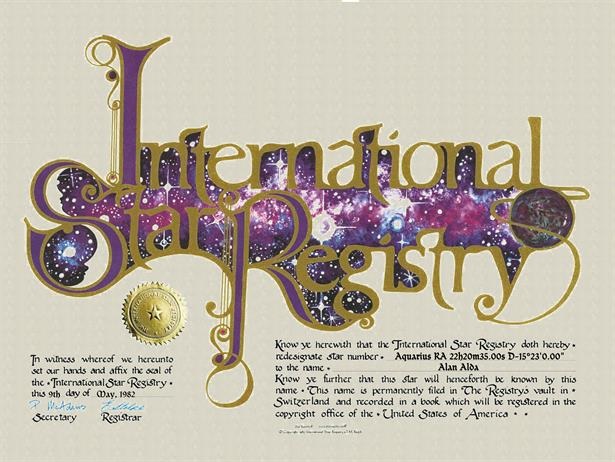 Alan Alda, born Alphonso Joseph D'Abruzzo on January 28, 1936, is a multi-talented American actor, comedian, screenwriter, and director. With a remarkable career spanning over several decades, Alda has left an indelible mark on the entertainment industry. Renowned for his versatility and captivating performances, he has earned numerous accolades, including six Emmy Awards, a Golden Globe Award, and three Tony Award nominations.  Alda's most iconic role came in the CBS wartime sitcom MASH, where he portrayed the beloved character Captain Benjamin Franklin "Hawkeye" Pierce from 1972 to 1983. Not only did he exhibit his acting prowess, but he also contributed his creative talents by writing and directing numerous episodes of the series. The endearing and irreverent nature of Hawkeye endeared him to audiences worldwide, solidifying Alda's status as a television legend.  Beyond the small screen, Alda's talent extended to the silver screen. He delivered compelling performances in films such as "Same Time, Next Year" (1978), "California Suite" (1978), and "The Seduction of Joe Tynan" (1979). In 1981, Alda made his directorial film debut with "The Four Seasons." He further showcased his acting abilities in Martin Scorsese's "The Aviator" (2004), earning him an Academy Award nomination for Best Supporting Actor. Throughout his career, Alda has exhibited a remarkable range, captivating audiences with his appearances in notable films including "Crimes and Misdemeanors" (1989), "Manhattan Murder Mystery" (1993), "Everyone Says I Love You" (1996), "Flirting with Disaster" (1996), "Tower Heist" (2011), "Bridge of Spies" (2015), and "Marriage Story" (2019). 
Not only has Alda thrived on the small and silver screens, but he has also made notable contributions to the world of theater. He has received three Tony Award nominations for his Broadway performances in "The Apple Tree" (1967), "Jake's Women" (1992), and "Glengarry Glen Ross" (2005). His exceptional talent has been recognized beyond acting as well, with a Grammy Award nomination for Best Audio Book, Narration & Storytelling Recording in 2008 for "Things I Overheard While Talking to Myself."  Alda's television accomplishments extend beyond his work on MAS*H. He won the Primetime Emmy Award for Outstanding Supporting Actor in a Drama Series for his portrayal of Senator Arnold Vinick in the acclaimed NBC series "The West Wing." He received further Emmy nominations for his performances in "And the Band Played On" (1993), "ER" (2000), "30 Rock" (2009), and "The Blacklist" (2015). Alda has also made recurring appearances in notable television series such as "The Big C" (2011–2013), "Horace and Pete" (2016), "Ray Donovan" (2018–2020), and "The Good Fight" (2018–2019), showcasing his versatility across various genres.  Beyond his contributions to the entertainment industry, Alda has made significant strides in other domains. He has hosted the podcast "Clear+Vivid with Alan Alda" and previously hosted "Science Clear + Vivid." These platforms have allowed him to engage with experts from various fields, fostering insightful conversations and promoting scientific literacy. 
One notable aspect of Alda's life is the special honor bestowed upon him by the International Star Registry. As a gift, someone named a star after him, commemorating the occasion on May 09, 1982. The star, aptly named "Alan Alda," is situated in the constellation Aquarius at the coordinates Aquarius RA 22h 20m 35.00s D-15° 23′ 0.00″. Aquarius is one of the zodiac constellations and is associated with the water bearer from Greek mythology. This constellation holds a rich astronomical history and is home to various notable celestial objects.  Astrology, the study of celestial bodies and their influence on human affairs and personality traits, has fascinated humanity for centuries. While some view astrology as a guiding force, it is important to recognize it as a subject of personal belief and interpretation. People find joy and meaning in exploring the zodiac signs and their corresponding characteristics, drawing connections to their own lives. 
International Star Registry offers a unique and memorable gift for special occasions. Their services allow individuals to name a star, providing a lasting tribute that can be cherished for a lifetime. Whether it's for memorials, anniversaries, or Father's Day, a star package from the International Star Registry can create a touching and meaningful gesture. The ability to buy a star package ensures that the gift recipient receives a tangible representation of a celestial body, personalized with their chosen name.  In conclusion, Alan Alda's life and career exemplify excellence and versatility in the entertainment industry. From his iconic role in MASH to his captivating performances on the big screen, he has consistently delighted audiences with his talent and dedication. Beyond acting, Alda's contributions to theater, podcasting, and science communication further highlight his passion for diverse forms of expression. The recognition bestowed upon him by the International Star Registry serves as a testament to his enduring legacy. Alan Alda's star will forever shine brightly in the constellation of Aquarius, a symbol of his remarkable contributions to the world of entertainment. 
References: