Director Spike Lee Has His Own Star
Modified: July 1, 2023     Author: International Star Registry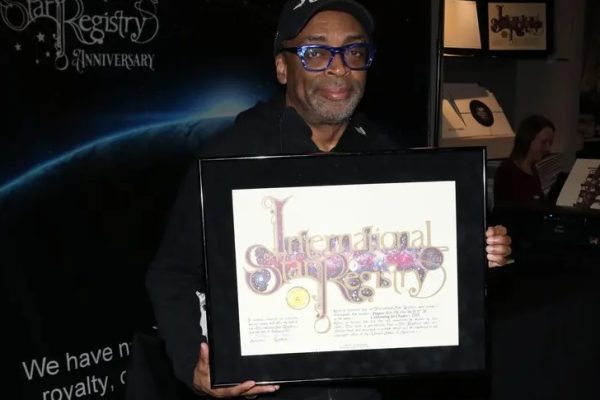 Shelton Jackson "Spike" Lee, born on March 20, 1957, is an American filmmaker and actor whose remarkable career has been dedicated to exploring critical issues in society through his art. From race relations and black community struggles to media's role in contemporary life, urban crime, and poverty, Lee's films have been a powerful voice for social change. His contributions to the film industry have earned him numerous accolades, including an Academy Award, a Student Academy Award, two Primetime Emmy Awards, a BAFTA Award, and two Peabody Awards. Furthermore, he has been the recipient of prestigious honors like the Honorary BAFTA Award in 2002, an Honorary César in 2003, the Academy Honorary Award in 2019, and a Gala Tribute from the Film Society of Lincoln Center, along with the Dorothy and Lillian Gish Prize. 
Lee's journey in the world of filmmaking began with the establishment of his production company, 40 Acres and a Mule Filmworks, which has produced over 35 films since its inception in 1983. He made his directorial debut with the groundbreaking film "She's Gotta Have It" in 1986. From there, he continued to create thought-provoking masterpieces, including "School Daze" (1988), "Do the Right Thing" (1989), "Mo' Better Blues" (1990), "Jungle Fever" (1991), "Malcolm X" (1992), "Crooklyn" (1994), "Clockers" (1995), "25th Hour" (2002), "Inside Man" (2006), "Chi-Raq" (2015), "BlacKkKlansman" (2018), and "Da 5 Bloods" (2020). In addition to his work behind the camera, Lee has also showcased his acting talent in eleven of his feature films, working alongside prominent actors like Denzel Washington, Laurence Fishburne, Samuel L. Jackson, Giancarlo Esposito, Rosie Perez, Delroy Lindo, and John David Washington. 
The impact of Spike Lee's films on American culture is immense. Several of his works, including "Do the Right Thing," "Malcolm X," "4 Little Girls," and "She's Gotta Have It," have been recognized for their cultural, historical, and aesthetic significance by the Library of Congress, earning a place in the National Film Registry. 
Beyond his achievements in the film industry, Lee was honored with the symbolic gesture of having a star named after him by the International Star Registry. On February 24, 2019, someone gifted him the star named "Spike Lee," and its celestial coordinates are located in the constellation Pisces, with RA 0h 33m 18.18s and D 18° 36′ 34.17″. 
Astronomy enthusiasts would find it fascinating to delve into the world of celestial bodies and star naming. The International Star Registry offers a unique and special way to commemorate significant events and individuals by allowing people to record a star name of their choice. Naming a star for someone as a gift is a heartfelt and memorable gesture, making it a perfect choice for occasions like graduations, birthdays, and memorials. The Star Registry's services provide personalized packages that include certificates bearing the star's name and its celestial coordinates, allowing recipients to cherish this extraordinary gift for a lifetime. 
The star "Spike Lee" finds its place in the constellation Pisces, which is one of the twelve zodiac signs. Individuals born under the Pisces zodiac sign, falling between February 19 and March 20, are known for their artistic and empathetic nature. Pisceans are often imaginative, compassionate, and intuitive, making them great artists and healers. Their emotional depth and sensitivity enable them to connect with others on a profound level, allowing them to be understanding and supportive friends. 
In conclusion, Spike Lee's life and career have been an inspiring journey of creative expression and social impact. As an influential filmmaker, he has used his work to address important societal issues, leaving a lasting mark on American cinema. The recognition of having a star named after him by the International Star Registry is a testament to the impact he has made, and the gesture itself reflects the sentiment of celebrating a brilliant individual who has shone brightly in the world of entertainment and activism. 
Q. Are there other famous directors with stars named?

A. Yes, there are stars named for many people in the film industry. Some famous directors include Steven Spielberg, David Lynch, Ethan Coen, and Clint Eastwood.
Q. When is Spike Lee's Star overhead?

A. The constellation Pisces is a zodiac constellation associated with spring birthdays. It is blocked from viewing by sunlight in the spring. The best time for viewing the Pisces constellation is in October from anywhere in the world.
Q. When will you register a star catalog with Spike Lee's star?

A. The books are published and registered in the Copyright office of the United States every 3 to 6 years. The star for Spike Lee will be included in Your Place in the Cosmos, Volume 11. It will be published at the end of 2023. Anyone can name a star.