Joan Rivers - The Comedy Legend Has a Star Named
Modified: July 1, 2023     Author: International Star Registry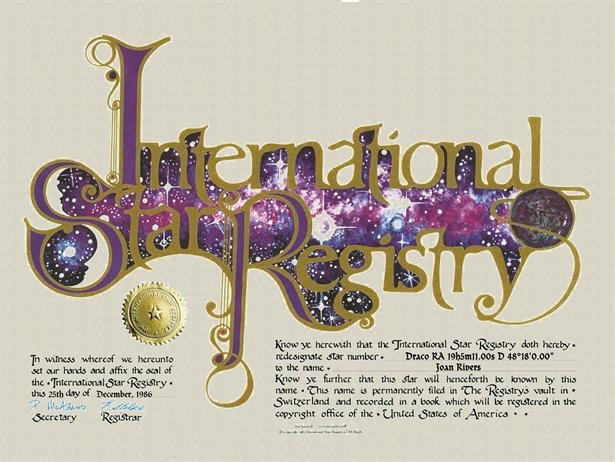 Joan Rivers, a comedic icon whose sharp wit and fearless humor made her an unforgettable presence in the entertainment industry. Joan Rivers, born on June 8, 1933, in Brooklyn, New York, captivated audiences for decades with her quick comebacks, biting commentary, and relentless dedication to her craft.   Joan Rivers' comedic career began in the 1960s when she broke through the male-dominated comedy scene, challenging societal norms with her daring and irreverent style. Her razor-sharp tongue and fearless approach to taboo subjects made her a trailblazer in the field of comedy, paving the way for future generations of female comedians. Her attitude and charm is reflected in in the star named after her in the Draco constellation through International Star Registry.
Rivers' talent extended beyond the stage as she became a successful television host, actress, and bestselling author. She was a familiar face on late-night talk shows and a red-carpet fixture, known for her hilarious and often controversial fashion commentary. Her wit and charm made her a beloved figure, and she will be remembered for her groundbreaking contributions to the world of comedy.   In 1986, Joan Rivers received the gift of a star from International Star Registry. The star, named Joan Rivers, is located in the constellation Draco. Draco, a constellation rich in astronomical and astrological significance, represents a mythical dragon and is associated with strength and wisdom. She is joined in Draco by others, such as, James Gandolfini, Jewel, Jim Edgar, Joshua JC Chasez, Mick Jagger, Patrick Warburton, Sopranos.
International Star Registry provides the opportunity to record a star name in honor of a loved one, creating a lasting memorial in the vastness of the night sky. By purchasing a star package from the International Star Registry, individuals can commemorate their loved ones' legacies, celebrate their lives, and offer condolences in a truly unique way.   In the case that your loved one has been cremated, naming a star in their honor would be a fitting tribute. Just as stars shine brightly in the heavens, this memorial gift serves as a symbol of the enduring impact an individual has had on the world. It is a heartfelt gesture that allows loved ones to find solace in the beauty of the universe while honoring the memory of someone special.  International Star Registry offers a range of options to name a star and customize a memorial package, including certificates, celestial coordinates, and other commemorative items. By choosing this thoughtful and extraordinary memorial gift idea, friends and family can find comfort in the stars and cherish the memories of their loved ones forever. 
In conclusion, International Star Registry provides a unique and meaningful way to commemorate the life of all those who have passed away. Through their star-naming services, International Star Registry allows individuals to create a lasting tribute, expressing condolences and preserving memories in the vastness of the night sky. It is a gift that shines brightly as a symbol of remembrance and offers solace during times of bereavement.  We extend our deepest condolences to the family, friends, and fans of Joan Rivers. Her legacy will continue to inspire and bring laughter to generations to come. May her star shine eternally. 
References: