Governor Stephen Merrill has a Star Named
Modified: July 1, 2023     Author: International Star Registry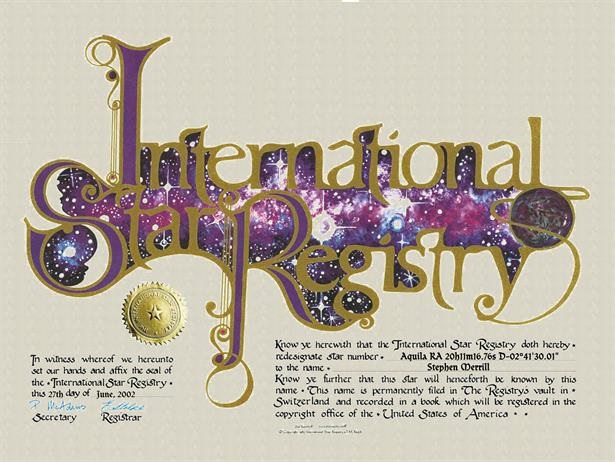 Governor Stephen Merrill will always be remembered as a dedicated public servant, accomplished lawyer, and influential Republican politician. Born on June 21, 1946, in Manchester, New Hampshire, Merrill's life was marked by a profound commitment to his community and state. Throughout his career, he made significant contributions to the political landscape of New Hampshire, leaving a lasting impact on its governance and policies. Beyond his political achievements, Merrill's legacy also includes a special connection to the vast expanse of the night sky, as his name was immortalized through the "record a star name" service offered by the International Star Registry. 
Stephen Merrill's journey into public service began after he earned his law degree from Georgetown University Law Center in 1971. Armed with a passion for justice and a deep understanding of the law, he embarked on a successful legal career, practicing law in both the private and public sectors. Merrill's legal expertise eventually led him to serve as the New Hampshire Attorney General from 1984 to 1989, where he displayed his unwavering commitment to upholding the principles of justice and fairness. 
In 1992, Stephen Merrill's exemplary record and extensive experience paved the way for him to assume the prestigious role of the 77th Governor of New Hampshire. Throughout his four-year tenure, Merrill demonstrated exceptional leadership and vision, focusing on economic development, education reform, and environmental conservation. Under his administration, New Hampshire experienced remarkable progress in these areas, solidifying its reputation as a state committed to growth, innovation, and sustainability.
While Governor Merrill's accomplishments were numerous, one particularly memorable event stands out among the rest—a unique gift that commemorated his name in the celestial realm. On June 27, 2002, someone honored Governor Merrill by naming a star after him, as a heartfelt present from the International Star Registry. This special star, known as "Stephen Merrill," holds its place in the Aquila constellation, precisely located at RA 20h 11m 16.76s and D-02° 41′ 30.01″. The Aquila constellation, often referred to as the Eagle, is a captivating part of the night sky that has fascinated astronomers and stargazers for centuries. He shares this space with other prominent people in American culture such as, Joseph Fatone, Justin Timberlake, Liev Schreiber, Olivia DAbo, and Pete Wilson.
The International Star Registry is renowned for its ability to capture cherished moments and individuals in the cosmos. Offering the opportunity to "name a star," they provide a distinctive and enduring gift that holds a special place in the hearts of recipients. Whether it's a Christmas present, a christening gift, or a memorial tribute, the act of buying a star package from the International Star Registry conveys deep sentiment and meaning. The loss of a loved one, such as a father, can be incredibly challenging, and presenting a star named in their honor offers solace and comfort. Similarly, when searching for sympathy gifts to console a friend in times of grief, the International Star Registry offers a unique and thoughtful option. 
In conclusion, Governor Stephen Merrill's life and career were marked by unwavering dedication, remarkable achievements, and an enduring connection to the cosmos. His contributions to the state of New Hampshire as a lawyer and politician remain a testament to his commitment to public service. The naming of a star after him by the International Star Registry serves as a symbolic representation of his enduring legacy and impact on the world. Through the act of "naming a star," the International Star Registry provides a profound and everlasting way to celebrate cherished individuals, making it a perfect gift for a variety of occasions. 
References: