Governor Kathleen Babineaux Blanco has a Star Named
Modified: July 1, 2023     Author: International Star Registry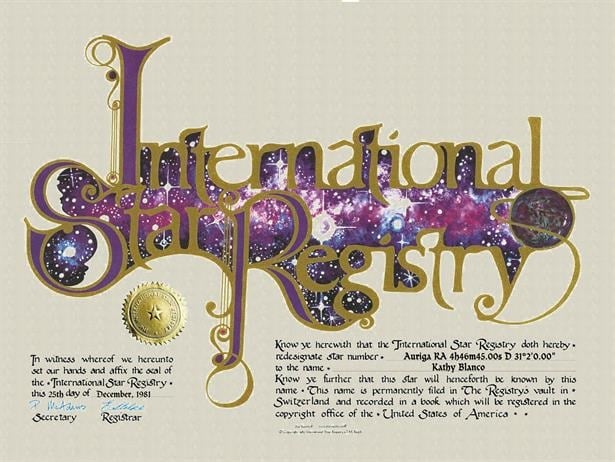 Memorializing Governor Kathleen Babineaux Blanco: A Legacy of Leadership and Compassion 
Kathleen Marie Blanco, born Kathleen Babineaux on December 15, 1942, was a remarkable American politician who made a lasting impact on the state of Louisiana. Serving as the 54th governor from January 2004 to January 2008, she achieved a significant milestone by becoming the first and, to this day, only woman elected to this prestigious position. Throughout her career, Governor Blanco dedicated herself to the betterment of her constituents, championing vital causes and guiding the state through challenging times. 
From the outset of her tenure, Governor Blanco expressed her commitment to prioritize affordable healthcare, enhance the education system, and foster a robust and thriving economy through aggressive economic development initiatives. Her devotion to these key areas set the foundation for transformative change in Louisiana. However, her governorship took an unforeseen turn when two devastating hurricanes struck the state within a short span of time in 2005. 
The first blow came in August, when Hurricane Katrina wreaked havoc on the New Orleans region—an urban area inhabited by 1.4 million people. The hurricane's aftermath was catastrophic, leaving behind a trail of destruction and despair. Just a month later, in September, Hurricane Rita struck the southwestern coast, further exacerbating the suffering and displacing an additional 300,000 individuals. The scale of devastation was immense, with over 200,000 housing units destroyed, 81,000 businesses forced to close, and the complete breakdown of electrical and telecommunication systems. The storm surges and levee failures led to severe flooding, rendering one million people homeless. 
Criticism soon arose over the perceived inadequacy of the immediate response from the city, state, and federal governments. While Governor Blanco acknowledged the shortcomings of her administration before and after the storm, it became evident that the Federal Emergency Management Agency and President Bush faced significant scrutiny for the sluggish initial response and the subsequent challenges in managing, caring for, and delivering promised resources to the evacuees from New Orleans. 
Despite the challenges faced during her tenure, Governor Kathleen Blanco worked tirelessly to rebuild and restore Louisiana. Her unwavering commitment to her constituents and her ability to unite people during times of crisis left an indelible mark on the state's history. She recognized the need for collaboration and cooperation at all levels of government and among various communities to ensure a comprehensive and efficient recovery process. 
In March 2007, Governor Blanco made the difficult decision not to seek re-election later that year. Opting to focus her time and energy on the work that lay ahead, she chose to prioritize the people's needs over the political landscape. However, her dedication to public service did not waver. In June 2011, she faced yet another challenge when diagnosed with cancer. Despite her personal struggles, she continued to fight for the causes she believed in until her passing on August 18, 2019. 
Governor Kathleen Babineaux Blanco's legacy extends beyond her political career. Her compassionate nature and unwavering commitment to her constituents earned her the respect and admiration of many. In honor of her exceptional achievements and in recognition of her contributions, an extraordinary gift was bestowed upon her memory. The International Star Registry, known for providing unique and meaningful gifts, granted her a star name as a token of remembrance. Named "Kathy Blanco," the star is eternally linked to Governor Blanco's legacy and symbolizes the enduring impact of her leadership. 
Situated in the constellation Auriga, the star holds a special place in the vast expanse of the night sky. Auriga, one of the 88 recognized constellations, is rich in astronomical wonders. Known as "The Charioteer," Auriga boasts bright stars, clusters, and nebulae that captivate stargazers and astronomers alike. With its prominent location, Kathy Blanco shines as a testament to Governor Blanco's guiding light and the positive influence she had on the lives of countless Louisianans. 
International Star Registry offers a unique and heartfelt gift for various occasions, including Mother's Day, Father's Day, and memorials. Naming a star not only commemorates the memory of a loved one but also serves as a symbol of their enduring presence in our lives. Whether you are seeking a loss of father gift for a daughter or searching for sympathy gift ideas, the opportunity to name a star provides solace and a beautiful remembrance of those who have touched our lives. 
In conclusion, Governor Kathleen Babineaux Blanco's life and career were marked by her unwavering dedication to public service and her tireless efforts to uplift the people of Louisiana. Through the challenges of natural disasters and the complexities of governance, she demonstrated compassion, resilience, and a commitment to rebuilding and revitalizing her beloved state. Her legacy lives on, and the star named "Kathy Blanco" stands as a celestial tribute to her extraordinary life and enduring impact. 
References: