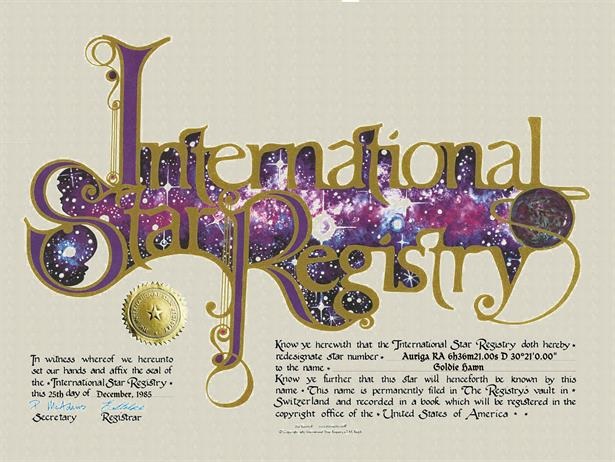 On November 21, 2023,  we have the privilege of celebrating the 78th birthday of the beloved actress, Goldie Hawn. Known for her infectious laughter and incredible talent, Goldie Hawn has been a cherished figure in Hollywood for decades. What makes this birthday celebration even more special is the fact that she has a star named after her through International Star Registry (ISR)—a heartwarming 78th birthday gift idea. In this blog post, we'll dive into Goldie Hawn's illustrious career and explore the touching gesture of naming a star after someone.
A Star-Studded Tribute
Goldie Hawn's career in the entertainment industry has been nothing short of extraordinary. As we celebrate her 78th birthday, we also pay tribute to the celestial honor she has received through International Star Registry.
Career Highlights
Early Success: Goldie Hawn's journey in Hollywood began with a breakout role in the 1960s sketch comedy show "Rowan & Martin's Laugh-In." Her infectious personality and comedic timing quickly made her a fan favorite.

Iconic Films: Goldie Hawn has graced the silver screen in numerous iconic films, including "Cactus Flower," which earned her an Academy Award for Best Supporting Actress, and "Private Benjamin," for which she received an Academy Award nomination. Her endearing performances captured the hearts of audiences worldwide.

Comedic Talent: Goldie's comedic chops have made her a standout in Hollywood. Her roles in comedies like "Overboard" and "The First Wives Club" solidified her status as a queen of comedy.

Philanthropic Efforts: Beyond her acting career, Goldie Hawn is known for her philanthropic work. She founded the Hawn Foundation, which focuses on promoting mindfulness and social-emotional learning in schools to help children thrive.
Now, let's explore the touching gesture of naming a star after someone, inspired by Goldie Hawn's celestial tribute, as a heartfelt 78th birthday gift idea:
Visit Starregistry.com: go to the official International Star Registry (ISR) website, which has been dedicated to naming stars for special occasions since 1979.

Find the Perfect Constellation: Browse the constellation list to discover the one that holds special meaning for the person you're honoring.

Customize Your Package: ISR offers customizable packages that typically include a star certificate, star map, and additional keepsakes. Personalize the certificate with the recipient's name and special date.

Complete the Order: Provide the necessary information, including the recipient's name and additional "add-ons", to finalize the star naming process.

Receive the Star Kit: Once your order is confirmed, you'll receive a star kit containing all the documents and materials associated with the chosen star.
Conclusion
As Goldie Hawn celebrates her 78th birthday, we not only celebrate her incredible career but also the star that bears her name through International Star Registry. This unique and heartwarming gesture of naming a star after someone serves as a reminder of the profound connection between the universe and the people we hold dear. Goldie Hawn's star will continue to shine brightly in the night sky, much like her enduring legacy in the world of entertainment. If you're searching for a truly special 78th birthday gift idea for a loved one, consider naming a star after them—a celestial tribute that will last for eternity. Happy 78th birthday, Goldie Hawn, and thank you for the gift of your talent and inspiration!