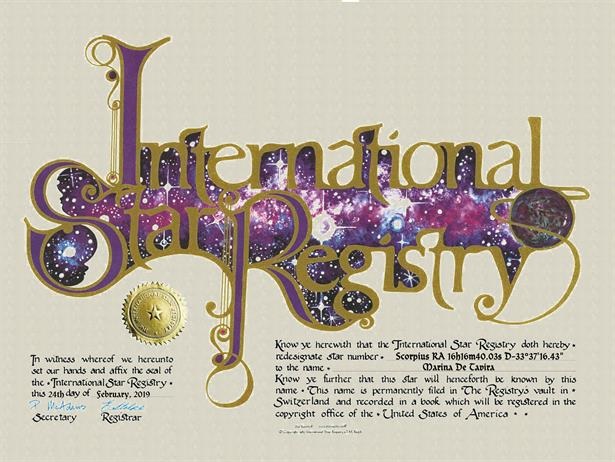 On November 21, 2023, we have the pleasure of celebrating the 49th birthday of the talented actress, Marina de Tavira. Known for her remarkable performances on screen and stage, Marina has graced the world with her immense talent and charm. She also has a star named after her through International Star Registry (ISR)— it's a celestial and heartwarming 49th birthday gift idea. In this blog post, we'll delve into Marina de Tavira's illustrious career and explore the captivating idea of buying a star in the sky to honor a loved one.
A Stellar Tribute
Marina de Tavira's career in the world of entertainment has been nothing short of exceptional. As we celebrate her 49th birthday, we also pay homage to the celestial honor she has received through International Star Registry.
Career Highlights
"Roma": Marina de Tavira's breakthrough came with her stunning performance in the critically acclaimed film "Roma" by director Alfonso Cuarón. Her portrayal of Sofia, the complex matriarch of the family at the center of the story, earned her widespread recognition and acclaim.

Theater and Stage: Marina's talent extends beyond the silver screen. She has a rich history in the theater, with notable performances in Mexico and internationally. Her stage presence and versatility as an actress have left audiences captivated.

Award Recognition: Marina's talent has not gone unnoticed by the industry. Her role in "Roma" earned her nominations for prestigious awards, including an Academy Award nomination for Best Supporting Actress.

Advocacy: Beyond her acting career, Marina de Tavira is an advocate for various social causes, including gender equality and human rights. Her commitment to making the world a better place shines as brightly as her talent.
Buy a Star in the Sky
Now, let's explore the captivating concept of buying a star in the sky, inspired by Marina de Tavira's celestial tribute, as a thoughtful 49th birthday gift idea:
Visit starregistry.com: Start by going to the official International Star Registry (ISR) website, which has been naming stars for special occasions since 1979.

Choose the Perfect Constellation: Explore the constellations to find a one that holds special meaning for the person you're honoring.

Personalize Your Package: We offer customizable packages that typically include a star certificate, star map, and additional "add-ons". Personalize the certificate with the recipient's name and special occasion date.

Receive the Star Kit: Once your order is confirmed, you'll receive a star kit containing all the documents and materials associated with the chosen star.
Conclusion
As Marina de Tavira celebrates her 49th birthday, we not only honor her incredible career but also the star that bears her name through International Star Registry. This unique and celestial tribute serves as a reminder of the profound connection between the universe and the people we hold dear. Marina de Tavira's star will continue to shine brightly in the night sky, much like her enduring legacy in the world of entertainment. If you're seeking a truly special 49th birthday gift idea for a loved one, consider the enchanting gesture of buying a star in the sky—a celestial tribute that will stand the test of time. Happy 49th birthday, Marina de Tavira, and thank you for sharing your talent and inspiration with the world!