Governor Peter Barton Wilson: A Named Star in Aquila | International Star Registry
Modified: July 1, 2023     Author: International Star Registry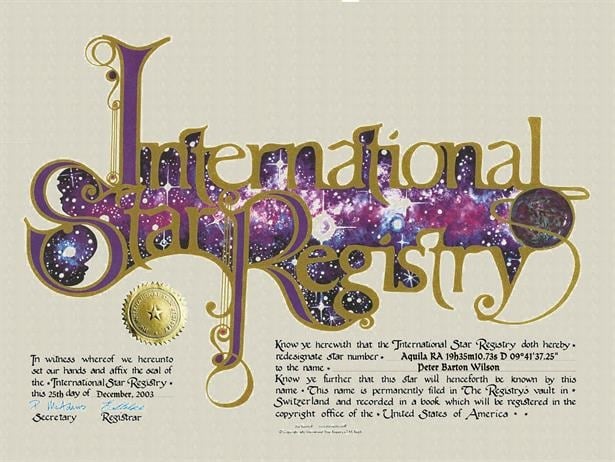 Peter Barton Wilson was the 36th governor of California, serving from 1991 to 1999. Born on August 23, 1933, in Lake Forest, Illinois, Wilson had a long and successful career in public service, including serving as a United States Senator from California from 1983 to 1991. 
Wilson attended Yale University, where he earned his undergraduate degree in 1955, and then served in the United States Marine Corps from 1955 to 1958. He later earned a law degree from the University of California, Berkeley in 1962 and began his political career as a member of the California State Assembly in 1967. 
As governor of California, Wilson was known for his conservative policies and tough stance on crime. He worked to overhaul the state's welfare system and signed a bill that required mandatory minimum sentences for certain crimes. He also supported Proposition 187, a controversial ballot initiative that sought to deny public services to undocumented immigrants.  During his time as governor, Wilson lived in the Governor's Mansion, which is located at 1526 H Street in Sacramento, California. The mansion, which was built in 1877, has served as the residence of the governor since 1903. Today, the mansion is open for tours and serves as a venue for official state events. 
In 2003, Wilson received a unique gift from International Star Registry – a star named in his honor. The star, located in the constellation Aquila, was officially recorded as "Peter Barton Wilson" on December 25, 2003. The coordinates of the star are Aquila RA 19h 35m 10.73s D 09° 41′ 37.25″. 
Aquila is a constellation in the northern hemisphere that is best viewed in the summer months. It is located near the celestial equator and is bordered by the constellations Hercules, Ophiuchus, Sagittarius, Scutum, and Serpens. In both astronomy and astrology, Aquila is associated with the eagle, a symbol of strength and freedom. 
In conclusion, Peter Barton Wilson was a successful politician and public servant who served as the governor of California from 1991 to 1999. He lived in the historic Governor's Mansion during his tenure as governor and received a special gift from International Star Registry – a star named after him. International Star Registry is a unique and memorable gift that can be used for any occasion, and their star-naming packages are a thoughtful way to commemorate a special person or event. 
References: 
FAQ
Q. What is International Star Registry?
A. International Star Registry is a company that allows individuals to name a star after themselves or a loved one as a unique and thoughtful gift. Customers can buy a star package that includes an official certificate, a star chart, and other commemorative items. The company has been in operation since 1979 and has named over three million stars to date.
Q. Where is Governor Wilson's star located?
A. Governor Wilson's star is located in the Aquila constellation. Aquila represents the Eagle.