John Anthony Volpe: A Named Star in Taurus | International Star Registry
Modified: July 1, 2023     Author: International Star Registry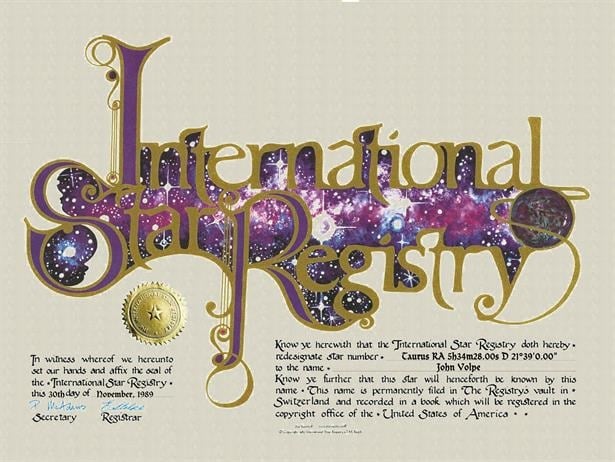 John Anthony Volpe was the 61st governor of Massachusetts, serving two non-consecutive terms from 1961 to 1963 and 1965 to 1969. Born on December 8, 1908, in Wakefield, Massachusetts, he grew up in a family of Italian immigrants who owned a farm. He graduated from Wentworth Institute of Technology and started his own construction business before entering politics. 
During his tenure as governor, Volpe focused on improving the state's infrastructure, including the construction of highways and schools. He also established the Massachusetts Port Authority and expanded the state's tourism industry. In addition, he served as the Secretary of Transportation under Presidents Richard Nixon and Gerald Ford. 
One of the more unique gifts that Volpe received during his lifetime was a star named after him. In 1989, the International Star Registry recorded a star in his name as a gift. The star was officially named "John Volpe," and its coordinates are Taurus RA 5h 34m 28.00s D 21° 39′ 0.00″. Taurus is one of the 12 zodiac constellations and is known for its bright stars and fascinating history. It is one of the oldest constellations known to man and has been recognized by many cultures throughout history. The constellation is home to many notable stars, including Aldebaran, the brightest star in the constellation, and the Pleiades star cluster. Taurus is also associated with the Earth element in astrology and is said to represent strength, stability, and determination. 
If you are interested in giving a unique and unforgettable gift, then International Star Registry is the place to go. You can name a star after a loved one or yourself and have it recorded for posterity. You can even buy a star package, which includes a certificate of record, a star chart, and other extras. 
FAQ
Q. What can I choose to name my star?
A. If you're interested in naming a star after someone special in your life, the International Star Registry offers a variety of "buy a star" packages that include a personalized star certificate and sky chart, as well as the coordinates and information about the star's location. You can choose from a variety of constellation options and even add a personal message to your star certificate.
Q. Where is Governor Volpe's star located?
A. Governor Volpe's star is located in the Taurus constellation. Taurus represents the bull and is one of the twelve zodiac signs.
In conclusion, John Anthony Volpe was a dedicated public servant and successful businessman who made significant contributions to the state of Massachusetts. His legacy includes the infrastructure improvements and expanded tourism industry that he helped to create. The fact that he had a star named after him is a testament to his impact and serves as a reminder of the unique and meaningful gifts that can be found through International Star Registry. Whether you're looking for a birthday gift, anniversary present, or something special for a loved one, naming a star is a gift that will last a lifetime. 
References: 
"John A. Volpe, 61st Governor of Massachusetts," Mass.gov, accessed April 7, 2023,

https://www.mass.gov

 

"Taurus Constellation: Facts, Myth, Story, Stars, Deep Sky Objects," Constellation Guide, accessed April 7, 2023,

https://www.constellation-guide.com/taurus-constellation/

 

"Buy a Star Package," International Star Registry, accessed April 7, 2023,

https://www.starregistry.com