Jim Guy Tucker: A Named Star in Columba | International Star Registry
Modified: July 1, 2023     Author: International Star Registry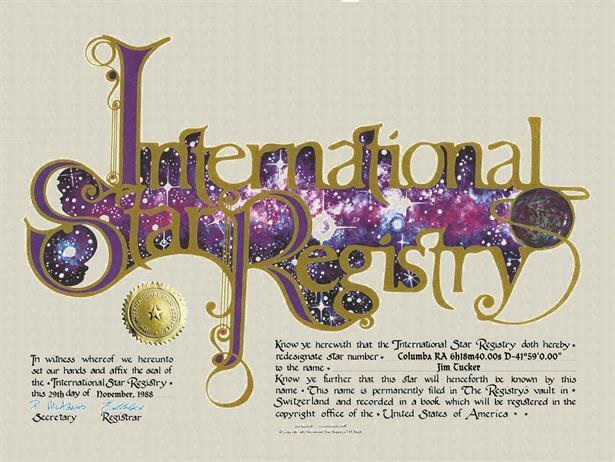 Jim Guy Tucker was an American lawyer and politician who served as the 43rd Governor of Arkansas from 1992 to 1996. Born on June 13, 1943, in Oklahoma City, Oklahoma, Tucker spent most of his life in Arkansas, where he pursued a career in law and politics. 
Tucker attended law school at the University of Arkansas, Fayetteville, where he earned his Juris Doctor in 1969. After law school, he worked as a prosecutor and later as a private attorney. Tucker first entered politics in the 1970s, when he served as a member of the Arkansas House of Representatives. He later served as Arkansas Attorney General from 1977 to 1981. Tucker's most significant political achievement came in 1992, when he was elected Governor of Arkansas. During his time in office, Tucker focused on improving the state's education system and increasing economic development. He also signed into law the state's first hate crime legislation. 
One of the more unusual gifts that Tucker received during his time as Governor was a star named after him. The star was recorded by the International Star Registry on November 29, 1988, and was given as a gift to Tucker as a gift. The star is in the constellation Columba, at the coordinates RA 6h 18m 40.00s D-41° 59′ 0.00″. Columba is a small constellation that was first cataloged by Dutch astronomer Petrus Plancius in the early 17th century. In astrology, the constellation is associated with peace and harmony. 
The International Star Registry is a company that allows people to record star names for themselves or as a unique gift for a loved one. To name a star, one can simply buy a star package from the company, which includes a certificate of record and a star chart that shows the location of the named star. 
FAQ 
Q. Why should I name a star with International Star Registry?
A. If you are looking for a unique and meaningful gift for someone, consider naming a star after them with the International Star Registry. It's a thoughtful gesture that will last a lifetime.
Q. Where is Governor Tucker's star located?
A. Governor Tucker's star is located in the Columba constellation. Columba is a small constellation best seen from the Southern hemisphere.
In conclusion, Jim Guy Tucker was a prominent figure in Arkansas politics who achieved many significant accomplishments during his time in office. The fact that a star was named after him shows just how much he was admired by those around him. The International Star Registry offers a unique and memorable gift that can be used for any gifting occasion, whether it's a birthday, wedding, or anniversary. 
References: 
"Jim Guy Tucker." Encyclopedia of Arkansas.

https://encyclopediaofarkansas.net

 

"Columba Constellation: Facts, Myth, Location, Stars, Deep Sky Objects." Constellation Guide.

https://www.constellation-guide.com/columba-constellation/

 

"International Star Registry – Buy a Star Package." International Star Registry.

https://www.starregistry.com