Samuel H. Shapiro: A Star in Lyra | International Star Registry
Modified: July 1, 2023     Author: International Star Registry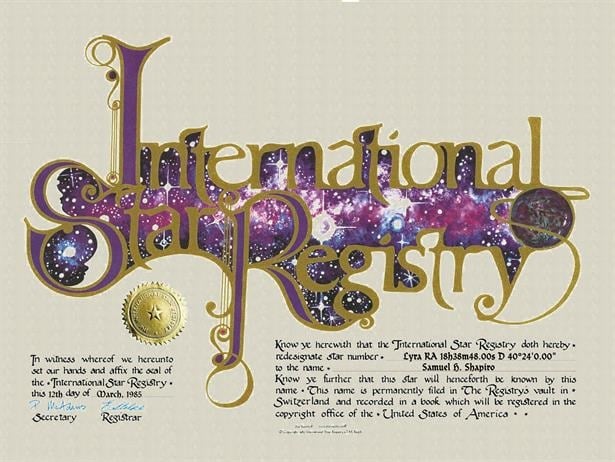 Samuel H. Shapiro was the 36th Governor of Illinois, serving from 1968 to 1973. He was born on October 25, 1907, in Chicago, Illinois, and was raised in a family of Jewish immigrants. Shapiro was a graduate of the University of Chicago and received his law degree from DePaul University. Before his governorship, he served in the Illinois House of Representatives and the Illinois Senate. 
During his time as Governor, Shapiro championed social justice causes, including improving education and healthcare, protecting civil rights, and promoting fair labor practices. He also played a pivotal role in advancing the state's transportation infrastructure, including the expansion of the Illinois tollway system. 
Shapiro lived in the Governor's Mansion, located at 410 E. Jackson St. in Springfield, Illinois. The mansion, built in 1855, is a National Historic Landmark and has been the official residence of Illinois' governors since 1856. Today, the mansion is open for tours and special events. 
In March of 1985, someone gifted Governor Shapiro with a "name a star" package from International Star Registry. The star was named "Samuel H. Shapiro" and its coordinates are in the constellation Lyra, at RA 18h 38m 48.00s D 40° 24′ 0.00″. Lyra is a small, faint constellation located in the northern hemisphere. It is known for its brightest star, Vega, which is one of the most easily identifiable stars in the sky. Lyra is also associated with the myth of Orpheus and his lyre, which is said to have been placed in the sky as the constellation. 
Astronomy and astrology enthusiasts alike can appreciate the unique opportunity to record a star name with International Star Registry. As the first and largest star naming service, International Star Registry has been offering this service since 1979. By purchasing a "buy a star package", customers can name a star and receive a certificate, a star map, and other commemorative items. 
Governor Shapiro's acknowledgment with International Star Registry serves as a testament to the versatility of star naming as a gift. Whether it's for a birthday, wedding, or other special occasion, the opportunity to name a star is a thoughtful and meaningful gesture. With International Star Registry, customers can choose from a range of packages to fit their budget and preferences. 
FAQ
Q. How do you buy a star?
A. To buy a star from International Star Registry, simply visit their website and select the star package you would like to purchase. Follow the prompts to provide the necessary information and complete your purchase.
Q. Where is Governor Shapiro's star located?
A. Governor Shapiro's star is located in the Lyra constellation. Lyra represents the harp.
In conclusion, Samuel H. Shapiro was a notable figure in Illinois politics, serving as Governor during a transformative period in the state's history. His star named in his honor serves as a reminder of the unique opportunities for gift-giving that exist beyond traditional items. The chance to name a star through International Star Registry is a special and enduring way to commemorate life's important moments. 
References: