Gavin Newsom: Governor of California with a Named Star in Libra
Modified: July 1, 2023     Author: International Star Registry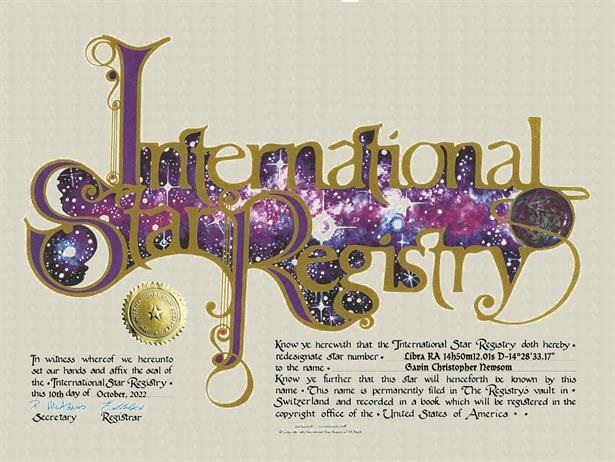 Gavin Christopher Newsom is an American politician who currently serves as the 40th Governor of California. Born on October 10, 1967, in San Francisco, Newsom grew up in a politically active family. He attended Santa Clara University but dropped out before completing his degree to pursue his business interests. Newsom later returned to college and earned a degree in political science from San Francisco State University.  Newsom began his political career in 1996 when he was elected to the San Francisco Board of Supervisors. He served on the board until 2004, during which time he gained a reputation as a progressive leader. In 2003, Newsom was elected as the 42nd Mayor of San Francisco, and he was re-elected in 2007. As mayor, Newsom implemented several progressive policies, including same-sex marriage and universal healthcare.  In 2010, Newsom was elected as the Lieutenant Governor of California, and he was re-elected in 2014. During his tenure as Lieutenant Governor, Newsom continued to advocate for progressive policies, including the legalization of marijuana and criminal justice reform.  On January 7, 2019, Newsom was inaugurated as the Governor of California, succeeding Jerry Brown. As Governor, Newsom has focused on issues such as climate change, healthcare, and homelessness. He has also been a vocal critic of the Trump administration's immigration policies.  Newsom's achievements as Governor have earned him several accolades, including being named one of Time Magazine's 100 most influential people in the world in 2019. 
In October 2022, someone gifted Newsom with a star named after him from International Star Registry. The star is located in the constellation of Libra, with the following coordinates: RA 14h 50m 12.01s D-14° 28′ 33.17″. Libra is a constellation of the zodiac, and it is usually depicted as a set of scales. In astronomy, Libra is home to several notable celestial objects, including the double star Zubenelgenubi and the globular cluster NGC 5897.  In astrology, Libra is associated with balance, harmony, and justice. People born under this sign are believed to be diplomatic, fair-minded, and sociable. Libra is also associated with the planet Venus, which is the planet of love, beauty, and pleasure.  International Star Registry is a company that allows people to name a star after themselves or a loved one. They offer several buy a star package options, including basic and deluxe packages. Each package includes a star certificate with the star's coordinates, a star chart, and a commemorative certificate. 
Naming a star after someone is a unique and thoughtful gift idea for any occasion, from birthdays to weddings to anniversaries. It is a way to commemorate a special moment or person and to show them how much they are loved and appreciated. 
FAQ
Q. How do I name a star after a loved one?
A. If you want to name a star after a loved one, International Star Registry offers a variety of "buy a star" package options that allow you to choose a star and record a star name of your choice. It's a unique and meaningful gift that can be used for any occasion, such as weddings, birthdays, or anniversaries.
Q. Where is Governor Newsom's star located?
A. Governor Newsom's star is located in the Libra constellation. Libra is one of the twelve zodiac signs.
In conclusion, Gavin Newsom is a prominent American politician who has dedicated his career to advocating for progressive policies and fighting for social justice. His achievements as Governor of California have earned him widespread praise and recognition. The fact that International Star Registry gifted him a star named after him is a testament to his impact and influence. Naming a star after someone is a unique and meaningful gift idea that can be used for any occasion. It is a way to honor a special person and to create a lasting memory that will be cherished for years to come. 
References: 
"Gavin Newsom." Wikipedia, Wikimedia Foundation, 26 Mar. 2023, en.wikipedia.org/wiki/Gavin_Newsom. 
"Libra Constellation: Facts About the Scales." Space.com, 12 Feb. 2020, www.space.com/17001-libra-constellation