Governor Walter J. Hickel: A Star in Cepheus | International Star Registry
Modified: July 1, 2023     Author: International Star Registry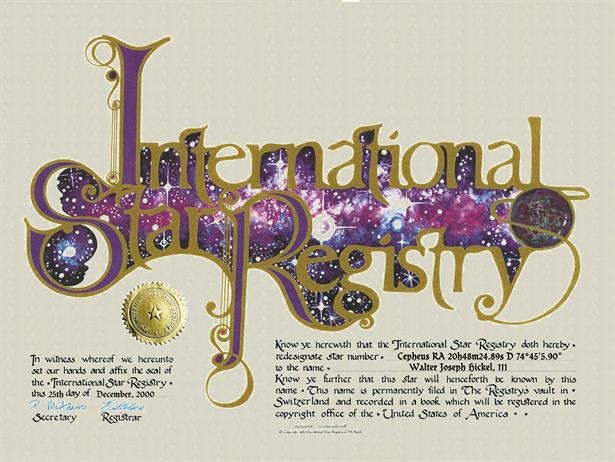 Walter J. Hickel was a former Governor of Alaska, serving two non-consecutive terms from 1966-1969 and 1990-1994. Born in 1919 in Kansas, Hickel moved to Alaska in 1940 to pursue opportunities in the new state. He was a successful businessman, starting his own construction company in 1947 and eventually becoming one of Alaska's leading entrepreneurs. He served in several political positions before being elected Governor of Alaska in 1966 as a member of the Republican Party. 
During his first term as Governor, Hickel worked to promote economic development in Alaska and strengthen the state's relationship with the federal government. He advocated for the construction of the Trans-Alaska Pipeline, which was eventually built in the 1970s, and he also played a key role in the passage of the Alaska Native Claims Settlement Act. Hickel resigned from his position as Governor in 1969 to serve as the Secretary of the Interior under President Richard Nixon. 
Hickel returned to Alaska politics in 1990, winning a second term as Governor. During his second term, he focused on issues related to the environment and sustainable development, including advocating for the preservation of Alaska's wilderness areas and promoting renewable energy sources. Hickel also continued to work on economic development initiatives, including efforts to expand tourism and promote the state's natural resources. 
One unique aspect of Hickel's legacy is his connection to the International Star Registry, which allows individuals to "record a star name" and receive a certificate of record. In 2000, someone gifted Hickel with a star in his name through the International Star Registry. The star's official name is Walter Joseph Hickel, 111, and it is located in the constellation Cepheus, which is visible from the northern hemisphere. Cepheus is a prominent constellation in both astronomy and astrology, with its most notable feature being the Cepheus OB2 association, a large group of young stars and star clusters. 
International Star Registry offers a variety of packages for those looking to "name a star" for a special occasion or as a unique gift. The Star Registry has been operating since 1979 and has named stars for individuals all over the world. The process of naming a star involves selecting a name for the star and receiving a certificate that includes the star's name, commemoration date, and coordinates. The certificates are suitable for framing and make a great conversation piece. 
In conclusion, Walter J. Hickel was a notable Governor of Alaska who made significant contributions to the state's economic development and environmental conservation efforts. His connection to the International Star Registry and the star named in his honor highlight the unique and personalized nature of the Star Registry's offerings. The ability to "name a star" through the International Star Registry is a truly one-of-a-kind gift that can be used for a variety of occasions, from birthdays to weddings to anniversaries. Whether as a thoughtful gesture or a lasting tribute, naming a star is a special way to commemorate a moment or person that is sure to be cherished for years to come. 
References: 
"Walter J. Hickel." National Governors Association,

www.nga.org/governor/walter-j-hickel/

.

 

"Cepheus Constellation: Facts, Myth, Star Map, Major Stars, Deep Sky Objects." Constellation Guide, constellation-guide.com/constellation-list/cepheus-constellation/.

 

"Record a Star Name with International Star Registry – StarRegistry.com." International Star Registry,

www.starregistry.com

.

 
FAQ
Q. Can I name a star in the same constellation as Governor Walter J Hickel?
A. Yes, absolutely! You can pick from any of the 88 constellations and 12 zodiac signs to place your star in.
Q. Where is Governor Hickel's star located?
A. Governor Hickel's star is located in the Cepheus constellation.