Honoring Jim Gibbons: A Named Star in Hydra | International Star Registry
Updated: July 1, 2023     Author: International Star Registry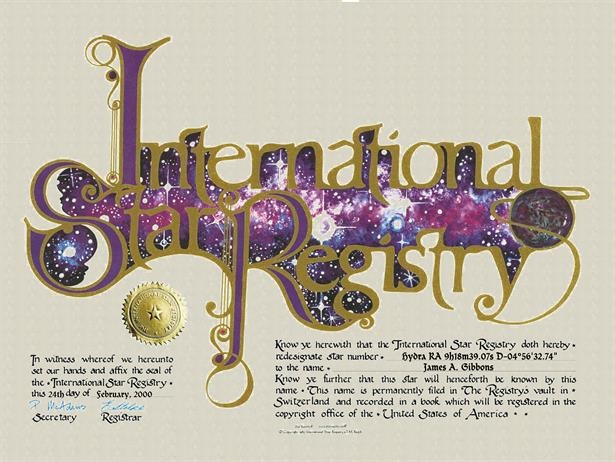 Jim Gibbons, the former governor of Nevada, was born on December 16, 1944, in Sparks, Nevada. He was raised in Sparks and attended Sparks High School before enrolling at the University of Nevada, Reno, where he received a Bachelor of Science degree in geology. After graduation, he joined the United States Air Force and served as a fighter pilot in the Vietnam War. Gibbons was awarded the Distinguished Flying Cross for his service in Vietnam.  After leaving the military, Gibbons earned a law degree from Southwestern Law School in Los Angeles. He returned to Nevada and worked as a lawyer for several years before entering politics.
In 1996, he was elected to the United States House of Representatives, where he served for ten years. In 2006, he was elected as the 28th governor of Nevada and served until 2011. During his tenure as governor, Gibbons focused on improving Nevada's economy, reducing taxes, and increasing funding for education. He also worked to improve the state's infrastructure and promote renewable energy. Gibbons was known for his conservative political views and his support for Second Amendment rights. 
In 2000, the International Star Registry recorded a star in the Hydra constellation under the name James A. Gibbons. The star's coordinates are Hydra RA 9h 18m 39.07s D-04° 56′ 32.74″. The Hydra constellation is one of the largest in the sky and contains several notable stars, including Alphard, which is the brightest star in the constellation. In astrology, Hydra is associated with power and influence, and those born under this constellation are said to possess these qualities. 
International Star Registry is a company that allows individuals to name a star after themselves or someone else as a unique and special gift. The company offers various buy a star package options, ranging from a basic star kit to deluxe packages that include certificates, star charts, and other items. 
In conclusion, Jim Gibbons was a successful politician and a distinguished veteran of the United States Air Force. The International Star Registry recorded a star under his name in the Hydra constellation in 2000, which is a unique and special gift that can be used for any occasion. Naming a star is a great way to show someone you care and to commemorate a special event. Whether you are looking for a birthday present, a wedding gift, or a way to remember a loved one, International Star Registry has a package that will meet your needs. 
References: 
"Jim Gibbons – Nevada Governor." National Governors Association,

www.nga.org/governor/jim-gibbons/

.

 

"Hydra Constellation: Facts, Myth, Star Map, Major Stars, Deep Sky Objects." Constellation Guide, constellation-guide.com/constellation-list/hydra-constellation/.

 

"Buy a Star Package." International Star Registry,

www.starregistry.com

.

 
FAQ
Q. Can I name a star for someone in a specific constellation?
A. The International Star Registry offers a unique gift for any occasion. Customers can name a star for someone special by selecting a star name, date and constellation and they will receive a certificate with the star name and coordinates. The company also offers a buy-a-star package option, which includes additional gifts such as a personalized sky chart and a booklet on astronomy.
Q. Where is Governor Gibbons' star located?
A. Governor Gibbons' star is located in the Hydra constellation. Hydra represents water.