Honoring Jennifer M. Granholm: A Named Star in Andromeda | International Star Registry
 Modified: July 1, 2023     Author: International Star Registry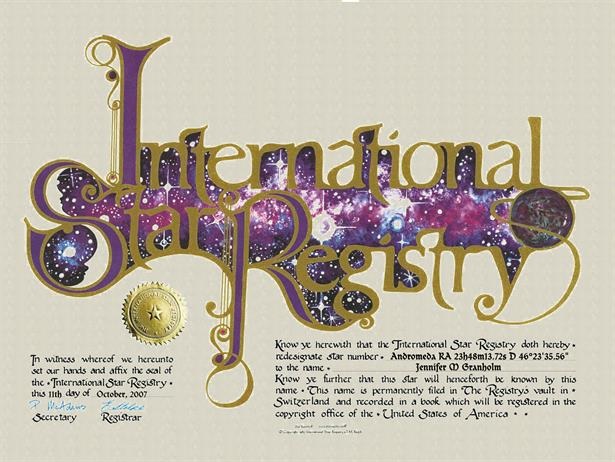 Jennifer M. Granholm is a prominent American politician who served as the 47th Governor of Michigan from 2003 to 2011. Born on February 5, 1959, in Vancouver, British Columbia, Granholm moved to California with her family at the age of four. She later attended the University of California, Berkeley, and graduated with a bachelor's degree in political science in 1984. She then went on to study at Harvard Law School, where she earned a Juris Doctor degree in 1987. 
After graduation, Granholm clerked for U.S. Judge Damon Keith before entering private practice. She then served as an Assistant U.S. Attorney in Detroit before being appointed as Michigan's first female Attorney General in 1998. In 2002, Granholm successfully ran for Governor of Michigan and became the first woman to hold that position in the state's history. During her time in office, Governor Granholm implemented numerous initiatives aimed at improving the state's economy, healthcare, and education system. She also played an instrumental role in the federal government's bailout of the American automotive industry during the 2008 financial crisis. 
Governor Granholm's dedication to public service has been recognized through numerous awards, including the 2010 John F. Kennedy Profile in Courage Award, which she received for her efforts in saving the American automotive industry. 
In 2007, Governor Granholm received a unique gift from the International Star Registry, a company that allows people to record a star name in honor of a loved one or special occasion. The star, named Jennifer M Granholm, was recorded on October 11, 2007, and is in the Andromeda constellation at coordinates RA 23h 48m 13.72s D 46° 23′ 35.56″.  Andromeda is one of the most well-known constellations in the night sky and is visible from both hemispheres. In ancient Greek mythology, Andromeda was the daughter of King Cepheus and Queen Cassiopeia, and was saved from a sea monster by the hero Perseus. Astrologically, the constellation is associated with the traits of independence, courage, and assertiveness. 
If you're looking to name a star in honor of a loved one or special occasion, International Star Registry offers a variety of buy a star packages to choose from. Whether you're commemorating a birthday, wedding, or anniversary, naming a star is a unique and memorable gift that will last a lifetime. 
In conclusion, Jennifer M. Granholm is a notable politician who made significant contributions to the state of Michigan during her time as Governor. Her recognition by the International Star Registry serves as a testament to her dedication to public service and the impact she has had on the lives of many. If you're looking for a unique gift to commemorate a special occasion, consider naming a star through the International Star Registry. 
References: 
Biography.com. "Jennifer Granholm".

https://www.biography.com

.

 

International Star Registry. "Andromeda RA 23h 48m 13.72s D 46° 23′ 35.56″".

https://www.starregistry.com.

 
FAQ:
Q. How do I know what to name my star?
A. Typically, people name stars after people, places or things that have meaning to them. Some people use legal names, some use nicknames. As long as it is not offensive, International Star Registry allows customers to name stars as they please.
Q. Where is Governor Granholm's star located?
A. Governor Granholm's star is located in the Andromeda constellation. A very famous constellation that represents the Princess.