Edwin Washington Edwards: Louisiana's Charismatic Governor and a Named Star
Modified: July 1, 2023     Author: International Star Registry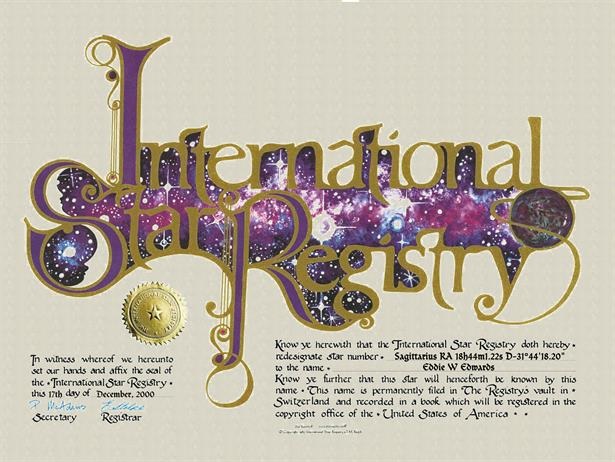 Edwin Washington Edwards, also known as Edwin Edwards, was born on August 7, 1927, in Avoyelles Parish, Louisiana. He was the seventh governor of Louisiana, serving four non-consecutive terms from 1972 to 1996. Edwards was a charismatic politician, known for his wit and colorful personality.  As the Governor of Louisiana, Edwards oversaw significant changes in the state, including the introduction of a state lottery and the expansion of legalized gambling. He was also known for his efforts to reform the state's prison system, improving healthcare access for Louisiana residents, and promoting economic development. 
One interesting fact about Governor Edwards is that he had a star named after him. In December of 2000, International Star Registry gifted Edwards a star package, allowing him to record a star name in the Sagittarius constellation. The star was named Eddie W Edwards, and its coordinates are Sagittarius RA 18h 44m 1.22s D-31° 44′ 18.20″.  Sagittarius is a constellation in the southern sky that is easily recognizable due to its distinctive teapot shape. It is one of the 12 zodiac constellations, representing the archer in both astronomy and astrology. According to astrology, those born under the sign of Sagittarius are known for their adventurous spirit and love of freedom. In astronomy, Sagittarius is home to many notable celestial objects, including the galactic center of the Milky Way. 
International Star Registry is a unique company that allows people to name a star in the sky after themselves or someone they love. Their star packages are a popular gift option for birthdays, anniversaries, weddings, and other special occasions. Customers can choose from a variety of packages that include a star certificate, a star map, and other commemorative items.  If you're looking for a truly unique and thoughtful gift, consider buying a star package from International Star Registry. It's a once-in-a-lifetime opportunity to record a star name and give someone a piece of the universe to call their own. 
FAQ
Q. Is star naming legitimate?
A. The International Star Registry is legitimate and allows individuals to name a star after themselves or someone else. They offer a variety of packages that include a certificate of record, a star chart showing the star's location, and other commemorative items. While star naming is not recognized by the scientific community, it can be a unique and meaningful gift for special occasions.
Q. Where is Governor Edward's star located?
A. Governor Edward's star is located in the Sagittarius constellation. Sagittarius is one of the twelve zodiac signs
In conclusion, Governor Edwin Washington Edwards was a prominent figure in Louisiana politics who oversaw many significant changes during his time in office. His charismatic personality and dedication to his constituents made him a beloved figure in the state. His star, Eddie W Edwards, in the Sagittarius constellation is a testament to his enduring legacy. And International Star Registry provides a unique and memorable gift option for any occasion. 
References: