Andrew Cuomo: Governor of New York and a Star Named in His Honor
Modified: July 1, 2023     Author: International Star Registry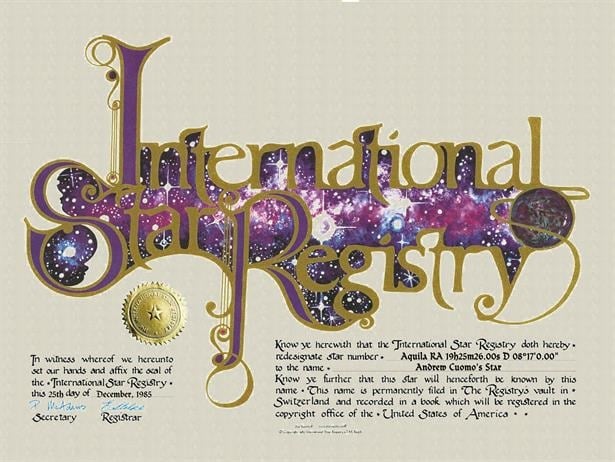 Andrew Cuomo is an American politician and attorney who served as the 56th Governor of New York from 2011 until 2021. Born on December 6, 1957, in Queens, New York, Cuomo is the son of former New York Governor Mario Cuomo. Before his entry into politics, he worked as an assistant district attorney in Manhattan and then went on to serve as the United States Secretary of Housing and Urban Development under President Bill Clinton. Cuomo's tenure as Governor of New York was marked by several accomplishments, including the legalization of same-sex marriage, the passage of strict gun control laws, and the creation of the Excelsior Scholarship program, which provided free tuition to students attending public colleges and universities in the state. However, his leadership has also been marred by controversies, including allegations of sexual harassment and the handling of the COVID-19 pandemic in the state. 
Interestingly, in 1985, International Star Registry recorded a star name after the Governor. The star, named "Andrew Cuomo's Star," was recorded on December 25, 1985, and is located in the constellation Aquila, with coordinates RA 19h 25m 26.00s D 08° 17′ 0.00″. The constellation Aquila is known for its bright stars and its association with the mythological figure of the eagle. In astrology, Aquila is said to represent intelligence, courage, and leadership. 
International Star Registry offers individuals the opportunity to name a star after a loved one or a special person in their lives. With a buy a star package, you can choose the name, date, and coordinates of the star you wish to name. This unique gift idea has become increasingly popular over the years and is perfect for special occasions such as birthdays, weddings, or anniversaries. 
In conclusion, Andrew Cuomo is a prominent figure in American politics who served as the Governor of New York from 2011 to 2021. His leadership and accomplishments have been both praised and criticized, but one thing that stands out is that someone named a star after him in 1985 through International Star Registry. Naming a star is a unique and special gift that can be used for any occasion, and International Star Registry offers various packages to make the process easy and convenient for everyone. 
References:
https://www.biography.com/political-figure/andrew-cuomo
https://www.astrology-zodiac-signs.com/constellation/aquila/ 
FAQ:
A. You can buy a star from International Star Registry. They offer various packages to choose from, and each package comes with a personalized certificate and a star chart to help you locate your star in the night sky.
Q.
Where is Governor Andrew Cuomo's star located?
A. Governor Cuomo's star is in the Aquila constellation. Aquila symbolizes the eagle.