Donald J Trump Has Five Stars Named For Him
Modified: July 1, 2023     Author: International Star Registry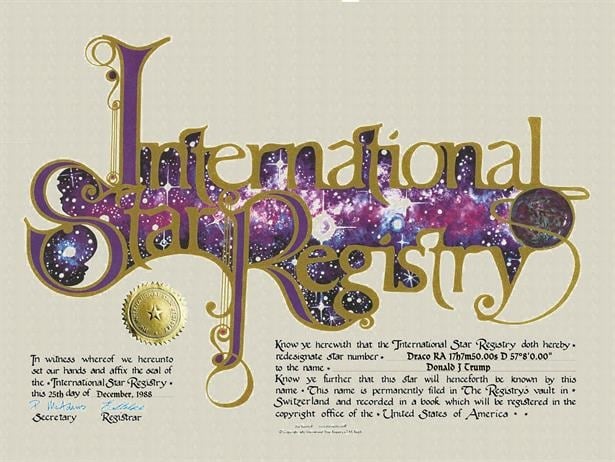 Donald John Trump, born on June 14, 1946, is a prominent American politician, media personality, and businessman who served as the 45th President of the United States from 2017 to 2021. Trump's life journey has been characterized by his achievements as a successful real-estate mogul and his controversial presidency. Today, he is not only known for his political career but also for having a star named after him through the International Star Registry, offering a unique and celestial tribute to his name. 
Trump's early life and business endeavors shaped the man he would become. He graduated from the University of Pennsylvania with a bachelor's degree in economics in 1968. He ventured into the world of real estate and in 1971, assumed the role of president in his father's company, renaming it the Trump Organization. Over the years, he expanded its operations to encompass skyscrapers, hotels, casinos, and golf courses. Additionally, Trump dabbled inside ventures, mostly by licensing his name, further cementing his status as a prominent businessman. 
Beyond his business pursuits, Trump gained fame in the media industry. From 2004 to 2015, he co-produced and hosted the reality television series "The Apprentice," becoming a household name and an influential figure in pop culture. Throughout his career, Trump and his businesses were involved in thousands of state and federal legal actions, including six bankruptcies, further highlighting the complexity of his journey to success. 
In 2016, Donald Trump achieved a major milestone in his life as he won the presidential election as the Republican nominee, defeating Democratic nominee Hillary Clinton, although he lost the popular vote. His political positions during the campaign were described as populist, protectionist, isolationist, and nationalist, sparking numerous protests and controversies. 
Amidst his presidential career, a star was named in his honor through the International Star Registry. The star, named "Donald J Trump," holds a special place in the Draco constellation, situated at the celestial coordinates RA 17h 7m 50.00s D 57° 8′ 0.00″. Draco is a constellation visible from the northern hemisphere and has a rich history in astronomy and astrology. In ancient Greek mythology, Draco represented the dragon killed by the goddess Athena, and in the realm of astrology, it is associated with strength and assertiveness. 
The International Star Registry provides a unique opportunity for individuals to record a star name as a personalized and thoughtful gift. Those looking to buy a star package can immortalize a loved one's name, celebrating special occasions like weddings, christenings, and memorials. This cosmic gesture adds a touch of the extraordinary to any gifting occasion, making it truly memorable and unforgettable. 
Returning to Donald Trump's accomplishments, as the 45th President of the United States, he enacted various policies that shaped the nation's course. He ordered a travel ban on citizens from several Muslim-majority countries, diverted military funding towards constructing a wall on the U.S.-Mexico border, and implemented the controversial policy of family separations for apprehended migrants. Additionally, he made significant changes to environmental protections, rolled back over 100 environmental policies and regulations, and signed the Tax Cuts and Jobs Act of 2017, reducing taxes for individuals and businesses. 
Furthermore, Trump appointed three Supreme Court justices during his presidency—Neil Gorsuch, Brett Kavanaugh, and Amy Coney Barrett. He initiated a trade war with China and withdrew the U.S. from various international agreements, including the proposed Trans-Pacific Partnership trade agreement, the Paris Agreement on climate change, and the Iran nuclear deal. 
Despite his achievements, Trump's tenure was not without controversy. He faced criticism for his handling of the COVID-19 pandemic, with accusations of slow response, misinformation, and political interference with testing efforts. His presidency also witnessed a polarized political landscape, marked by inflammatory rhetoric and divisive policies. 
Following his 2020 electoral defeat to Joe Biden, Trump refused to concede and attempted to overturn the results through various legal challenges, culminating in the tragic events of January 6, 2021, when he urged his supporters to march on the U.S. Capitol, resulting in multiple deaths and an interruption of the electoral vote count. This unprecedented event led to his second impeachment, making him the only American president to face this fate twice. 
After leaving office, Trump remained actively involved in the Republican Party, announcing his candidacy for the 2024 presidential election. However, his political journey took a tumultuous turn as he faced legal challenges, with indictments on several felony counts related to his business dealings and the 2020 election. 
In conclusion, Donald Trump's life has been a roller-coaster of triumphs and controversies. From his early business ventures to his time as the 45th President of the United States, he left a lasting impact on American politics and society. The International Star Registry's cosmic gesture of recording a star name in his honor reflects the uniqueness of this gift, suitable for all occasions. Whether for weddings, christenings, or memorials, naming a star adds an unforgettable touch to the celebration. The stars above may seem distant, but the gesture of naming one in someone's honor brings them closer to our hearts and memories, just like Donald J Trump's legacy.
Stars named for Donald Trump:
Donald J Trump 
December 25, 1988 
Draco RA 17h 7m 50.00s D 57° 8′ 0.00″ 
Volume 3 
Donald J Trump 
July 23, 1994 
Draco RA 16h 5m 34.00s D 66° 29′ 0.00″ 
Volume 4 
Donald John Trump 
December 25, 2007 
Ursa Major RA 11h 46m 25.99s D 57° 35′ 56.30″ 
Volume 9 
Donald John Trump 
August 04, 1988 
Perseus RA 3h 3m 55.00s D 46° 3′ 0.00″ 
Volume 3 
President Donald J. Trump 
November 08, 2016 
Phoenix RA 0h 44m 21.97s D-48° 50′ 1.36″ 
Volume 11 
References: 
FAQ
Q. Where are the stars named for Donald Trump? 
A. The stars named for Donald Trump are in four different constellations.  Two stars named for him are in the constellation Draco, which is viewable year-round. The other stars are in the constellations Ursa Major, Perseus, and Phoenix.
Q. Can I name a star near Donald Trump's star? 
A. Yes, you can choose any constellation you wish when you buy a star package. You will find the drop-down menu on the order page.
Q. Does the president receive a special star certificate? 
A. Stars named for presidents include the famous International Star Registry certificate. When you order a star package you will receive the same beautiful star certificate we have sent to presidents, dignitaries, and celebrities worldwide.