Barbra Streisand: A Stellar Journey through Music and the Cosmos
Modified: July 1, 2023     Author: International Star Registry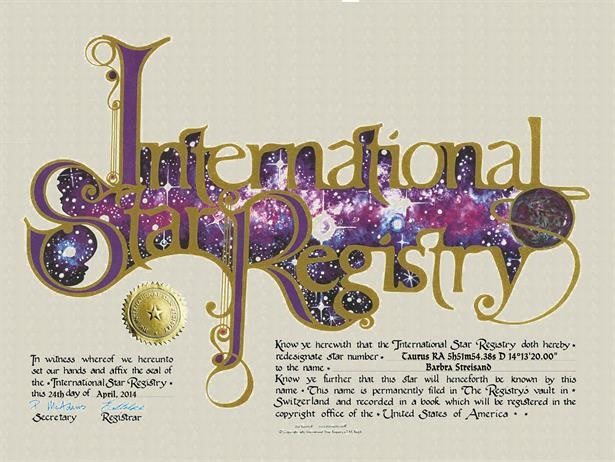 Barbra Streisand, a name synonymous with unparalleled talent and immense success, has graced the world with her extraordinary voice and remarkable performances. As a celebrated musician, actress, and philanthropist, Streisand's life and career have left an indelible mark on the entertainment industry. In addition to her numerous accomplishments, there is an extraordinary connection between Streisand and the cosmos, as a star was named in her honor through International Star Registry.  Barbra Streisand's journey began on April 24, 1942, in Brooklyn, New York. From a young age, her passion for singing was evident, and she embarked on a path that would lead her to become one of the most influential figures in the music world. Streisand's career flourished in the 1960s when she released her debut album, "The Barbra Streisand Album," which garnered critical acclaim and won two Grammy Awards. This initial success set the stage for a string of chart-topping albums and unforgettable performances that would solidify her place in music history.  Over the years, Streisand's versatile voice and exceptional artistry have earned her countless accolades, including ten Grammy Awards, two Academy Awards, and a Tony Award. Her ability to seamlessly transition between musical genres, from pop and jazz to Broadway classics, has captivated audiences around the globe. Streisand's discography boasts timeless hits such as "People," "Evergreen," and "The Way We Were," showcasing her immense vocal range and emotional depth. 
In April 2014, a unique tribute to Barbra Streisand's illustrious career and contributions to the arts took place. A star was named in her honor through International Star Registry, an organization that allows individuals to record a star name as a symbolic gesture of appreciation or commemoration. The star named "Barbra Streisand" resides in the constellation Taurus, specifically located at RA 5h 51m 54.38s D 14° 13′ 20.00″. Taurus, the Bull, is one of the most recognizable constellations in the night sky, with its distinctive V-shaped pattern representing the bull's face. According to both astronomy and astrology, Taurus is associated with determination, reliability, and sensuality.  International Star Registry offers a variety of options for those who wish to name a star or buy a star package, allowing individuals to choose a celestial dedication that holds personal significance. By bestowing a star name upon Barbra Streisand, an enduring symbol of her brilliance and impact, it serves as a testament to the profound effect she has had on the world.  Barbra Streisand's accomplishments extend far beyond her musical prowess. She has also dedicated herself to philanthropic endeavors, supporting causes such as women's heart health, education, and environmental conservation. Streisand's humanitarian efforts, coupled with her artistic achievements, have made her an inspiration to millions worldwide. 
International Star Registry's unique gift of naming a star after someone holds immense potential for various gifting occasions. Whether it's a birthday celebration, a special anniversary, or a heartfelt memorial, the act of dedicating a star allows individuals to honor their loved ones in a truly celestial and everlasting way. The recognition and appreciation symbolized by a star name add a touch of magic and sentimentality to any occasion, making it a truly unforgettable gesture. 
In conclusion, Barbra Streisand's life and career have been nothing short of extraordinary. Her incredible musical talent, numerous accolades, and commitment to philanthropy have cemented her status as an icon in the entertainment industry. The star named after her through International Star Registry encapsulates the eternal brilliance of her contributions. Naming a star through the International Star Registry represents a unique and meaningful gift that can be cherished on various occasions, be it birthdays, special milestones, or honoring the memory of a loved one. The celestial connection adds a touch of wonder and beauty to these moments, making them all the more special. 
References: