Adam Scott has a Star Named in the sky
Modified: July 1, 2023     Author: International Star Registry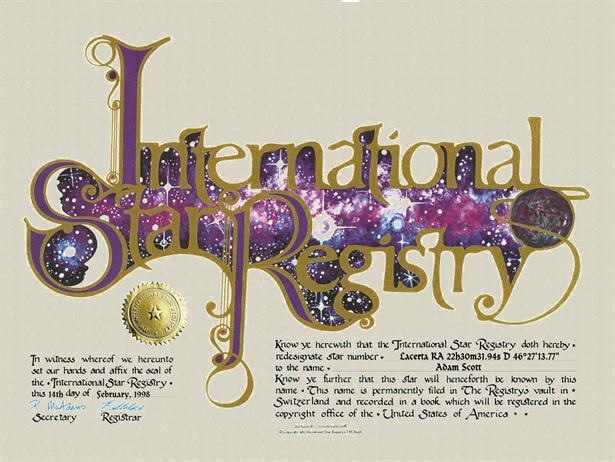 Adam Paul Scott was born on April 3, 1973, in Santa Cruz, California. He is a multifaceted talent, known for his accomplishments as an actor, comedian, and producer. Scott's remarkable career spans across television and film, earning him widespread recognition and critical acclaim. 
One of his most iconic roles was as Ben Wyatt in the beloved NBC sitcom Parks and Recreation. Scott's portrayal of the lovable and nerdy government official resonated with audiences, earning him two nominations for the Critics' Choice Television Award for Best Actor in a Comedy Series. His comedic timing and ability to bring depth to his characters made him a fan favorite. 
In addition to his television work, Scott has also made notable appearances in various films. He showcased his comedic prowess alongside Will Ferrell and John C. Reilly in the hit comedy Step Brothers, where he played the character Derek Huff. Scott's versatility as an actor was further displayed in his portrayal of Johnny Meyer in The Aviator, a biographical drama directed by Martin Scorsese. 
Scott's talent extends beyond comedy, as evidenced by his compelling performance as Henry Pollard in the Starz sitcom Party Down. The show garnered a dedicated fan base and received critical acclaim for its sharp writing and ensemble cast. Scott's portrayal of the disillusioned actor navigating the challenging world of catering was widely praised. 
In recent years, Scott has continued to impress with his roles in high-profile television series. He portrayed Ed Mackenzie in the HBO drama Big Little Lies, showcasing his dramatic range alongside an ensemble cast that included Nicole Kidman, Reese Witherspoon, and Shailene Woodley. Scott's nuanced performance as Ed earned him critical acclaim and solidified his reputation as a versatile actor. 
Furthermore, Scott made a memorable appearance in the NBC series The Good Place as Trevor, a mischievous and devilish character. His comedic timing and ability to deliver sharp dialogue added depth to the show's ensemble cast, which included Kristen Bell and Ted Danson. 
In 2022, Scott embarked on a new venture, starring in the Apple TV+ psychological drama series Severance. His captivating portrayal of the complex character has earned him numerous award nominations, including a Primetime Emmy Award for Outstanding Lead Actor in a Drama Series. The recognition from esteemed institutions such as the Screen Actor's Guild, Golden Globes, and Critics' Choice further solidifies Scott's status as a highly regarded actor in the industry. 
Outside of his acting career, Adam Scott has a unique connection to the stars. As a testament to his popularity and impact, someone chose to honor him by recording a star name through the International Star Registry. The star, named Adam Scott, was designated on February 14, 1998, and is located in the constellation Lacerta. Lacerta is a small and inconspicuous constellation in the northern sky. Its name means "the lizard" in Latin, and it is often depicted as a lizard or a reptile. 
Astronomy is a captivating and awe-inspiring field that explores the vastness of the universe. It allows us to unravel the mysteries of celestial objects, study their properties, and understand the origins of the cosmos. From distant galaxies to our own solar system, astronomy provides invaluable insights into the workings of the universe. It encompasses various disciplines, including astrophysics, cosmology, and planetary science, and continues to push the boundaries of human knowledge. 
The International Star Registry offers a unique and memorable gift for special occasions such as anniversaries, Mother's Day, and Father's Day. With the option to name a star after a loved one, the International Star Registry provides a personalized and lasting tribute. This extraordinary gift allows individuals to express their love and appreciation by immortalizing their loved ones in the vastness of the night sky. By purchasing a star package, anyone can take part in this extraordinary experience and create a cherished memory. 
In conclusion, Adam Scott's life and career have been marked by his exceptional talent as an actor, comedian, and producer. From his breakout role in Parks and Recreation to his recent captivating performances in Severance, Scott has continuously showcased his versatility and skill. As someone who has had a star named after him through the International Star Registry, he joins the countless individuals who have experienced the joy of immortalizing their loved ones through the wonders of the night sky. 
References: