Adam Sandler has a Named Star
Modified: July 1, 2023     Author: International Star Registry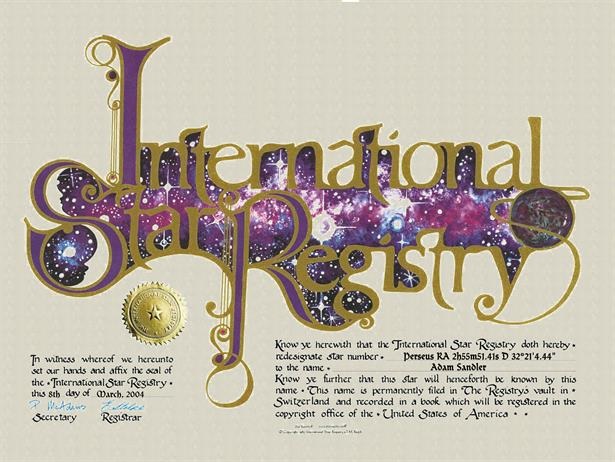 Adam Richard Sandler, born on September 9, 1966, is a multifaceted American actor, comedian, singer, screenwriter, and producer. Known for his comedic prowess, Sandler has made a significant impact in both film and television throughout his career. His contributions have earned him numerous accolades, including three Grammy Award nominations, five Primetime Emmy Award nominations, a Golden Globe Award, and a Screen Actors Guild Award. In recognition of his outstanding contributions to American humor, Sandler was honored with the prestigious Mark Twain Prize in 2023. 
Sandler's journey to stardom began during his time as a cast member on the popular NBC sketch comedy series, Saturday Night Live, where he showcased his comedic talents from 1990 to 1995. After gaining recognition on the small screen, he transitioned into Hollywood and starred in a series of blockbuster films that collectively amassed a staggering $2 billion at the global box office. Sandler's films have captivated audiences worldwide, cementing his status as a leading comedic actor. 
One notable aspect of Sandler's career is his ability to engage viewers with his distinctive style and endearing characters. Some of his most beloved comedic roles include the lovable man-child Billy Madison in the film of the same name (1995), the charismatic ice hockey player turned golfer in Happy Gilmore (1996), and the endearing Bobby Boucher in The Waterboy (1998). Sandler's impressive filmography also includes The Wedding Singer (1998), Big Daddy (1999), Mr. Deeds (2002), 50 First Dates (2004), The Longest Yard (2005), Click (2006), Grown Ups (2010), Just Go with It (2011), Grown Ups 2 (2013), Blended (2014), Murder Mystery (2019), and Hubie Halloween (2020). 
In addition to his live-action performances, Sandler has lent his voice to various animated characters, showcasing his versatility as an entertainer. He brought to life the characters of Davey, Whitey, and Eleanore in Eight Crazy Nights (2002) and charmed audiences as Dracula in the Hotel Transylvania franchise's first three films (2012–2018). 
While Sandler's career has been marked by both critical acclaim and occasional critical panning, his ability to seamlessly transition from pure comedy to compelling comedic-drama roles has garnered significant praise. Films such as Punch-Drunk Love (2002), directed by Paul Thomas Anderson, showcased Sandler's remarkable acting range, while performances in Reign Over Me (2007) by Mike Binder, The Meyerowitz Stories (2017) by Noah Baumbach, Uncut Gems (2019) by the Safdie brothers, and Hustle (2022) by Jeremiah Zagar have been hailed as major highlights of his career. 
Beyond his contributions to the entertainment industry, Sandler has left an indelible mark on the world of astronomy. In a heartwarming gesture, someone named a star after him as a gift from the International Star Registry.
Star Name:  Adam Sandler
Star Date:  March 08, 2004
Coordinates:  Perseus RA 2h 55m 51.41s, D 32° 21′ 4.44″
The Perseus constellation, located in the northern sky, is named after the legendary Greek hero Perseus. It is most famous for its notable star Algol, also known as the "Demon Star," which exhibits a distinct variability in brightness. 
Astronomy, the scientific study of celestial objects and phenomena, has captivated humanity for centuries. From the ancient civilizations who relied on celestial observations for navigation and timekeeping to the modern-day astronomers uncovering the mysteries of the universe, the study of the cosmos continues to inspire awe and curiosity. Through powerful telescopes and sophisticated instruments, astronomers have deepened our understanding of the vastness and beauty of the universe, unraveling its secrets one discovery at a time. 
The International Star Registry offers a unique and heartfelt gift for special occasions such as birthdays, christenings, and Father's Day. With the option to "name a star" and purchase a star package, individuals can commemorate significant moments in their loved ones' lives by immortalizing their names in the vast expanse of the night sky. The International Star Registry provides a meaningful and lasting tribute, allowing individuals to connect with the cosmos in a personal and profound way. 
In conclusion, Adam Sandler has established himself as a prominent figure in the entertainment industry through his remarkable comedic talent and versatile performances. From his early days on Saturday Night Live to his iconic roles in Hollywood films, Sandler has entertained audiences around the world. Alongside his achievements in acting, Sandler's star, officially recorded in the Perseus constellation by the International Star Registry, symbolizes his lasting impact on popular culture. As the world continues to celebrate his contributions, Adam Sandler remains a beloved and influential figure in the entertainment realm. 
References: