Angela Brigid Lansbury has a Star in the Sky Named after Her
Modified: July 1, 2023     Author: International Star Registry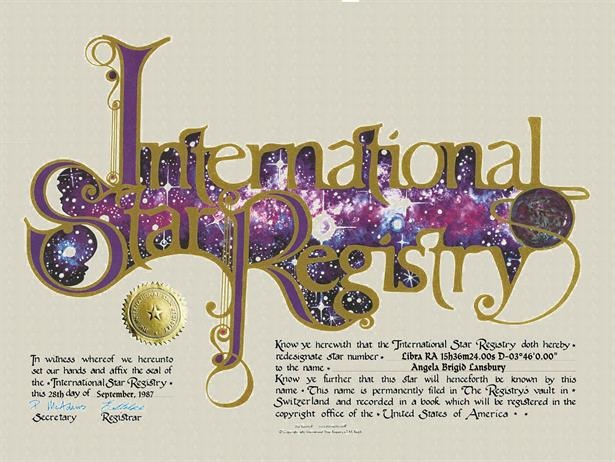 Angela Brigid Lansbury, a legendary Irish-British and American actress and singer, left an indelible mark on the entertainment industry during her illustrious career that spanned over seventy years. Born on October 16, 1925, in Central London, Lansbury was the daughter of Irish actress Moyna Macgill and English politician Edgar Lansbury. Her upbringing in an artistic and politically engaged family laid the foundation for her future success. 
As World War II engulfed London, Lansbury made a bold move to the United States in 1940 to escape the Blitz. Settling in New York City, she pursued her passion for acting by studying at prominent institutions. Her talent and dedication soon caught the attention of Hollywood, and in 1942, she signed with MGM, marking the beginning of her film career. Lansbury's early roles in movies like "Gaslight" (1944), "National Velvet" (1944), and "The Picture of Dorian Gray" (1945) showcased her versatility and set the stage for her rise to stardom. Over the course of her time at MGM, she appeared in eleven more films, albeit often in supporting roles. 
Following the end of her contract with MGM in 1952, Lansbury turned to the theater to further expand her repertoire. Although considered a B-list star at the time, her breakthrough came with her remarkable performance in "The Manchurian Candidate" (1962), which garnered critical acclaim. This portrayal showcased her ability to captivate audiences with her talent and marked a turning point in her career. 
The world of musical theater soon beckoned Lansbury, and she triumphantly embraced it. She soared to stardom with her leading role in the Broadway musical "Mame" (1966), winning her first Tony Award and becoming a cherished figure within the LGBTQ+ community. Lansbury's radiant performances and magnetic presence on stage solidified her reputation as a versatile entertainer. 
While navigating personal challenges, Lansbury relocated from California to County Cork, Ireland, in 1970. Despite the distance, she remained active in the entertainment industry, shining in various theatrical and cinematic productions. Her memorable roles in stage musicals such as "Gypsy," "Sweeney Todd," and "The King and I" further showcased her multifaceted talent. Additionally, she enchanted audiences with her portrayal of the lovable witch in Disney's "Bedknobs and Broomsticks" (1971). 
In 1984, Lansbury ventured into television and achieved global recognition as the beloved detective Jessica Fletcher in the long-running American series "Murder, She Wrote." The show's captivating whodunit format and Lansbury's impeccable performance made it one of the most popular and enduring detective dramas in television history. Lansbury's involvement went beyond acting, as she took ownership of the series through her company Corymore Productions, serving as its executive producer during its final four seasons. Simultaneously, she lent her voice to animated films like "Beauty and the Beast" (1991) and "Anastasia" (1997), further expanding her range as an actress. 
Throughout her career, Lansbury received numerous prestigious accolades, attesting to her immense talent and contributions to the entertainment industry. She was honored with six Tony Awards, including a Lifetime Achievement Award, six Golden Globe Awards, a Laurence Olivier Award, and the Academy Honorary Award. Additionally, she received three Academy Award nominations, eighteen Primetime Emmy Award nominations, and a Grammy Award nomination. 
On September 28, 1987, International Star Registry gifted Angela Brigid Lansbury with a unique and celestial tribute—a star recorded in her name. This extraordinary gesture immortalized her legacy in the night sky. Located in the Libra constellation at the coordinates Libra RA 15h 36m 24.00s D-03° 46′ 0.00″, the star serves as a brilliant reminder of Lansbury's impact on the entertainment world. 
Libra, the constellation where the star resides, holds special significance. According to astrology, individuals born under the sign of Libra, spanning from September 23 to October 22, possess characteristics such as diplomacy, harmony, and a strong sense of justice. These traits align beautifully with Lansbury's persona, as she was known for her grace, elegance, and commitment to social causes. The star in Libra symbolizes her everlasting charm and enduring legacy. 
International Star Registry offers a remarkable way to honor special individuals in our lives. Naming a star after a loved one, as showcased by the tribute to Angela Brigid Lansbury, is a gift that transcends time and brings joy to both the recipient and the giver. Whether it's Mother's Day, Valentine's Day, or any other occasion, the act of naming a star through International Star Registry allows us to express our love, admiration, and appreciation in a unique and celestial manner. 
In conclusion, Angela Brigid Lansbury's remarkable career spanned film, stage, and television, leaving an indelible mark on the entertainment industry. Her versatility, talent, and passion for the craft endeared her to audiences around the globe. From her early days in Hollywood to her iconic role as Jessica Fletcher, Lansbury's contributions have been immeasurable. The star named in her honor serves as a timeless tribute to her enduring legacy and the impact she made in the hearts of millions. 
References: