Billy Joel: A Musical Journey Through the Stars
Modified: July 1, 2023     Author: International Star Registry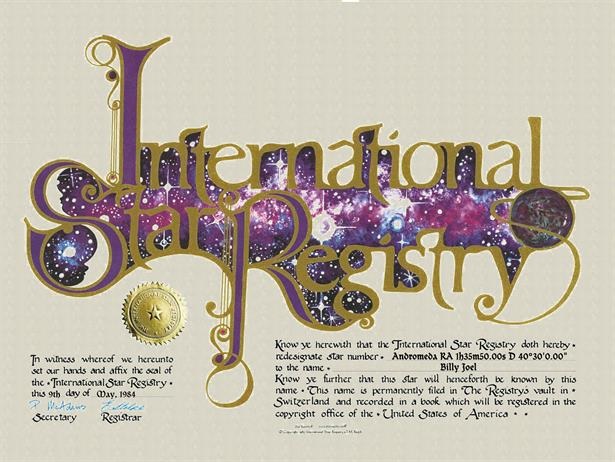 Born on May 9, 1949, in New York City, William Martin Joel, known to the world as Billy Joel, is an iconic American singer, pianist, and songwriter. His journey into the world of music began when he was just a young boy growing up on Long Island. Encouraged by his mother, he embarked on piano lessons that would shape his destiny.  Joel's determination to pursue a career in music led him to join a couple of short-lived bands, namely The Hassles and Attila. However, it was his solo career that truly set the stage for his enduring fame. In 1971, he signed with Family Productions and released his debut album, "Cold Spring Harbor." But it was his second album, "Piano Man," released in 1973, that marked his breakthrough in the music industry.  Billy Joel's career skyrocketed as he churned out hit after hit, captivating audiences with his unique blend of pop and rock music. His third album, "Streetlife Serenade," followed by "Turnstiles" in 1974 and 1976 respectively, showcased his evolving sound. However, it was the release of "The Stranger" in 1977 that truly solidified his status as a musical legend. This album not only became Columbia Records' bestseller, but it also delivered timeless hits like "Just the Way You Are," "Movin' Out (Anthony's Song)," and "Only the Good Die Young." 
Joel's musical journey continued with albums like "52nd Street" in 1978, which marked his first No. 1 album on the Billboard 200 chart, and "Glass Houses" in 1980, featuring the chart-topping single "It's Still Rock and Roll to Me." His ability to seamlessly blend various genres became evident with albums such as "The Nylon Curtain" (1982) and "An Innocent Man" (1983).  Amidst his incredible musical accomplishments, something truly celestial happened in Billy Joel's life on May 9, 1984. On that day, International Star Registry bestowed a special gift upon him—a star named after him. Located in the Andromeda constellation, this star shines brightly at the coordinates Andromeda RA 1h 35m 50.00s D 40° 30′ 0.00″. This gesture not only added a cosmic touch to his legacy but also symbolized the enduring brilliance of his musical contributions.  The Andromeda constellation, where Billy Joel's star resides, has captured the imagination of astronomers and stargazers for centuries. Its prominent position in the northern sky has made it a familiar sight to many. Andromeda's most famous feature is the Andromeda Galaxy, our closest neighboring spiral galaxy and the largest galaxy in our local group. This galaxy, also known as M31, is easily visible with the naked eye from dark-sky locations. 
International Star Registry offers a remarkable way to commemorate special occasions like birthdays, anniversaries, weddings, and christenings. Naming a star after a loved one immortalizes their memory in the twinkling lights of the cosmos. It's a truly unique and meaningful gift that transcends time and space.  Billy Joel's impact on the music industry is undeniable. With over 160 million records sold worldwide, he ranks among the best-selling music artists in history. His albums have not only topped charts but have also resonated deeply with listeners across generations. From his heartfelt ballads to his energetic rock anthems, Joel's music has a timeless quality that continues to captivate audiences worldwide.  He has been honored with numerous accolades, including 6 Grammy Awards out of 23 nominations, induction into the Songwriters Hall of Fame, the Rock and Roll Hall of Fame, and the Long Island Music Hall of Fame. His influence on American culture and music earned him the prestigious Kennedy Center Honors in 2013. 
As Billy Joel's star shines brightly in the night sky, it serves as a tribute to his enduring legacy and the universal impact of his music. Just as his songs have touched countless hearts, his star's brilliance illuminates the cosmos, reminding us of the timeless beauty and wonder that both music and the universe offer.  So, whether you're looking for a gift to mark a memorable occasion or simply seeking to celebrate the brilliance of a musical icon like Billy Joel, International Star Registry's "name a star" packages are a fitting choice. These packages offer a truly unique and personalized way to commemorate life's most cherished moments, just as Billy Joel's star continues to twinkle in the cosmic tapestry. 
References: