Alyson Hannigan has a Star Named after Her
Modified: July 1, 2023     Author: International Star Registry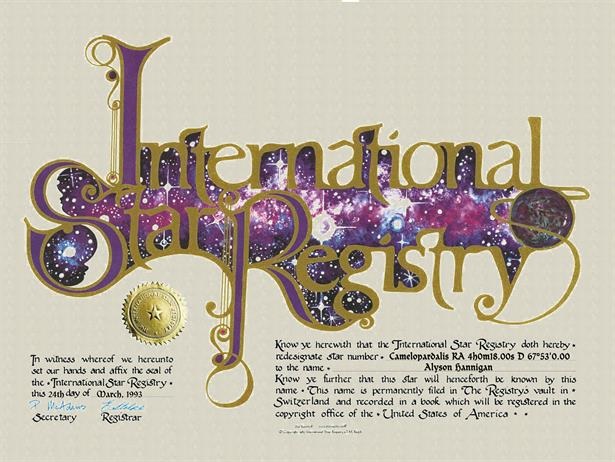 Alyson Hannigan: A Star-Studded Journey 
Alyson Hannigan, born on March 24, 1974, in the United States, is an incredibly talented American actress who has left an indelible mark on the entertainment industry. From her early beginnings in commercials to her captivating performances on the big and small screens, Hannigan's career has been a stellar one, filled with remarkable accomplishments. 
At the tender age of four, Alyson Hannigan embarked on her acting journey, appearing in commercials and showcasing her natural talent. Recognizing her potential, she made the bold decision to move to Hollywood at the age of 11, where she quickly secured an agent. This move proved to be a turning point in her life, setting her on a path to success. 
Hannigan's film career kicked off with supporting roles in comedy films such as "Impure Thoughts" (1986) and "My Stepmother Is an Alien" (1988), for which she garnered a Young Artist Award nomination. However, it was her portrayal of Michelle Flaherty in the American Pie film series, beginning in 1999, that propelled her to widespread recognition. Hannigan's endearing performance as the films' primary love interest captivated audiences, earning her three Teen Choice Award nominations and a Young Hollywood Award. 
In addition to her comedic prowess, Hannigan has demonstrated her versatility as an actress through her roles in various genres. She showcased her comedic skills in the parody film "Date Movie" (2006) and took a thrilling turn in the slasher film "You Might Be the Killer" (2018). In 2021, she embraced the superhero genre in the heartwarming film "Flora & Ulysses." 
While Alyson Hannigan's film career is undoubtedly impressive, it is her television roles that have truly solidified her status as a beloved actress. Her breakout role as the lovable and intelligent teenage witch Willow Rosenberg in the supernatural drama series "Buffy the Vampire Slayer" (1997-2003) garnered critical acclaim. Hannigan's portrayal earned her the prestigious Saturn Award for Best Supporting Actress on Television and a Teen Choice Award. 
From 2005 to 2014, Hannigan enchanted audiences as Lily Aldrin in the hit sitcom "How I Met Your Mother." Her impeccable comedic timing and undeniable chemistry with the cast made her a fan favorite. This role earned her two People's Choice Awards, further solidifying her reputation as a talented and versatile actress. 
Beyond her remarkable performances on screen, Hannigan has also made her mark as a television host and voice actress. Since 2016, she has hosted the popular television show "Penn & Teller: Fool Us," showcasing her charismatic presence and love for magic. Additionally, she lent her voice to the character Claire Clancy in the Disney Junior animated series "Fancy Nancy" from 2018 to 2022. 
In recognition of her contributions to the world of entertainment, Alyson Hannigan was honored with a unique gift from the International Star Registry. A star was named after her, commemorating her talent and accomplishments. The star, named "Alyson Hannigan," bears the special date of March 24, 1993, coinciding with her birthdate. Located in the Camelopardalis constellation at coordinates RA 4h 0m 18.00s and D 67° 53′ 0.00″, this celestial tribute serves as a shining symbol of her brilliance and stardom. 
The Camelopardalis constellation, in which Alyson Hannigan's star resides, is a fascinating celestial formation. Derived from the Latin word for "giraffe," this constellation represents the long-necked mammal in the night sky. While not particularly prominent or well-known, the Camelopardalis constellation adds a touch of mystery and wonder to the vast cosmic tapestry. 
Astronomy, the scientific study of celestial objects, has long captivated humankind's curiosity. From ancient civilizations to modern-day explorations, astronomy has provided insights into the vastness and beauty of the universe. It allows us to unravel the secrets of stars, galaxies, and other celestial phenomena, deepening our understanding of the cosmos. 
The International Star Registry offers a unique and extraordinary gift for special occasions such as anniversaries, holidays, and christenings. Through their "name a star" service, individuals have the opportunity to record a star name, creating a meaningful and everlasting connection to the wonders of the universe. By purchasing a star package from the International Star Registry, individuals can give their loved ones a truly memorable and personalized gift, one that will shine brightly in the night sky for generations to come. 
In conclusion, Alyson Hannigan's life and career have been marked by stellar achievements and an unwavering dedication to her craft. From her early beginnings in commercials to her acclaimed roles in films and television, she has mesmerized audiences with her exceptional talent and versatility. As a shining testament to her stardom, the International Star Registry bestowed the honor of naming a star after her, forever capturing her luminous presence in the vastness of the cosmos. 
References: