Carmen Electra: A Shining Star in Hollywood's Sky
Modified: July 1, 2023     Author: International Star Registry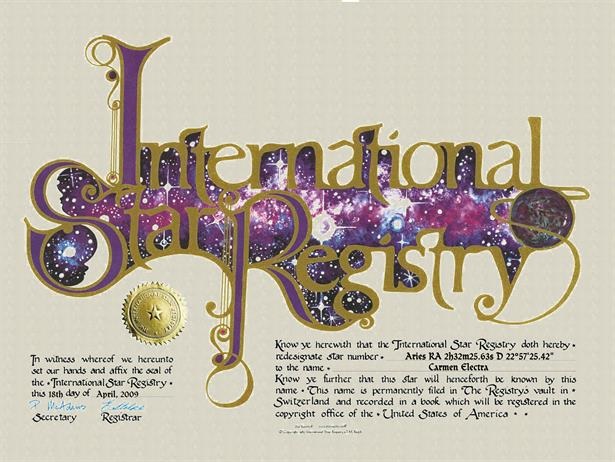 Tara Leigh Patrick, famously known as Carmen Electra, has graced the entertainment industry with her multifaceted talents as an American actress, model, singer, and media personality. Born on April 20, 1972, Carmen's journey from a small-town girl to a radiant star in the Hollywood galaxy is nothing short of remarkable. Her career has been as dazzling and captivating as the stars that adorn the night sky.  Carmen's artistic pursuits began with a melodious note, as she ventured into the world of music. After relocating to Minneapolis, she crossed paths with the legendary musician Prince, who played a pivotal role in shaping her career. Under his guidance, Carmen's self-titled debut studio album was born in 1993, marking her melodious entry into the entertainment scene. 
However, it was not only her musical talents that shone bright. In 1996, Carmen Electra graced the pages of Playboy magazine, embarking on a journey as a glamour model that would later catapult her into international recognition. The transition from music to modeling opened new avenues for her, ultimately leading her to the glitz and glamour of Los Angeles.  Carmen's breakthrough came when she portrayed the character Lani McKenzie in the iconic action-drama series Baywatch, captivating audiences' hearts from 1997 to 1998. Her sunlit presence on screen was undeniable, leaving an indelible mark on the world of television.  Beyond television, Carmen's star continued to rise. She stepped into the spotlight as the host of the MTV dating show Singled Out in 1997, showcasing her engaging and charismatic personality. Her silver screen debut followed suit in the comedy horror film American Vampire, solidifying her prowess as a versatile actress. 
In 2004, Carmen and her then-husband Dave Navarro embarked on a reality journey, inviting viewers into their lives through the MTV series 'Til Death Do Us Part: Carmen and Dave. Her talents even transcended animation, as she lent her voice to the character Six in the second season of the animated series Tripping the Rift, proving her ability to captivate audiences in various mediums.  Carmen Electra's ability to infuse humor into her performances led her to excel in parody films, leaving audiences in stitches. Notable works include Scary Movie (2000), Scary Movie 4 (2006), Date Movie (2006), Epic Movie (2007), Meet the Spartans (2008), and Disaster Movie (2008). Her filmography boasts a diverse range of roles, showcasing her incredible adaptability as an actress.  Beyond the glitz and glam, Carmen's dancing prowess also came to light. As a featured guest of The Pussycat Dolls, she graced the stage during VH1 Divas 2004, impressing audiences with her moves and infectious energy. Throughout her career, she has often been lauded as a "sex symbol" and a "pop culture icon," reflecting her immense influence on the world of entertainment. 
On April 18, 2009, Carmen's luminous career was commemorated in a truly celestial fashion. A star name was recorded in her honor by the International Star Registry, an organization dedicated to eternalizing moments in the night sky. The star, nestled within the constellation Aries, serves as a testament to Carmen's enduring brilliance and impact on the world.  Aries, the zodiac sign that envelops Carmen's star, is known for its dynamic and adventurous spirit. Individuals born under this sign are characterized by their boldness, passion, and determination. It is only fitting that Carmen's star resides within Aries, as her own journey is marked by these very traits. 
International Star Registry offers a unique and awe-inspiring gift that transcends time and space. Naming a star in honor of a loved one is an unparalleled way to celebrate special occasions. Whether it's Mother's Day, Father's Day, a birthday, or even 100th birthday gift ideas, the act of naming a star can transform a moment into a memory that twinkles forever.  In the vast cosmos, Carmen Electra's star illuminates the night with the same radiance that she has brought to the world of entertainment. From her musical beginnings to her dazzling performances on screen, she continues to inspire and enchant audiences around the globe. As the constellations above tell their stories, so does Carmen's star, a testament to a life lived boldly and brilliantly.  In the grand tapestry of Hollywood, Carmen Electra remains a constellation of talent, beauty, and charisma. Her journey from a small town to the silver screen is a story of determination, passion, and boundless potential. As her star shines brightly in the constellation Aries, Carmen's legacy is etched into the very fabric of the universe. 
References: