Governor William Grant Stratton has a Star Named
Modified: July 1, 2023     Author: International Star Registry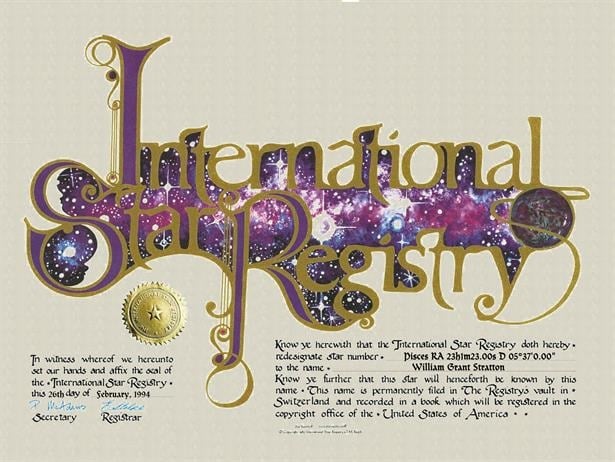 Memorial: Governor William Grant Stratton – A Life of Leadership and Achievement 
Governor William Grant Stratton, born on February 26, 1914, in Ingleside, Lake County, Illinois, was a remarkable statesman who dedicated his life to public service. As the son of William J. Stratton, an Illinois politician and former Secretary of State, Governor Stratton inherited a passion for politics and went on to leave an indelible mark on the state of Illinois through his numerous accomplishments. 
Education played a vital role in Governor Stratton's journey towards success. He attended the public schools of Lake County, Illinois and graduated from the prestigious University of Arizona in 1934, where he earned a degree in Political Science. Such was his commitment to his alma mater that in 1953, he received the annual alumni award from the University of Arizona. Additionally, Governor Stratton received honorary degrees from several esteemed institutions, including Bradley University, Lincoln Memorial University, Elmhurst, North Central and Shurtleff Colleges, and John Marshall Law School. 
Governor Stratton's political career commenced when he was elected to the United States Congress in 1940, becoming the youngest member of the 77th Congress at the age of 26. After his initial term, he served as the State Treasurer of Illinois in 1942 and 1950. Notably, during his tenure as State Treasurer, he implemented measures to significantly reduce operating costs. Governor Stratton's dedication to public service extended beyond his state responsibilities when he volunteered for service in the U.S. Navy during World War II, serving in the Pacific Theatre of Operations from 1944 to 1946. 
Following his military service, Governor Stratton returned to the political arena, winning re-election to the U.S. Congress in 1946. Throughout his tenure, he made notable contributions by serving on various committees, including Banking and Currency, Flood Control, Civil Service, and District of Columbia. In 1950, Governor Stratton was re-elected as State Treasurer for a second term, further solidifying his reputation as an astute and capable leader. 
However, Governor Stratton's most significant achievement came when he assumed the role of the 32nd Governor of Illinois on January 12, 1953. At the youthful age of 38, he became the youngest person to hold this esteemed office in 70 years. Such a milestone is a testament to his intelligence, charisma, and tireless dedication to the welfare of the people of Illinois. Governor Stratton was re-elected to a second term in 1956, showcasing the trust and respect he garnered from the citizens of his state. 
Beyond his gubernatorial responsibilities, Governor Stratton played a prominent role in national politics. He served as a delegate to the Republican National Conventions in 1952, 1956, 1960, and 1976. Furthermore, he chaired the Governors' Conference in 1957 and served as the president of the Council of State Governments in 1958. Governor Stratton's commitment to fostering intergovernmental relations was evident when he brought the annual meeting of the nation's governors to Illinois for the first time in history in 1955. Additionally, he was part of a group of American Governors who visited Russia in 1959, showcasing his commitment to global diplomacy. 
Governor Stratton's dedication to public service extended beyond his political responsibilities. He played a crucial role in the development of the Governors' Conference programs, particularly in the areas of highway construction, traffic safety, and federal-state governmental relations. His efforts were recognized by President Eisenhower, who appointed Governor Stratton as a member of the Lincoln Sesquicentennial Commission in 1958. 
It is worth noting that Governor William Grant Stratton received a unique and heartfelt gift from the International Star Registry. A star was named in his honor on February 26, 1994, which coincided with his birthday. Located in the Pisces constellation, its coordinates are recorded as RA 23h 1m 23.00s and D 05° 37′ 0.00″. This extraordinary tribute further highlights Governor Stratton's enduring legacy and the profound impact he had on the lives of many. 
Astronomy has always captivated the human imagination, offering us a glimpse into the vastness of the universe. The Pisces constellation, where Governor Stratton's star resides, is one of the twelve zodiac signs. Pisces, represented by two fish swimming in opposite directions, symbolizes deep emotions, sensitivity, and compassion. In times of loss, individuals born under the Pisces sign often find solace in their introspective nature and empathetic disposition. 
International Star Registry provides an exceptional opportunity to name a star and create a lasting memory for special occasions like Christenings, Christmas, or Valentine's Day. Their star packages offer a unique and thoughtful way to honor loved ones or express sympathy, making them the best sympathy gifts or remembrance gifts for a friend. The act of naming a star allows individuals to perpetuate cherished memories and celebrate the lives of those dear to them, symbolizing a connection that transcends time and space. 
In conclusion, Governor William Grant Stratton's life was characterized by remarkable achievements and an unwavering commitment to public service. From his early political career to his historic governorship, Governor Stratton left an indelible mark on the state of Illinois and beyond. His numerous contributions, coupled with his dedication to fostering intergovernmental relations and his honorable military service, exemplify the qualities of a true statesman. 
The star named in honor of Governor Stratton serves as a timeless tribute to his legacy and the impact he had on countless lives. As we look to the heavens and contemplate the wonders of the universe, let us also remember the enduring legacy of Governor William Grant Stratton, a leader whose dedication to public service will continue to inspire generations to come. 
References: