Governor John Joyce Gilligan has a Star Named
Modified: July 1, 2023     Author: International Star Registry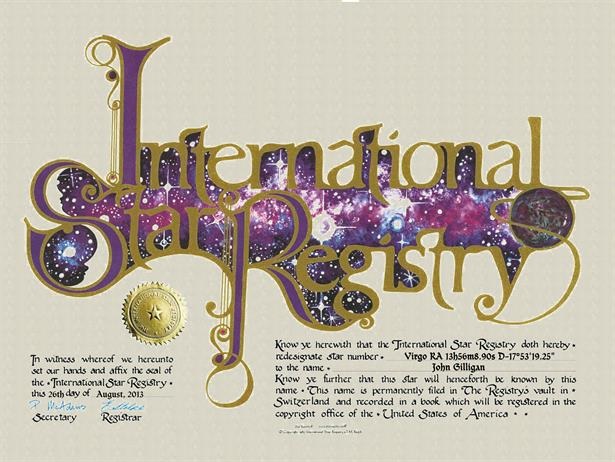 Memorial: Governor John Joyce Gilligan – A Legacy of Service and Achievement 
John Joyce "Jack" Gilligan, born on March 22, 1921, left an indelible mark on the political landscape of Ohio. A devoted Democrat, he dedicated his life to public service, serving as a U.S. Representative and as the 62nd governor of Ohio from 1971 to 1975. Beyond his political achievements, He is honored with a star named after him in Virgo with International Star Registry. Gilligan's life was filled with numerous accomplishments and contributions that shaped his legacy. 
Born and raised in Cincinnati, Ohio, Gilligan developed a passion for public service at an early age. He embarked on his political career by serving as a member of the Cincinnati City Council and later as a member of the Ohio Senate. Gilligan's commitment to his constituents earned him respect and admiration, paving the way for his successful campaign for the U.S. House of Representatives in 1964. 
During his tenure in Congress, Gilligan focused on a range of issues, including education, civil rights, and environmental conservation. As an advocate for education, he sponsored legislation to improve educational opportunities and increase funding for schools. Gilligan's dedication to civil rights was evident in his unwavering support for equality and justice for all Americans. Additionally, he championed environmental causes, recognizing the importance of preserving the natural beauty of Ohio for future generations. 
Gilligan's most notable achievement came in 1970 when he was elected as the governor of Ohio. His tenure as governor was marked by a steadfast commitment to social and economic progress. Recognizing the importance of providing affordable housing, he established the Ohio Housing Finance Agency, which helped thousands of Ohioans secure safe and affordable homes. Gilligan also prioritized environmental conservation by creating the Ohio Environmental Protection Agency, an agency dedicated to safeguarding the state's natural resources. 
In addition to his political endeavors, Gilligan was a devoted family man. His daughter, Kathleen Sebelius, followed in his footsteps and became a prominent figure in politics, serving as the governor of Kansas and later as the United States Secretary of Health and Human Services. Gilligan's dedication to public service clearly had a lasting impact on his family, inspiring them to continue his legacy of making a difference in the lives of others. 
Beyond his accomplishments in the political arena, Governor Gilligan was honored with a unique tribute. As a gift from the International Star Registry, a star was named in his honor on August 26, 2013. The star, known as "John Gilligan," holds a special place in the celestial tapestry, situated within the constellation Virgo. Its exact coordinates are Virgo RA 13h 56m 8.90s and D-17° 53′ 19.25″. Others with stars in the same constellation include, Daniel Walker Governor, Joan Jett, Thomas Lee Judge Governor, Christopher Christie, and Irlene Mandrell.
Astronomy, the scientific study of celestial objects, has captivated human beings for centuries. Constellations, such as Virgo, have served as guides for navigation and sources of wonder and inspiration. Virgo, represented by a maiden, is the sixth astrological sign of the zodiac. Those born under this sign are known for their practicality, attention to detail, and methodical nature. It is intriguing to contemplate how a Virgo sign copes with death, finding solace and meaning in the cosmic cycles and patterns that surround us. 
The International Star Registry offers a unique and thoughtful gift for various occasions. Whether it's a wedding, a birthday celebration, or a christening, the opportunity to name a star is a truly special gesture. By purchasing a star package, individuals can commemorate significant moments in their loved ones' lives and create lasting memories. The International Star Registry's offerings provide a tangible connection to the vastness of the universe, symbolizing the enduring bond between individuals and the stars above. 
Remembrance gifts hold a special place in the hearts of those who have experienced the loss of a mother. Through the International Star Registry, individuals can honor their mothers' memories by dedicating a star in their name. These heartfelt tributes serve as a constant reminder of the love and cherished moments shared. Similarly, sympathy gifts sent through the International Star Registry offer solace and comfort to those mourning the loss of a loved one, providing a lasting symbol of remembrance and support. 
In conclusion, Governor John Joyce Gilligan led a life dedicated to public service and made significant contributions to the state of Ohio. His political achievements, coupled with his commitment to education, civil rights, and environmental conservation, shaped his enduring legacy. The naming of a star in his honor through the International Star Registry further underscores his impact, connecting his memory to the vast cosmos. The International Star Registry's offerings serve as meaningful gifts for various occasions, allowing individuals to commemorate significant moments and honor the memories of loved ones. 
References: 
Biography of John Gilligan. Ohio History Central. Retrieved from: https://ohiohistorycentral.org