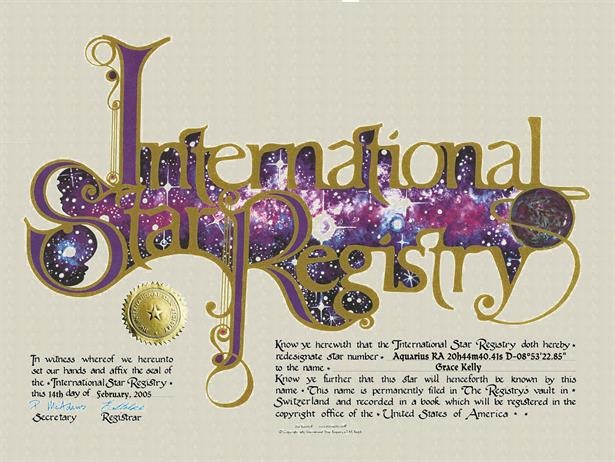 On November 12, we commemorate the birthday of the timeless icon, Princess Grace Kelly. Her remarkable journey from Hollywood starlet to European royalty continues to captivate our hearts and imaginations. In this blog post, we'll delve into her illustrious career and explore a celestial tribute that befits her enduring legacy—a star named after her through the International Star Registry, offering unique memorial gifts to honor her memory.
Grace Kelly's Storied Career
Born on November 12, 1929, in Philadelphia, Pennsylvania, Grace Kelly's journey began on the stage before transitioning to the silver screen. Her early career in the theater laid the foundation for her eventual success in Hollywood.
Grace Kelly's breakthrough came in the 1950s, when she starred in a string of classic films directed by Alfred Hitchcock, including "Dial M for Murder" (1954), "Rear Window" (1954), and "To Catch a Thief" (1955). Her beauty, talent, and on-screen presence quickly made her one of the most sought-after actresses of her time.
Her performance in "The Country Girl" (1954) earned her an Academy Award for Best Actress, solidifying her status as a Hollywood legend. However, in 1956, Grace made a life-changing decision that would alter the course of her career—she married Prince Rainier III of Monaco and became Princess Grace.
A Celestial Tribute: Star Named After Her
On what would have been her 94th birthday, it's fitting to explore a celestial tribute befitting Princess Grace Kelly's enduring charm and elegance. International Star Registry offers a unique opportunity to name a star in the sky. This celestial gesture allows us to pay homage to her legacy by creating a connection between her name and a distant star, symbolizing her timeless presence in our hearts.
Princess Grace's transition from Hollywood star to European royalty was a fairy tale come true, and her named star adds another layer of enchantment to her remarkable story.
Unique Memorial Gifts for a Timeless Icon
When considering unique memorial gifts to commemorate the passing of a loved one, naming a star stands out as a poignant and heartfelt tribute. Imagine looking up at the night sky and finding the star dedicated to someone, shining brightly among the constellations. 
In conclusion, as we remember Princess Grace Kelly on her 94th birthday on November 12, let's reflect on her extraordinary career and the indelible mark she left on the world of cinema. And as we honor her memory, consider the celestial tribute of a named a star in her honor—a gift that links her name to the vast expanse of the night sky, ensuring that her legacy shines brightly for generations to come. Happy Birthday, Princess Grace Kelly, a true star among the stars.