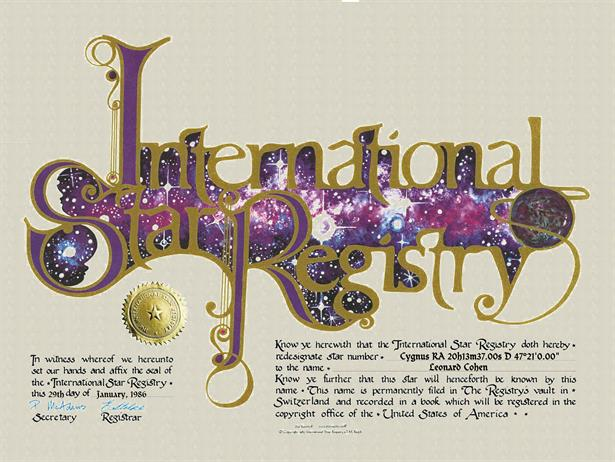 On November 7, 2016, the world lost a poetic genius and musical legend, Leonard Cohen. His distinctive voice, soulful lyrics, and profound insights touched the hearts of millions worldwide. In this blog post, we celebrate his remarkable career and explore a celestial honor that befits his enduring legacy – a star named after him through International Star Registry.
Leonard Cohen's Musical Odyssey
Born on September 21, 1934, in Montreal, Canada, Leonard Cohen embarked on a musical journey that spanned six decades. His career was marked by his ability to seamlessly blend poetry, songwriting, and music, creating a genre uniquely his own. Cohen's debut album, "Songs of Leonard Cohen," was released in 1967, setting the stage for his iconic status.
Cohen's songs, including classics like "Hallelujah," "Suzanne," and "Bird on the Wire," showcased his deep, introspective lyrics and haunting melodies. His music resonated with audiences, offering a profound emotional connection that transcended generations. He was recognized for his distinctive gravelly voice and the depth of his lyrics, earning him a place in the pantheon of great songwriters.
A Celestial Tribute: Buy a Star and Name It
As we commemorate the anniversary of Leonard Cohen's passing, we seek ways to honor other loved ones in our life. One such heartfelt tribute is to buy a star and name it in his honor through International Star Registry. This unique opportunity allows us to dedicate a star to someone we hold in high esteem.
International Star Registry offers a special service that enables us to name a star after a loved one or an admired figure. By doing so, we create a timeless connection between their name and a celestial body, symbolizing their enduring presence in the night sky.
Honoring Leonard Cohen's Memory
Naming a star after Leonard Cohen is a fitting tribute to the man who crafted poetry into music and touched the depths of human emotion through his art. Imagine gazing up at the night sky and finding the star dedicated to him, shining brilliantly among the constellations, just as his lyrics continue to illuminate our souls.
As we remember Leonard Cohen on the anniversary of his passing, let's reflect on his remarkable career and the indelible mark he left on the world of music and poetry.