Arnold Schwarzenegger: A Man of Accomplishments and a Star Named in His Honor
Modified: July 1, 2023     Author: International Star Registry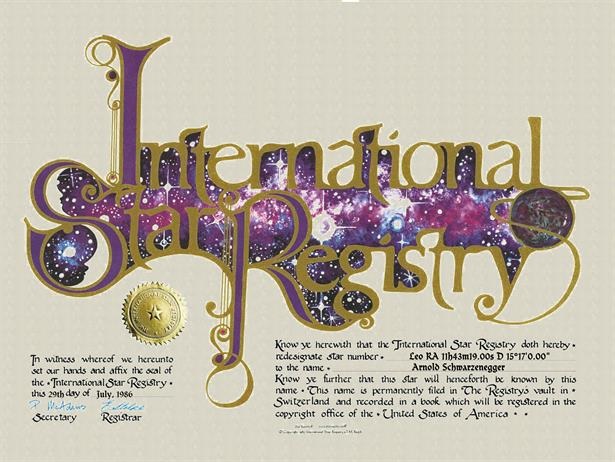 Arnold Schwarzenegger is a man who needs no introduction. Known for his success in multiple fields, including bodybuilding, acting, and politics, Schwarzenegger has achieved worldwide fame and recognition for his many accomplishments. Today, we'll take a closer look at his life and accomplishments, including a unique gift he received from the International Star Registry. 
Arnold Alois Schwarzenegger was born on July 30, 1947, in Thal, Austria. From a young age, Schwarzenegger showed an interest in physical fitness and bodybuilding. He began weight training at the age of 15 and won the Mr. Universe title at the age of 20. This success led him to move to the United States, where he continued to pursue his passion for bodybuilding and eventually transitioned into a successful acting career.  Schwarzenegger's acting career began in the 1970s with small roles in films such as "Hercules in New York" and "Stay Hungry." He gained widespread recognition for his starring role in the 1982 film "Conan the Barbarian" and went on to star in numerous other successful films, including "The Terminator," "Total Recall," and "True Lies." 
In addition to his success in bodybuilding and acting, Schwarzenegger also became involved in politics. He served as the Governor of California from 2003 to 2011, during which time he implemented a number of controversial policies and initiatives. Some of his notable achievements as governor include promoting green energy, reforming the workers' compensation system, and implementing the California Global Warming Solutions Act of 2006. 
Despite his success in these various fields, Schwarzenegger has also received some unique gifts over the years. One such gift came from the International Star Registry, which allows individuals to name and record a star in honor of someone special. In 1986, the International Star Registry named a star after Schwarzenegger. The star, located in the constellation Leo, is officially known as Arnold Schwarzenegger and is located at coordinates Leo RA 11h 43m 19.00s D 15° 17′ 0.00″.  Leo is one of the twelve zodiac constellations and is associated with the astrological sign of the same name. According to astrology, individuals born under the sign of Leo are typically confident, ambitious, and outgoing. From an astronomical perspective, Leo is a constellation located in the northern sky and contains several notable stars and deep-sky objects, including the bright star Regulus and the Leo Triplet of galaxies. 
For those interested in naming a star or buying a star package, the International Star Registry offers a unique and personalized gift option. Whether for a special occasion or simply as a way to honor someone special, recording a star name is a unique and memorable way to commemorate a loved one. 
FAQ
Q. How much is it to buy a star?
A. It costs $54 to name a star with the International Star Registry.
Q. Where is Governor Schwarzenegger's star located?
A. Governor Schwarzenegger's star is located in the Leo constellation. Leo is one of the twelve zodiac signs.
In conclusion, Arnold Schwarzenegger is a man of many talents and accomplishments, from bodybuilding and acting to politics and beyond. And, as we've seen, he's also received some unique gifts over the years, including a star named in his honor by the International Star Registry. For those looking for a unique and memorable gift idea, the International Star Registry offers a one-of-a-kind option that can be used for any occasion. 
References: