Governor Tom Ridge: A Star in Hercules | International Star Registry
 Modified: July 1, 2023     Author: International Star Registry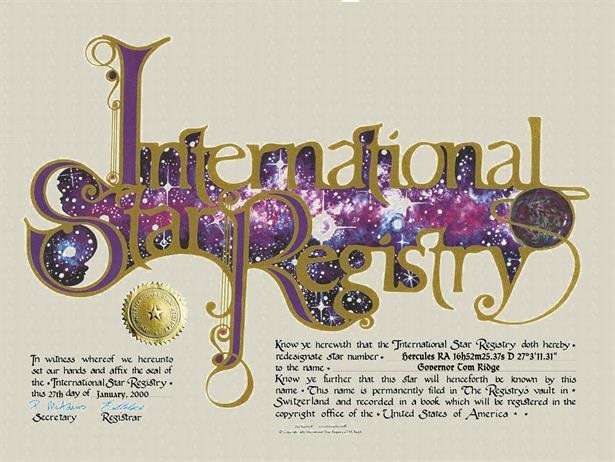 Tom Ridge was the 43rd Governor of Pennsylvania, serving from 1995 to 2001. He was born in Munhall, Pennsylvania, on August 26, 1945, and grew up in a working-class family. He attended Harvard University, where he earned a scholarship and graduated with honors in 1967. After serving in the US Army during the Vietnam War, Ridge attended Dickinson School of Law, where he earned his Juris Doctor in 1972. 
During his time as Governor Ridge implemented a number of initiatives to promote economic growth, including tax cuts for businesses and efforts to attract new industries to the state. He also established the Pennsylvania Emergency Management Agency, which helped the state respond to natural disasters and other emergencies. 
In addition to his political career, Ridge has also been recognized for his contributions to public service and national security. He served as the first Secretary of the US Department of Homeland Security under President George W. Bush from 2003 to 2005, and has been honored with numerous awards, including the Presidential Medal of Freedom. 
One particularly unique honor bestowed upon Ridge was the recording of a star name by the International Star Registry. In January 2000, a star in the constellation Hercules was named after the former Governor with the coordinates of RA 16h 52m 25.37s D 27° 3′ 11.31″. The star was given the name "Governor Tom Ridge" and recorded in the International Star Registry's database. 
Hercules is one of the 48 constellations identified by the Greek astronomer Ptolemy in the 2nd century. It is named after the mythical hero Hercules, who is depicted as holding a club and wearing a lion skin. In astrology, the constellation is associated with strength and courage, reflecting the heroic nature of the Greek legend. However, in astronomy, constellations are used as a way to group stars together and are not associated with any supernatural or mystical properties. 
For those looking to record a star name or buy a star package, the International Star Registry offers a unique gift option for any occasion. By following a simple process, you can name a star after a loved one and have it recorded in their database for eternity. It's a special and thoughtful gift that can be treasured for a lifetime. 
FAQ
Q. How do you name a star after someone?
A. To name a star after someone, you can visit the International Star Registry website and choose a star package. You will then be able to provide the name of the person you wish to name the star after, and the star's coordinates will be recorded in International Star Registry's database and published in the book Your Place in the Cosmos.
Q. Where is Governor Ridge's star located?
A. Governor Ridge's star is located in the Hercules constellation. Hercules represents the Champion.
In conclusion, Tom Ridge was a distinguished public servant and former Governor of Pennsylvania who was honored with the recording of a star name by the International Star Registry. The star named after him is located in the constellation Hercules, which is associated with the mythological hero's strength and courage. Naming a star after someone is a unique and thoughtful gift option for any occasion and can be easily done through the International Star Registry. 
References: