Harry Roe Hughes: Governor of Maryland with a Named Star in Serpens
 Modified: July 1, 2023     Author: International Star Registry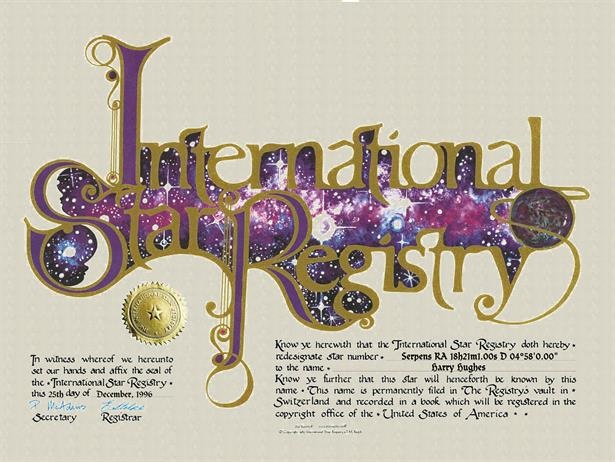 Harry Roe Hughes was an American politician who served as the 57th Governor of Maryland from 1979 to 1987. Born on November 13, 1926, in Easton, Maryland, Hughes attended local public schools before enlisting in the U.S. Marine Corps during World War II. After serving in the military, he attended the University of Maryland and later the George Washington University Law School. 
Hughes began his political career in 1955 as a member of the Maryland House of Delegates. He served in that capacity until 1959, when he was elected to the Maryland State Senate. Hughes held that position until 1971, when he was appointed Maryland Secretary of Transportation by then-Governor Marvin Mandel.  As Secretary of Transportation, Hughes worked to improve the state's transportation infrastructure, including highways, bridges, and mass transit. In 1978, he decided to run for Governor of Maryland and won the election, defeating Republican candidate John Glenn Beall Jr.  During his time as Governor, Hughes focused on improving education, the environment, and public safety. He established the Maryland School Performance Program to evaluate and improve the state's public schools, and he signed into law the Chesapeake Bay Critical Area Act to protect Chesapeake Bay and its wildlife. 
In 1983, someone honored Governor Hughes by naming a star after him through the International Star Registry. The star, named Harry Hughes, is located in the constellation Serpens, which is part of the larger constellation Ophiuchus. Serpens is a unique constellation because it is split into two parts, Serpens Caput (the serpent's head) and Serpens Cauda (the serpent's tail), which are separated by the constellation Ophiuchus.  Astronomers and astrologers have long been fascinated with Serpens and Ophiuchus because of their mythology and symbolism. In Greek mythology, Ophiuchus is associated with Asclepius, the god of medicine, and Serpens is associated with a serpent that Asclepius used to heal people. In astrology, Ophiuchus is sometimes considered a thirteenth zodiac sign, representing the healer or the serpent bearer. 
If you're looking to buy a star package and name a star for someone special, the International Star Registry is a great option. They have been offering this unique gift since 1979 and have named over three million stars. The process is simple: you choose a constellation, and then you can name the star whatever you like. You'll receive a personalized star certificate and a star chart showing the location of your star. 
FAQ
Q. How much does it cost to get a star named after you?
A. The cost of naming a star varies depending on the package chosen. Basic packages start at around $54, while more elaborate packages can cost several hundred dollars. The cost includes the official certificate and other materials but does not include any actual rights or ownership over the star.
Q. Where is Governor Hughes' star located?
A. Governor Hughes' star is located in the Serpens constellation, which represents the serpent.
In conclusion, Harry Roe Hughes was a dedicated public servant who worked tirelessly to improve the state of Maryland during his tenure as Governor. The fact that someone chose to honor him by naming a star after him is a testament to the impact he had on the people of Maryland. Naming a star through the International Star Registry is a unique and memorable way to celebrate any occasion, and it's a gift that will last a lifetime. 
References: