Governor Kathleen Blanco: A Named Star in Auriga | International Star Registry
Modified: July 1, 2023     Author: International Star Registry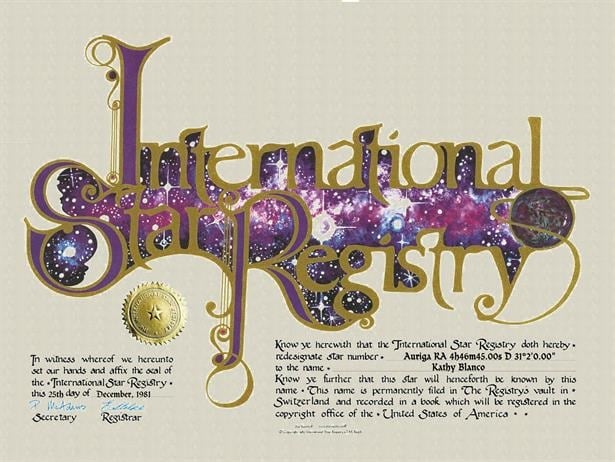 Kathleen Babineaux Blanco was born on December 15, 1942, in New Iberia, Louisiana, USA. She was a Democratic politician who served as the Governor of Louisiana from 2004 to 2008. She was the first woman to hold the position of Governor in Louisiana's history. Prior to her term as Governor, Blanco served as Louisiana's Lieutenant Governor from 1996 to 2004, and as a member of the Louisiana House of Representatives from 1984 to 1988. 
Blanco attended the University of Southwestern Louisiana, where she earned a degree in business education. She later earned a master's degree in education from the University of Louisiana at Lafayette. Blanco's political career began in 1983 when she was elected to the Louisiana House of Representatives, representing the 45th District. 
During her time in office, Governor Blanco made significant contributions to the state of Louisiana, including the implementation of the Louisiana Recovery Authority after Hurricane Katrina in 2005. She was also an advocate for education reform and economic development in the state. 
Governor Blanco's commitment to public service was recognized in many ways, including being awarded the Louisiana Distinguished Service Medal and the Louisiana Center for Women and Government Hall of Fame Award. In addition to her political accomplishments, Governor Blanco was also honored in a unique way by the International Star Registry. In 1981, the organization recorded a star name in her honor. The star, located in the constellation Auriga, was named "Kathy Blanco" and was recorded on December 25, 1981. The star's coordinates are Auriga RA 4h 46m 45.00s D 31° 2′ 0.00″. 
Auriga is a prominent constellation in the northern hemisphere that is easily visible to the naked eye. Its name means "charioteer" in Latin and is associated with a number of mythological figures, including Erichthonius, the inventor of the chariot.  
For those looking to name a star after a loved one or commemorate a special occasion, the International Star Registry offers a range of options to buy a star package. With a variety of packages available, including options to choose specific constellations or personalized certificates, naming a star can be a unique and meaningful gift for any occasion. 
Governor Kathleen Babineaux Blanco was a trailblazer and leader in Louisiana politics, and her legacy continues to inspire others to serve their communities with dedication and passion. The International Star Registry's recognition of her contributions through the naming of a star serves as a reminder of the impact that individuals can have in their own unique ways. 
References: 
FAQ
Q. What do I name my star?
A. When it comes to naming your star, the possibilities are endless. You can choose any name that you want for your star, making it a special and unique gift for any occasion. Whether you want to name a star after a loved one, commemorate a special event, or honor a special memory, International Star Registry is the perfect place to create a lasting and meaningful gift.
Q. Where is Governor Blanco's star located?
A. Governor Blanco's star is located in the Auriga constellation. This constellation represents the Charioteer and is best seen from the Northern hemisphere.