Adam Shankman has a Star Named after Him
Modified: July 1, 2023     Author: International Star Registry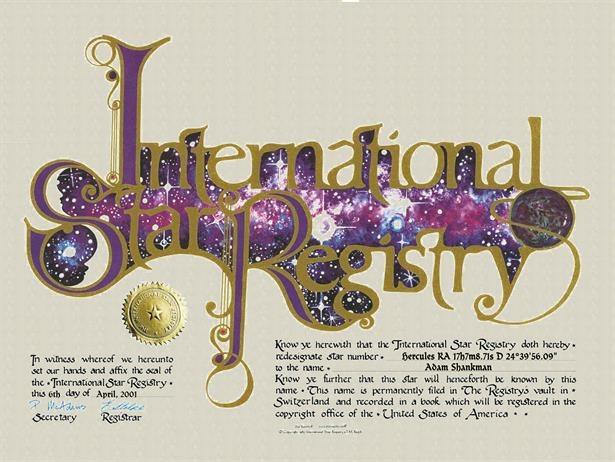 Adam Michael Shankman, born on November 27, 1964, is a multi-talented American film director, producer, writer, dancer, author, actor, and choreographer. With a diverse range of skills and a remarkable career spanning across various creative fields, Shankman has established himself as a prominent figure in the entertainment industry. 
Shankman's journey in the arts began in musical theater, where he honed his talents and developed a deep passion for performance. His exceptional dancing skills caught the attention of renowned artists, and he went on to work as a dancer in music videos for esteemed musicians like Paula Abdul and Janet Jackson. Through these experiences, Shankman gained valuable industry insights and further refined his craft. 
Not only a dancer, Shankman also demonstrated his prowess as a choreographer in numerous films. His unique ability to bring stories to life through captivating dance sequences earned him widespread acclaim. Some of the notable films he contributed his choreography skills to include "Boogie Nights," "The Wedding Planner," and "Catch Me If You Can." Shankman's choreographic contributions added depth and visual splendor to these productions, showcasing his innovative style and meticulous attention to detail. 
As his career progressed, Shankman transitioned into the director's chair and made his mark with a series of successful feature films. In 2002, he directed "A Walk to Remember," a heartfelt romantic drama that resonated with audiences worldwide. This film marked the beginning of his directorial journey and paved the way for more impressive projects to come. Subsequently, Shankman helmed films such as "Bringing Down the House" and "The Pacifier," demonstrating his versatility as a director across different genres. 
One of the defining moments in Shankman's directorial career came with the 2007 musical film adaptation of "Hairspray." This critically acclaimed movie showcased his ability to infuse vibrant energy into the storytelling process, resulting in a visually stunning and engaging cinematic experience. The success of "Hairspray" solidified Shankman's reputation as a director with a keen eye for capturing the essence of musical theater on the big screen. 
In addition to his film work, Shankman has contributed to the television landscape as a permanent judge on seasons 6-7 of the popular program "So You Think You Can Dance." His expertise in dance and choreography brought a unique perspective to the show, enriching the experience for both contestants and viewers alike. 
Beyond his individual accomplishments, Shankman also co-owns Offspring Entertainment, a production company he shares with his sister. Together, they have been involved in the creation of numerous films and television projects for various studios and networks. Their collaborative efforts have yielded captivating and commercially successful content, further establishing Shankman's influence within the industry. 
Outside of the entertainment realm, Shankman has explored his writing talents as well. He is currently co-writing young adult novels with author Laura Lee Sullivan for Simon & Schuster's imprint Atheneum Books for Young Readers. These novels follow the journey of Lucille O'Malley, a rags-to-riches protagonist navigating the complexities of Hollywood, unraveling a murder mystery, and finding love along the way. This foray into writing demonstrates Shankman's versatility and his ability to captivate audiences through different mediums. 
In recognition of Shankman's contributions to the arts and entertainment, he was gifted a star from the International Star Registry. Named after him, the star holds special significance as a symbol of his accomplishments and enduring impact on the industry. The star, recorded on April 06, 2001, can be found in the Hercules constellation at the coordinates Hercules RA 17h 7m 8.71s D 24° 39′ 56.09″. The Hercules constellation, named after the mythical Greek hero, is a prominent constellation visible in the northern hemisphere. It is known for its distinctive shape and rich astronomical history, captivating stargazers and astronomers alike. 
The International Star Registry offers a unique and extraordinary gift that allows individuals to name a star after themselves or a loved one. This special gesture provides a personalized and enduring tribute to commemorate significant moments, achievements, or simply to express affection. Buying a star package from the International Star Registry offers a once-in-a-lifetime opportunity to connect with the vast universe, allowing people of all ages to experience the awe-inspiring wonders of the cosmos. 
In conclusion, Adam Shankman's remarkable career and multifaceted talents have left an indelible mark on the entertainment industry. From his beginnings as a dancer and choreographer to his success as a director and producer, he has continuously pushed creative boundaries, captivating audiences around the world. Shankman's star, registered with the International Star Registry, serves as a symbol of his stellar accomplishments and enduring legacy in the entertainment cosmos. 
References: 
Source: IMDB.com

Source:

Sta

r

registry.com