Charley Pride: A Shining Star in Music and Beyond
Modified: July 1, 2023     Author: International Star Registry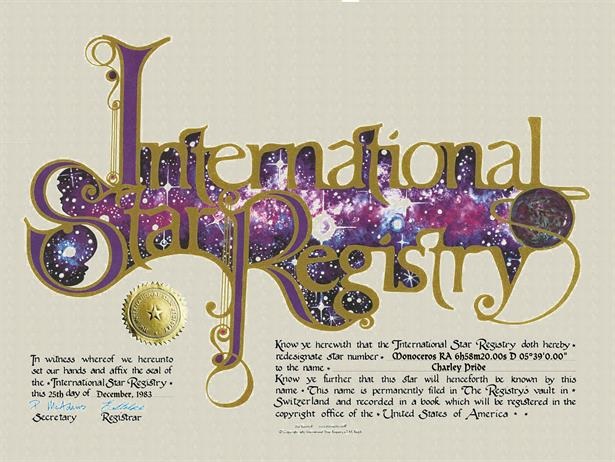 Charley Frank Pride, born on March 18, 1934, was a remarkable American figure known for his extraordinary contributions to music and sports. Before ascending to musical stardom, Pride displayed his talents on the baseball field. He was not only a gifted singer and guitarist but also a skilled professional baseball player. However, his greatest legacy lies in his exceptional musical achievements.  Pride's musical journey began in the early 1960s when he ventured into the world of country music. Despite facing challenges as an African American artist in a predominantly white industry, his soulful voice, impeccable guitar skills, and heartfelt performances captivated audiences worldwide. His breakout moment came in the early to mid-1970s, a period during which he became RCA Records' top-selling artist, second only to Elvis Presley. This golden era of his career, spanning from 1966 to 1987, saw an impressive 52 of his songs reach the top 10 on the Billboard Hot Country Songs chart, with an astonishing 30 of them reaching the number one spot.  Charley Pride's musical prowess was celebrated through numerous accolades. In 1971, he received the prestigious Entertainer of the Year award at the Country Music Association Awards. This recognition solidified his status as a true musical luminary. The following year, his talent was further honored with a Grammy Award for "Best Country Vocal Performance, Male," highlighting the depth and authenticity of his voice. 
Pride's impact on the country music scene extended beyond his exceptional talent. He became one of the select few African American members of the Grand Ole Opry, an institution deeply rooted in country music history. In 2000, he was fittingly inducted into the Country Music Hall of Fame, a testament to his enduring influence and the mark he left on the genre.  One of the most unique and heartfelt gifts Charley Pride received was a star named in his honor. On December 25, 1983, a new star illuminated the cosmos, forever associated with the name Charley Pride. Situated in the Monoceros constellation, with coordinates Monoceros RA 6h 58m 20.00s D 05° 39′ 0.00″, this celestial tribute symbolized Pride's radiant presence both on and off the stage.  The Monoceros constellation, often referred to as the Unicorn, is a captivating part of the night sky. Located near the celestial equator, it boasts a rich history in various cultures' mythologies. The constellation's name itself, derived from the Greek word for "unicorn," evokes a sense of mystery and enchantment. Within Monoceros, the star named after Charley Pride shines as a poignant reminder of his enduring legacy. 
When searching for meaningful and distinctive gifts for special occasions, the International Star Registry offers a truly extraordinary choice. Instead of traditional presents, consider the unique opportunity to "name a star" after a loved one, immortalizing their presence in the night sky. Whether for Mother's Day, birthdays, or graduations, this gesture of naming a star serves as a touching symbol of eternal affection and admiration. 
International Star Registry offers a variety of packages that cater to different preferences and budgets. From basic star naming packages to deluxe options that include personalized star maps and certificates, there's a perfect choice for every occasion. Particularly, the option to "buy a star package" provides a comprehensive and memorable way to celebrate life's milestones.  As individuals approach their centennial celebrations, finding the ideal gift becomes a heartfelt endeavor. For those seeking distinctive "100th birthday gift ideas,"  International Star Registry presents a remarkable option. The act of naming a star after the centenarian is a tribute to a well-lived life and a beautiful symbol of their enduring light. 
In conclusion, Charley Pride's journey from the baseball field to the Grand Ole Opry stage is a testament to his indomitable spirit and undeniable talent. His contributions to country music and culture continue to resonate, leaving an indelible mark on generations to come. The star named after Charley Pride in the Monoceros constellation serves as a poignant reminder of his legacy. Similarly, International Star Registry offers a way to honor loved ones with a gesture as timeless as the stars themselves. For those seeking unforgettable gifts, whether for Mother's Day, birthdays, or graduations, the act of "naming a star" is a powerful way to express love and appreciation. 
References: