Adina Porter Has a Star Named after Her
Modified: July 1, 2023     Author: International Star Registry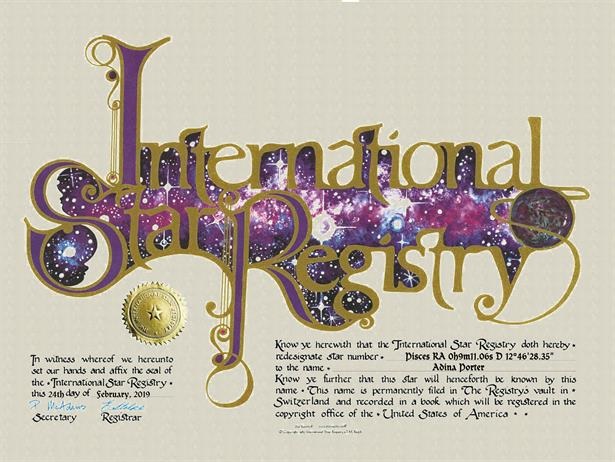 Adina Elizabeth Porter is a highly talented American actress who has made a significant impact in the world of entertainment. Throughout her illustrious career, she has showcased her remarkable acting abilities in various television series and stage productions, garnering critical acclaim and a dedicated fan base. Porter is widely recognized for her outstanding performances in popular shows such as True Blood, The Newsroom, The 100, and American Horror Story. 
Born with a natural talent for acting, Adina Porter embarked on her professional journey in the world of theater. She initially gained attention for her performances in Off-Broadway productions, and her exceptional portrayal of Venus earned her the prestigious Obie Award in 1996. This early recognition served as a testament to her exceptional acting skills and foreshadowed her future success in the industry. 
Porter's career reached new heights when she made her Broadway debut in 2001, starring in the revival of the classic play, The Women. Her presence on the Broadway stage further solidified her reputation as a versatile and accomplished actress, showcasing her ability to captivate audiences in live performances. 
However, it was her appearances on television that truly propelled Adina Porter into the spotlight. One of her most notable roles came in the HBO fantasy horror series True Blood, where she portrayed the character Lettie Mae Thornton. Her portrayal of this troubled and complex character resonated with viewers, earning her widespread recognition and admiration. 
Porter continued to excel in her craft with her portrayal of Kendra James on the HBO drama series The Newsroom, captivating audiences with her compelling performance. Her ability to immerse herself in the essence of her characters, bringing depth and authenticity to each role, further solidified her reputation as a versatile and talented actress. 
In the CW science fiction drama series The 100, Porter portrayed the formidable character of Indra. Her portrayal of this strong and resilient warrior showcased her ability to tackle diverse roles with grace and conviction, earning her praise from both critics and fans. 
However, it is her remarkable contributions to the FX anthology series American Horror Story that have truly solidified Adina Porter's status as a powerhouse actress. Throughout the series, she has portrayed multiple characters, each distinct and memorable in their own right. From Sally Freeman to Lee Harris, Beverly Hope, Dinah Stevens, and Chief Burleson, Porter's performances have consistently captivated audiences and garnered critical acclaim. Her versatility as an actress shines through in each portrayal, demonstrating her ability to navigate various genres and deliver outstanding performances. 
In addition to her remarkable acting career, Adina Porter has also received special recognition in the realm of astronomy. As a heartfelt gift from the International Star Registry, a star was named in her honor. The star, named Adina Porter, was officially recorded on February 24, 2019, with its coordinates located in the Pisces constellation at RA 0h 9m 11.06s and D 12° 46′ 28.35″. The Pisces constellation is one of the twelve constellations of the zodiac and holds significant astrological and symbolic meanings. 
Astrology, an ancient practice rooted in celestial observations, explores the influence of celestial bodies on human lives and personalities. The placement of stars in specific constellations is believed to have a profound impact on individual traits and characteristics, according to astrological beliefs. The Pisces constellation, symbolized by two fish swimming in opposite directions, is associated with imagination, sensitivity, and compassion. People born under the sign of Pisces are often known for their intuitive nature and artistic talents. 
The International Star Registry, known for its sentimental and unique gift options, provides individuals with the opportunity to record a star name and create a lasting tribute. It offers various packages that allow people to buy a star package and personalize it with a chosen name and relevant details. This heartfelt gesture has become a popular choice for special occasions such as weddings, anniversaries, and christenings, allowing individuals to express their love and appreciation in a meaningful and everlasting way. 
Adina Porter's remarkable career and accomplishments have cemented her status as one of the most talented and versatile actresses in the industry. Her ability to bring characters to life, whether on stage or in front of the camera, is a testament to her exceptional talent and dedication. With each new project, she continues to captivate audiences and leave a lasting impact. Adina Porter's contributions to the world of entertainment have been nothing short of extraordinary, and her influence will undoubtedly endure for years to come. 
References: