David Hasselhoff Has a Star Named
Updated: July 1, 2023     Author: International Star Registry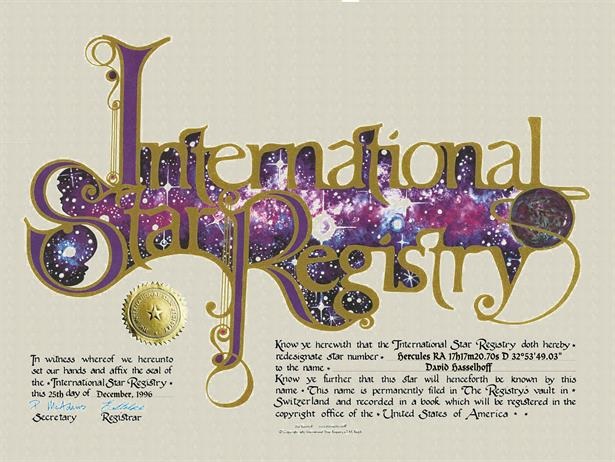 David Hasselhoff: A Shining Star in Entertainment 
Introduction 
David Hasselhoff, known affectionately as "The Hoff," is a multifaceted American icon with a stellar career spanning acting, singing, and television hosting. Beyond his remarkable contributions to the entertainment industry, David Hasselhoff holds a unique distinction – he has a star named after him in the vast cosmos. This extraordinary gift was bestowed upon him on December 25, 1996, and you can find his star at the celestial coordinates Hercules RA 17h 17m 20.70s D 32° 53′ 49.03″.  
Astronomy and the Hercules Constellation 
Astronomy enthusiasts will appreciate that David Hasselhoff's star resides within the Hercules constellation. Hercules, one of the ancient constellations, is named after the hero of Greek mythology known for his legendary strength. It's fitting that The Hoff's star shines brightly in the skies alongside such a powerful symbol. 
International Star Registry: The Perfect Gift 
Are you looking for a unique and unforgettable gift for birthdays, Christmas, or to celebrate the birth of a baby? Look no further than International Star Registry. With the option to record a star name in honor of your loved ones, you can give them a gift that truly shines. The act of naming a star is a symbolic gesture that transcends earthly boundaries, making it a heartfelt present for any occasion. Explore star naming packages here and consider it among your top 30th birthday gift ideas. 
David Hasselhoff's Remarkable Career 
David Hasselhoff's career is nothing short of spectacular. He rose to fame on the soap opera "The Young and The Restless," portraying Dr. Snapper Foster from 1975 to 1982. However, it was his iconic role as Michael Knight in "Knight Rider" (1982–1986) that solidified his status as a television legend. Hasselhoff further graced our screens as L.A. County Lifeguard Mitch Buchannon in the beloved series "Baywatch" (1989–2000), where he also played a pivotal role in production, continuing with "Baywatch Hawaii" until 2001. 
Beyond television, Hasselhoff made a significant impact in the world of cinema, appearing in films like "Dodgeball" (2004), "The SpongeBob SquarePants Movie" (2004), "Click" (2006), "Hop" (2011), and "Piranha 3DD" (2012). In a groundbreaking move, he portrayed Marvel Comics character Nick Fury in "Nick Fury: Agent of S.H.I.E.L.D." (1998) before Samuel L. Jackson's rendition. He even took on Broadway, debuting in the musical "Jekyll & Hyde" in 2000 and later starring in other acclaimed productions like "Chicago" and "The Producers." 
Musical Success and Television Stardom 
David Hasselhoff's talents extend to music, with an impressive discography of 15 studio albums. His musical prowess garnered immense success, especially in German-speaking regions of Europe, where he received multiple gold and platinum awards. One of his singles even reached the number one spot in Germany and Switzerland, solidifying his place as an international sensation. 
In addition to his acting and music careers, Hasselhoff has graced the small screen as a judge on talent shows like "America's Got Talent" (2006–2009) and "Britain's Got Talent" (2011), where his discerning eye and charisma endeared him to audiences worldwide. 
Conclusion 
David Hasselhoff's star, shining brightly in the Hercules constellation, is a testament to his enduring legacy in entertainment. As you explore the cosmos or consider giving the gift of a star name, remember The Hoff's remarkable journey and the boundless possibilities that International Star Registry offers. To record a star name in honor of a loved one, visit www.starregistry.com today.