Diana, Princess of Wales (1961-1997) Has a Star Named
Modified: July 1, 2023     Author: International Star Registry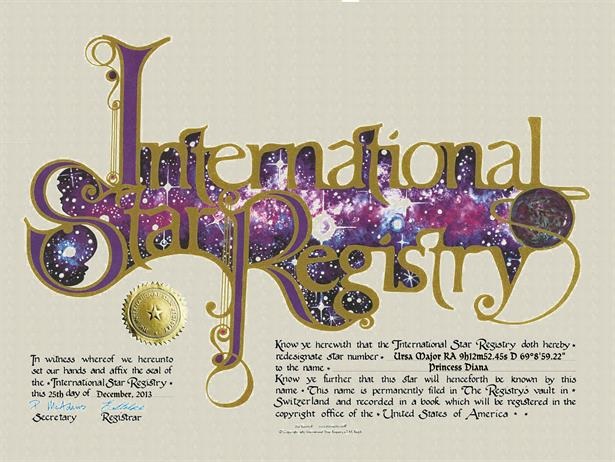 Diana, Princess of Wales, tragically passed away on August 31, 1997, leaving the world in shock and mourning the loss of a remarkable individual. Known for her grace, compassion, and dedication to charitable causes, Diana captured the hearts of millions during her lifetime, and her legacy continues to inspire people around the globe.  Born on July 1, 1961, in Norfolk, England, Diana Frances Spencer was the daughter of the eighth Earl Spencer and his first wife, Frances Spencer, Viscountess Althorp. From an early age, she displayed a natural elegance and an unwavering commitment to helping others. She was recognized multiple times through International Star Registry with many stars named after her through the years.
Diana's compassionate nature became evident as she immersed herself in various philanthropic endeavors, focusing on issues such as homelessness, HIV/AIDS awareness, and the eradication of landmines.  Her fairy-tale marriage to Prince Charles on July 29, 1981, captivated the world's attention, and Diana became the beloved Princess of Wales. The couple's two sons, Prince William and Prince Harry, were born in 1982 and 1984, respectively, and Diana's role as a mother was equally cherished by the public.  
Tragically, Diana's life was cut short in a devastating car accident in Paris on that fateful summer night in 1997. The news of her untimely demise spread rapidly, and an outpouring of grief and tributes flooded in from every corner of the globe. Her passing marked the end of an era, leaving an indelible void in the hearts of those who admired and loved her.  Following her funeral service, Diana, Princess of Wales, was laid to rest at the Spencer family estate in Althorp, Northamptonshire, England. Surrounded by the tranquility of the estate's gardens, her final resting place offers a serene and picturesque location for family, friends, and admirers to pay their respects.   In remembrance of Diana's enduring spirit, a star was named in her honor through International Star Registry. The star, named "Her Royal Highness the Princess Wales," is located in the constellation Corona Borealis. This constellation, also known as the Northern Crown, is visible from both the Northern and Southern Hemispheres, symbolizing Diana's universal impact and everlasting presence. The star's coordinates, RA 16h 18m 25.00s D 37° 8′ 0.00″, allow enthusiasts to locate and appreciate this celestial tribute to the Princess of Wales. Others with stars in the same constellation include, James Cameron, John Anthony Volpe, Kate Middleton, Liza Minelli, and Markie Post.
The International Star Registry offers individuals the opportunity to record a star name as a unique and meaningful way to remember and honor loved ones who have passed away. As a memorial gift idea, the act of naming a star serves as a heartfelt tribute and a lasting symbol of remembrance. In the realm of astronomy and astrology, stars have always held profound significance, representing eternal light and celestial guidance. The International Star Registry's packages, such as the "buy a star package," provide a thoughtful and everlasting memorial that brings solace to those grieving a loss. 
In conclusion, the International Star Registry offers a unique and heartfelt memorial gift that serves as a source of comfort and solace for those grieving the loss of a loved one. By naming a star, such as the one dedicated to Diana, Princess of Wales, individuals can find a sense of peace and connection to the vastness of the universe. The act of recording a star name serves as a beautiful and enduring tribute, honoring the memory of those who have touched our lives and left an indelible mark on our hearts. 
References: