Creative Ways to Celebrate Your 10-Year Anniversary with Him
Modified: July 1, 2023     Author: International Star Registry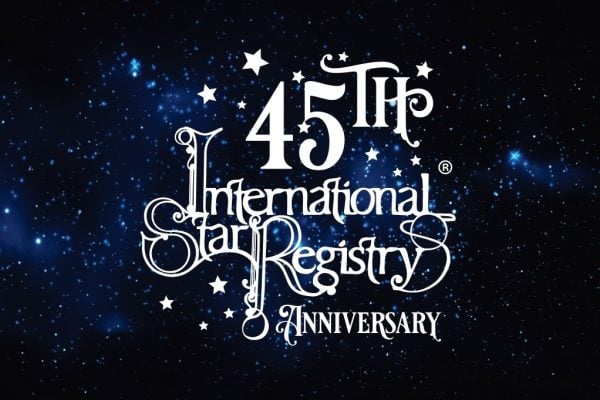 Have you been married to your beloved partner for 10 years already? Celebrate this special milestone in your relationship with a heartwarming and creative gesture! Try something out of the ordinary, like star naming. Capture an unforgettable moment in time by having a star named after the two of you and present him with a personalized certificate. 
Or give them a beautiful reminder to cherish your love forever with a certificate with handwritten calligraphy of stars of the stars name and an engraved sterling silver ornament. No matter what gift you choose, your 10th anniversary is a wonderful opportunity to show him how much he means to you. Make it one of lasting memories! 
The Importance of Celebrating Milestones in Life.  
Your 10-year wedding anniversary is a time to celebrate. Not only are you celebrating the bond between you and your partner, but also a milestone in life that very few couples experience. Your marriage has already gone through so much and achieved so much; honoring it with an extra special celebration can be incredibly meaningful for both of you. It doesn't have to be expensive or flashy—you can get creative and come up with numerous unique ways to celebrate your 10-year anniversary. 
First, think about what kind of gift you want to give your partner on this special day. If it's a traditional anniversary, there are many different options you can choose from. No matter what type of gift you opt for, it's important to make it personal and meaningful. A gift that reflects your love, such as a star naming or a piece of sterling silver jewelry or something special with your wedding date engraved on it, is always a thoughtful option. For the modern anniversary, you can explore tin anniversary gifts—a unique and sweet way to commemorate the occasion. 
Beyond presents, there are countless other ways to celebrate your 10-year anniversary. No matter how you choose to celebrate your 10-year anniversary, be sure to make it special and memorable. Marking this milestone in life is a unique opportunity to appreciate the years of effort you have put into building your strong relationship. With the right gift and thoughtful celebration, you'll create an unforgettable experience for both of you! 
Creative Ways to Celebrate Your 10-Year Anniversary 
Star Naming
Make your 10-year anniversary even more special by buying a Star package to name your star and choose from a variety of framing options! The Custom Star Kit is unframed, the Deluxe Star Kit includes a framed certificate, or select the Ultimate Star Kit. When you choose the Ultimate Star Kit, both your International Star Registry certificate and your personalized star chart will be framed in a beautiful black frame. What better way to show your love and commitment than with a lasting reminder of the night sky? 
Photographic Sky Image 
Present him with a personalized sky image that captures the moment he said yes. With International Star Registry®, you can purchase an exclusive Photographic Sky Image that marks your 10-year anniversary with stunning visuals of the night sky. Each sky image is individually produced in full color and will be customized based on the exact location, date, and time chosen by you. This is a perfect gift idea that will make your special day truly memorable! 
Silver Star Ornament 
Share a special moment with your significant other with this meaningful Silver Star Ornament. This beautiful item is engraved with the date of your 10-year anniversary, making it an amazing reminder of your commitment and love for each other. Hang it in your home as a way to celebrate the occasion every year or give it as a gift to him – the perfect way to show your appreciation and love. Let the sparkle of this star ornament light up yours and his life every day! 
Hand Lettered Calligraphy 
Commemorate your special day with a beautiful, personalized hand lettered calligraphy certificate from the International Star Registry. Our experienced calligraphers will create a stunning work of art that is perfect for framing and displaying in your home. The certificate features both the date of dedication and the telescopic coordinates of the star, making it a truly unique and meaningful gift. To ensure your beautiful certificate looks its best, our calligraphers suggest avoiding using all capital letters. Using lowercase letters allows for an elegant flow that will make your certificate stand out as a work of art. 
Order your hand lettered calligraphy certificate today and give your 10-year anniversary celebration a truly special touch! 
FAQ
Q: Which Star Should I Buy For 10 Year Anniversary?
A. The International Star Registry allows you to purchase any star in the sky for your 10 year anniversary celebration. You can choose a constellation that has a special meaning to you, or simply pick one based on location in the night sky. 
Q: What Gifts Should I Give on My 10 Year Anniversary?
A. When it comes to celebrating your 10-year anniversary, the gift you choose is just as important as the celebration itself. Whether you opt for a traditional or modern anniversary gift, make sure it's something that reflects your love and commitment to each other. 
For traditional anniversaries, consider star naming or sterling silver jewelry. For modern anniversaries, tin anniversary gifts are an excellent option. You can also get creative and come up with unique ways to celebrate your 10-year anniversary such as a hand lettered calligraphy certificate or a personalized sky image. No matter what type of gift you choose, make it special and meaningful. 
Final Words: 
Your 10th anniversary is a milestone that commemorates your commitment and love for each other. Get creative and come up with unique ways to celebrate, such as star naming with hand lettered calligraphy. No matter what type of gift you opt for, make sure it's personal and meaningful. Enjoy this special day together and create lasting memories!