Perfect Christmas Gifts for Newborns
Modified: July 1, 2023     Author: International Star Registry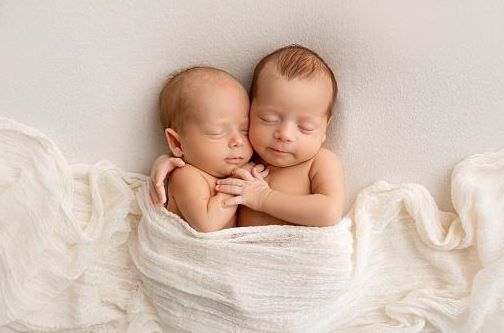 Are you looking for the perfect Christmas gift for a newborn? Star naming paired with personalized certificates could be just what you need to make your baby's first Christmas truly special. Star naming is one of the most thoughtful gifts you can give, honoring the little one with their very own piece of the night sky, dedicated entirely to them.  Not only can you name a star after a newborn, but you can opt for an upgrade to personalize the gift with details of your newborn's name and birthdate. It's a truly unique keepsake to have forever. For something extra special, consider a photographic sky image or a beautiful certificate with hand calligraphy that serve as reminders of the personalized gift for years to come. 
How Do Stars Relate to Newborns? 
When it comes to finding the perfect Christmas gift for newborns, it's a common idea to buy them something that symbolizes their star sign. Whether you follow astrology closely or not, many people believe stars have a special power over us and can be associated with many things in our lives.  Stars can represent hope, positivity, good luck, and possibilities. By giving a baby something related to the stars, you are showing them just how much potential their life holds, with all of it laid out in front of them. A star-themed gift can also be a wonderful way to commemorate the momentous occasion of their arrival into this world. 
Star-Related Christmas Gifts for Newborns 
Buy a Star Naming Kit 
If you're looking for something special to commemorate your baby's first Christmas, a star package is an unforgettable gift. With a Custom Star Kit from International Star Registry, you can name your star and choose from various framing options! You can select the unframed Custom Star Kit or add a frame to your certificate with the Deluxe Star Kit. For the best presentation, pick the Ultimate Star Kit, which includes both your International Star Registry certificate and your personalized star chart framed and ready to display. 
This is a truly unique gift that is likely to become an heirloom passed down through generations. It's also a wonderful way to get kids excited about astronomy and the night sky, as they can locate their star on the chart and find it in the sky using a telescope or binoculars.  Your baby's star package will come with an International Star Registry certificate, which includes the name of your star, its catalog number, celestial coordinates, and year of dedication. It also has a beautiful illustration of the night sky with your star circled in red, making it easy to find. The new star name will be published in the book, Your Place in the Cosmos, which is registered in the U.S. Copyright Office. 
International Star Registry even offers a plush toy for children called "Wish Upon a Star". 
Photographic Sky Image 
Welcome the newest addition to your family this holiday season with a Photographic Sky Image from International Star Registry. This special gift can be customized for you and will be a beautiful reminder of your baby's first Christmas.  Each sky image is individually produced in full color, featuring photographs taken by noted Astro photographer Eckhard Slawik and professional artist and photographer Jürgen Müller. It includes the precise sky coordinates of your star, a certificate with its unique name, and can come framed or unframed. It's a unique way to commemorate the unforgettable experience for everyone in the family to share and will make a great gift that lasts forever. 
Silver Star Ornament 
What better way to celebrate a baby's first Christmas than with a personalized Silver Star Ornament? Perfect for a newborn's first Christmas tree, this classic silver ornament can be engraved with their name and the year to create an unforgettable keepsake. It's a meaningful way to mark the beginning of their lives and make sure that Christmas will always be a reminder of the special gift. Plus, the ornament looks beautiful on any tree, with its classic design adding glimmer and sparkle to your holiday decorations.  It's great because this ornament doesn't just have to be for Christmas! This Silver Star Ornament can be hung from your window, the door, or anywhere else throughout the year. It's a reminder that there's always an extra special star shining bright in the night sky. Pick up a Silver Star Ornament today and give your little one a gift that will last for many Christmases to come. 
Hand-Lettered Calligraphy 
When it comes to finding the perfect Christmas gift for newborns, look no further than a star package from the International Star Registry. This unique and special gift is sure to be remembered forever and will remind babies of their parents' love year after year.  The International Star Registry offers you the unique chance to buy a star package with hand calligraphy. You can select the star name, which will then be carefully drawn by one of our talented staff artists. The certificate will also be personalized according to what you're looking for, including a date of dedication and telescopic coordinates of the star.   As the years pass, your star package with handwritten, personalized calligraphy will serve as an ever-lasting reminder of your special love and bond with your infant. 
FAQ
Q.
What Kind of Gifts are Good for a Newborn?
A. Perfect Christmas gifts for newborns include star naming, engraved sterling silver jewelry or ornaments, or a "Wish Upon a Star" gift. These thoughtful presents will make the baby's first Christmas truly special and become beautiful keepsakes that last forever. 
Q.
What is the Difference Between a Custom Star Kit, Deluxe Star Kit, And Ultimate Star Kit?
A. The Custom Star Kit comes with an International Star Registry certificate, which includes the name of your star, its catalog number, and celestial coordinates. The Deluxe Star Kit also includes framing options for your certificate. Finally, the Ultimate Star Kit has both the International Star Registry certificate and a personalized star chart framed.  No matter which option you choose, all of the options are great gifts to commemorate a baby's first Christmas. 
Final Thoughts 
Picking out the perfect Christmas gift for a newborn can be daunting, but it doesn't have to be. From star naming to a photographic sky image and hand-lettered, personalized calligraphy star packages, there are plenty of thoughtful presents that can make your baby's first Christmas extra special. With these meaningful gifts from Star Registry®, you can ensure that your little one will remember their first holiday season for years to come.