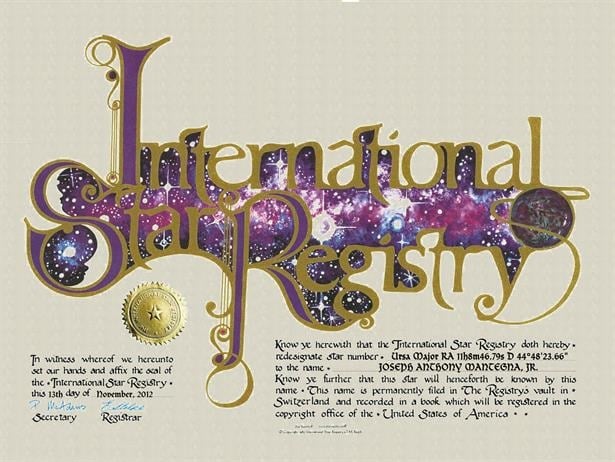 On November 13, we celebrate the 76th birthday of the accomplished actor, Joe Mantegna.  Joe has made an indelible mark on the world of entertainment. Here we discuss his career and explore a celestial tribute befitting his enduring legacy—a star named after him through International Star Registry. We'll also answer the question, "How to buy a star?" while offering a unique 76th birthday gift idea.
Joe Mantegna's Illustrious Career
Born on November 13, 1947, in Chicago, Illinois, Joe Mantegna's journey in the world of acting began on the stage before transitioning to television and film. His early career included roles in theater productions such as "Hair" and "Glengarry Glen Ross," which earned him critical acclaim.
Joe's breakthrough came with his portrayal of Bobby in the acclaimed Broadway play "Speed-the-Plow." His talent on the stage caught the attention of Hollywood, leading to his film debut in "Medusa Challenger" (1976). However, it was his role as Joey Zasa in "The Godfather Part III" (1990) that catapulted him to global recognition.
Throughout his career, Joe Mantegna has continued to deliver outstanding performances, earning accolades for his work in films like "House of Games" (1987), "Searching for Bobby Fischer" (1993), and "The Rat Pack" (1998), where he portrayed Dean Martin. His versatility as an actor has made him a respected and beloved figure in the entertainment industry.
A Celestial Tribute: How to Buy a Star
As we celebrate Joe Mantegna's 76th birthday, we search for unique ways to honor his remarkable contributions to the world of entertainment. One extraordinary gesture is someone named a star in his honor through International Star Registry. To answer the question, "How to buy a star?" – International Star Registry offers a simple and heartfelt way to create a celestial connection between someone's name and a star in the sky..
76th Birthday Gift Idea
Naming a star as a 76th birthday gift idea is a thoughtful and heartfelt tribute to someone you love. Imagine gazing up at the night sky and finding the star dedicated to him, shining brilliantly among the constellations.
We wish Joe Mantegna a happy 76th birthday on November 13.  And as we celebrate him, consider the celestial tribute of naming a star—a gift that will forever link his name to the vast expanse of the night sky, making his birthday truly exceptional. Happy Birthday, Joe Mantegna!