President William J Clinton: A Star in Andromeda | International Star Registry
Modified: July 1, 2023     Author: International Star Registry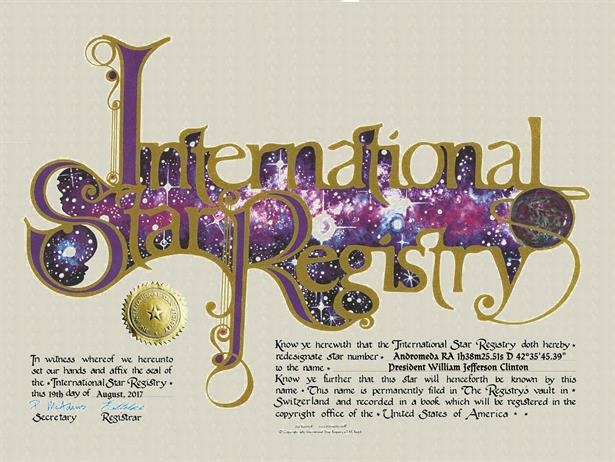 William Jefferson Clinton, also known as Bill Clinton, served as the 42nd governor of Arkansas from 1979 to 1981 and then again from 1983 to 1992. He was born on August 19, 1946, in Hope, Arkansas. Clinton graduated from Georgetown University in 1968 and received a law degree from Yale University in 1973. He served as the attorney general of Arkansas from 1977 to 1979 before being elected as governor. 
During his time as governor, Clinton focused on improving education and healthcare in Arkansas. He implemented policies that reduced class sizes, increased teacher salaries, and expanded access to healthcare for low-income families. He also supported economic development and job creation in the state. 
Clinton's leadership in Arkansas led him to become a prominent figure in the Democratic Party. In 1992, he successfully ran for president of the United States, defeating incumbent George H.W. Bush. Clinton served two terms as president, from 1993 to 2001. 
In August 2017, someone gifted Clinton a star through the International Star Registry. The star is in the Andromeda constellation, with coordinates of RA 1h 38m 25.51s D 42° 35′ 45.39″. The star was named "President William Jefferson Clinton" and recorded in the International Star Registry's records. 
The Andromeda constellation is one of the 88 modern constellations recognized by the International Astronomical Union. It is named after the mythological figure Andromeda, who was chained to a rock as a sacrifice to a sea monster. The constellation contains several notable objects, including the Andromeda Galaxy, which is the nearest galaxy to the Milky Way and is visible to the naked eye on a dark night. 
Astronomy and astrology enthusiasts can appreciate the significance of having a star named after someone. It is a unique and personal way to recognize a special individual and their achievements. The International Star Registry makes it easy for anyone to name a star after someone they care about. By purchasing a "buy a star package," individuals can choose a star, name it after someone, and receive a custom certificate. 
FAQ 
How much does a star cost?

The cost of naming a star depends on the package you choose. At International Star Registry, prices start at $54.00 for a basic star-naming certificate and can range up to several hundred dollars for more elaborate gift sets.

Where is Governor Clinton's star located?

Governor Clinton's star is located in the Andromeda constellation.
In conclusion, William Jefferson Clinton was a distinguished governor of Arkansas and two-term president of the United States. His leadership and contributions to education, healthcare, and economic development have left a lasting impact on the state and the country. The International Star Registry provides a unique and thoughtful gift for any occasion, allowing individuals to name a star after someone special and record it in the Star Registry's records. 
References: