Bob Riley: Governor of Alabama with a Star Named in His Honor
 Modified: July 1, 2023     Author: International Star Registry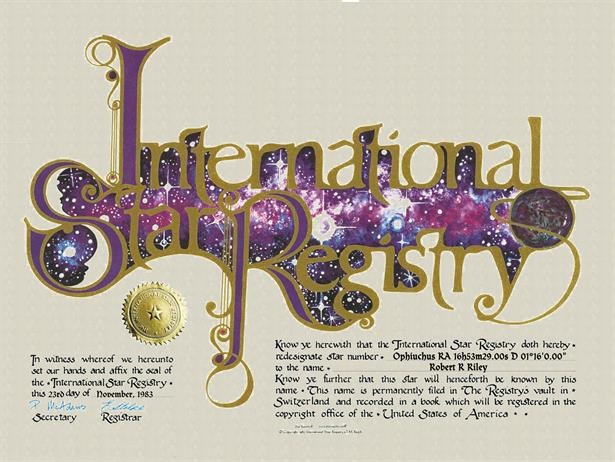 Robert R. Riley, better known as Bob Riley, served as the 52nd governor of Alabama from 2003 to 2011. Born on October 3, 1944, in Ashland, Alabama, Riley graduated from the University of Alabama with a degree in Business Administration. He went on to become a successful businessman before entering politics in 1996, when he was elected to represent Alabama's 3rd congressional district in the U.S. House of Representatives.  During his time as governor, Riley focused on improving education and healthcare in Alabama, as well as strengthening the state's economy. He also made significant strides in promoting renewable energy, earning him recognition as one of the "Top 100 Public Officials" by the organization Governing. 
In 2009, through International Star Registry, someone presented Governor Riley with a unique gift – a star named after him. The star's name is Robert R. Riley and it was recorded on November 23, 1983, in the constellation of Ophiuchus. The star's coordinates are RA 16h 53m 29.00s D 01° 16′ 0.00″. Ophiuchus is a large constellation located near the celestial equator. It is one of the 48 constellations listed by the ancient Greek astronomer Ptolemy, and is often associated with the Greek myth of Asclepius, the god of medicine. In astrology, Ophiuchus is sometimes considered the 13th zodiac sign, although this is not recognized by astronomers. International Star Registry is a company that allows people to name and record stars in honor of their loved ones or as a special gift. Customers can choose from a variety of buy a star packages, each of which includes a certificate with the star's name, date and coordinates. International Star Registry has been providing this unique gift option for over 40 years and has named over 3 million stars in the process. 
Governor Riley's star is just one example of the many creative and unique gifts that can be given through the International Star Registry. Whether it's to celebrate a birthday, anniversary, or other special occasion, naming a star is a thoughtful and memorable way to show someone you care. 
FAQ:
Q. How do you buy a star?
A. To buy a star from International Star Registry, simply visit their website and select the star package you would like to purchase. Follow the prompts to provide the necessary information and complete your purchase.
Q. Where is Governor Riley's star located?
A. Governor Riley's star is located in the Ophiuchus constellation. It is a constellation that straddles the celestial equator.
In conclusion, Bob Riley is a well-respected former governor of Alabama who made significant contributions to the state during his time in office. The fact that he has a star named after him is a testament to his achievements and his lasting impact on the state. International Star Registry is a unique and creative gift option that can be used for any occasion and provides a special way to honor the people you care about. 
References: