Sarah Palin: A Star in Cassiopeia | International Star Registry
Modified: July 1, 2023     Author: International Star Registry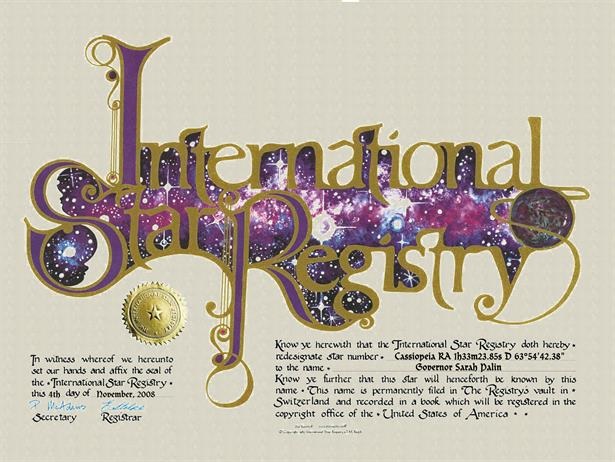 Sarah Palin, born on February 11, 1964, in Sandpoint, Idaho, is an American politician, author, and commentator. She was the ninth Governor of Alaska from 2006 to 2009 and the first woman to hold the position. Palin was also the Republican Party nominee for Vice President of the United States in the 2008 election, running alongside presidential candidate John McCain. 
Palin's political career began in 1992 when she was elected to the Wasilla City Council in Alaska. She served two terms as mayor of Wasilla from 1996 to 2002 and then went on to become the youngest and first female governor of Alaska in 2006. During her tenure as Governor, she focused on issues such as energy development, education, and public safety. Palin resigned as Governor in 2009 to pursue other opportunities in the public eye. 
In November 2008, the International Star Registry recorded a star name in honor of Governor Sarah Palin. The star is located in the constellation Cassiopeia, with coordinates RA 1h 33m 23.85s D 63° 54′ 42.38″. Cassiopeia is a prominent constellation in the northern sky, named after the queen in Greek mythology. It is easily recognizable for its W shape and is often associated with astronomy and astrology. 
If you are interested in naming a star after someone special, you can purchase a star package from the International Star Registry. Packages vary in price and can range from around $54 to over $300. Each package includes a beautiful certificate, a star chart, and other memorabilia. The cost of the package may depend on the type of package selected, the level of customization, and the extras included. 
FAQ 
Q. How do I go about naming a star for a loved one?
A. Naming a star for a loved one can be a unique and meaningful gift. One way to do this is by using a star naming service, such as the International Star Registry (member of the BBB). To name a star through the International Star Registry, you can visit their website and select a package that fits your budget and preferences. The packages typically include a star certificate, a star map, and other additional items.
Q. Where is Governor Palin's star located?
A. Governor Palin's star is located in the Cassiopeia constellation. Cassiopeia represents the Queen.
In conclusion, Sarah Palin is a well-known American politician who served as the ninth Governor of Alaska. Her dedication to public service and her contributions to her state are admirable. The International Star Registry offers a unique and personalized way to honor someone special by naming a star after them. With a variety of packages available, you can choose the perfect one for any occasion. It's a truly unique and thoughtful gift that will be cherished for years to come. 
References: