Governor Martin O'Malley: A Named Star in Perseus | International Star Registry
Modified: July 1, 2023     Author: International Star Registry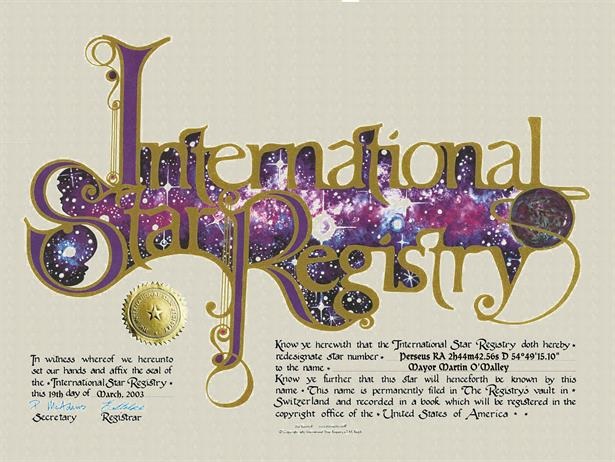 Martin O'Malley is an American politician, lawyer, and former Governor of Maryland. Born on January 18, 1963, in Washington D.C., he attended Catholic University of America and the University of Maryland School of Law. 
O'Malley served as Governor of Maryland from 2007 to 2015. During his tenure, he focused on issues such as education, job creation, and environmental protection. He also introduced policies to reduce crime in Baltimore and statewide, which led to significant decreases in violent crime rates. 
In 2003, O'Malley was gifted a star by the International Star Registry. The star, located in the Perseus constellation, was named "Mayor Martin O'Malley" and recorded on March 19, 2003. The star's coordinates are Perseus RA 2h 44m 42.56s D 54° 49′ 15.10″.  Perseus is a prominent northern constellation that is visible from September to March. It is named after the Greek hero Perseus, who is known for slaying the Medusa. In both astronomy and astrology, Perseus is associated with courage, heroism, and bravery. 
If you're looking to name a star after someone special, the International Star Registry is a great option. They offer a variety of buy a star packages that allows you to choose a name and record it in their star listing. It's a unique and thoughtful gift that can be used for any occasion. 
In addition to his work as Governor of Maryland, O'Malley has also been involved in national politics. He was a candidate for the Democratic nomination for President of the United States in the 2016 election but dropped out after failing to gain significant support. 
FAQ
Q. Is star naming legitimate?
A. While star naming is not recognized by the scientific community, naming a star through the International Star Registry is legitimate. Naming a star is a sentimental gift for any occasion and is loved by all.
Q. Where is Governor O'Malley's star located?
A. Governor O'Malley's star is located in the Perseus constellation. Perseus represents the hero.
Overall, Martin O'Malley is a well-respected politician who has made significant contributions to the state of Maryland and beyond. If you're looking for a unique and meaningful gift, the International Star Registry is a great option to consider. 
References: 
"Martin O'Malley." Biography.com, A&E Networks Television, 10 Oct. 2021,

www.biography.com

.

 

"Perseus Constellation: Facts, Myth, Stars, Deep Sky Objects." Constellation Guide, constellation-guide.com/constellation-list/perseus-constellation/.

 

"Buy a Star Package." International Star Registry,

www.starregistry.com

.

 

"Name a Star." International Star Registry,

www.starregistry.com/name-a-star