Thomas J. Meskill: A Star in Microscopium | International Star Registry
 Modified: July 1, 2023     Author: International Star Registry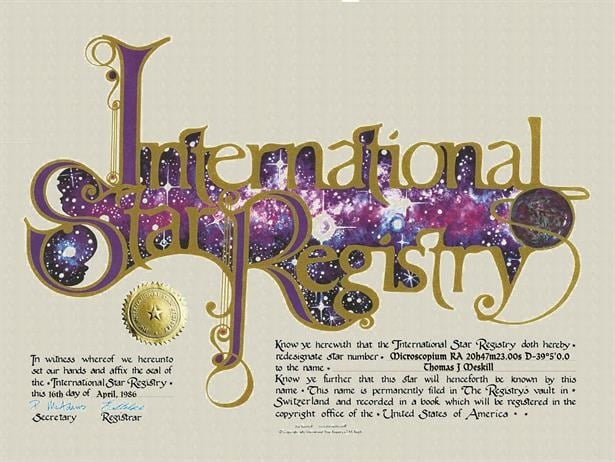 Thomas J. Meskill was the Governor of Connecticut from 1971 to 1975. Born on January 30, 1928, in New Britain, Connecticut, Meskill grew up in a working-class family. Meskill attended the University of Connecticut and earned a Bachelor of Science degree in 1949, followed by a law degree from the University of Connecticut School of Law in 1956. 
Meskill served as a Republican in the United States House of Representatives for six years before being elected Governor of Connecticut. During his time in Congress, Meskill was known for his moderate stance and his willingness to work across the aisle with Democrats to get things done. As governor, Meskill continued this approach, focusing on education and economic development. 
One interesting fact about Meskill is that in 1986, someone named a star after him as a gift from International Star Registry. The star is located in the constellation Microscopium, with coordinates RA 20h 47m 23.00s D-39° 5′ 0.00″. The star was named "Thomas J Meskill" and the star date is April 16, 1986. 
Microscopium is a small constellation located in the southern sky. It was first introduced in the 17th century by the French astronomer Nicolas Louis de Lacaille. In astrology, Microscopium is associated with science and research, making it an appropriate location for a star named after a governor known for his work in education and economic development. 
If you're looking to record a star name for someone special, International Star Registry is the perfect place to do it. With their "name a star" packages, you can give a unique and thoughtful gift that will last a lifetime. International Star Registry has been offering this service since 1979 and has named over 3 million stars in the sky. 
In conclusion, Thomas J. Meskill was a well-respected Governor of Connecticut known for his moderate approach to politics and his dedication to education and economic development. His star, located in the constellation Microscopium, serves as a reminder of his contributions to the state and the country. If you're looking for a unique gift for someone special, consider buying a star package from International Star Registry. 
References: 
FAQ 
Q. How much does it cost to get a star named after you?
A. The cost of naming a star varies depending on the package chosen. Basic packages start at around $54, while more elaborate packages can cost several hundred dollars. The cost includes the official certificate and other materials but does not include any actual rights or ownership over the star.
Q. Where is Governor Meskill's star located?
A. Governor Meskill's star is located in the Microscopium constellation. This is a lesser-known constellation that is best seen from the Southern Hemisphere during fall-time.