Governor Mike Lowry: A Named Star in Ursa Major | International Star Registry
Modified: July 1, 2023     Author: International Star Registry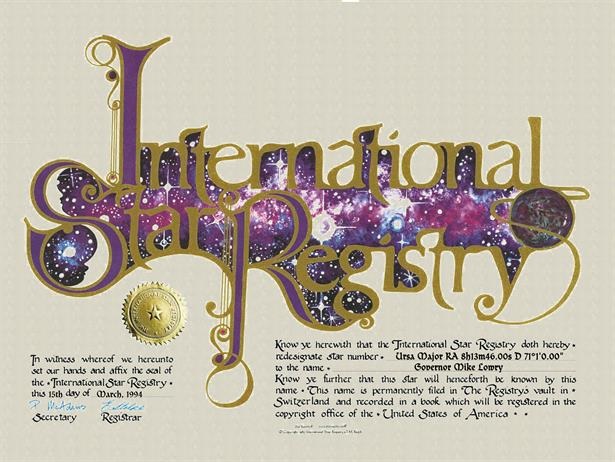 Michael Lowry served as the 20th Governor of Washington, from 1993 to 1997. Born on March 8, 1939, in St. John, Washington, Lowry was a Democrat who dedicated his life to serving his community and state. He graduated from Washington State University and earned a master's degree in social work from the University of Washington. Before entering politics, Lowry worked as a social worker, teacher, and later as a member of the Washington State House of Representatives, and United States House of Representatives. 
During his tenure as Governor, Lowry focused on improving education, expanding health care, and promoting job growth in Washington. His administration passed measures that ensured health insurance coverage for all children and improved funding for education. In recognition of his services to the state, he was named the Washington State Democrat of the Year in 1992. 
In March 1994, an unusual honor came Lowry's way when someone named a star after him. The star was named with the International Star Registry with the name "Governor Mike Lowry." The coordinates of the star are Ursa Major RA 8h 13m 46.00s D 71° 1′ 0.00″. Ursa Major is a well-known constellation in the northern sky, visible throughout the year in most latitudes. The constellation is often associated with the mythological figure of the Great Bear and has been significant in both astronomy and astrology for centuries. 
International Star Registry offers people the opportunity to record a star name in the listing and receive a beautiful certificate to commemorate the event. Customers can choose from a range of buy a star package options, including deluxe and ultimate gift sets. These packages include customized star charts, celestial maps, and other gifts to make the experience even more memorable. 
In conclusion, Michael Lowry was a dedicated public servant who made significant contributions to the state of Washington during his tenure as Governor. The honor of having a star named after him is a testament to his legacy. International Star Registry offers a unique gift option that can be used for any occasion, and its range of packages ensures that customers can find an option that suits their needs and budget. 
References: 
Biography of Michael Lowry, Washington State Governor's Office:

https://www.digitalarchives.wa.gov

 

International Star Registry:

https://www.starregistry.com

Ursa Major, Constellation Guide:

https://www.constellation-guide.com/ursa-major-constellation/

 
FAQ
Q. How much does it cost to name a star?
A. Naming a star through International Star Registry costs between $54 and $329, depending on the package you choose.
Q. Where is Governor Lowry's star located?
A. Governor Lowry's star is located in the Ursa Major constellation. Ursa Major is one of the most well-known constellations in the sky.