Governor Larry Hogan: A Named Star in Orion | International Star Registry
 Modified: July 1, 2023     Author: International Star Registry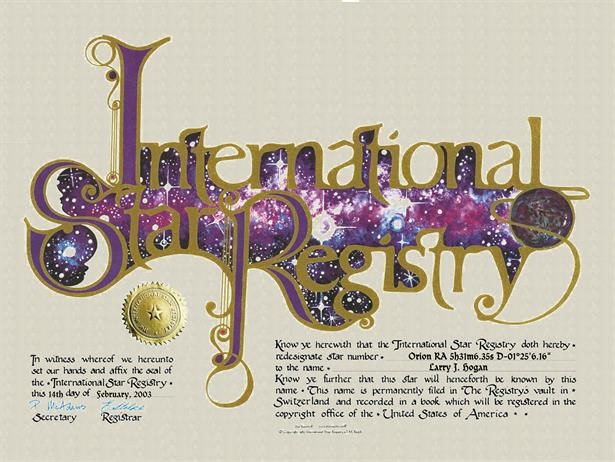 Larry Hogan is an American politician who is currently serving as the Governor of Maryland. Born on May 25, 1956, in Washington D.C., he attended Florida State University but left without graduating to pursue a career in real estate. Hogan has been involved in politics for several years, and his career in public service began in the administration of his father, Lawrence J. Hogan Sr., who was the U.S. Representative for Maryland's 5th congressional district from 1969 to 1975. 
After his father's tenure in Congress ended, Hogan founded his own real estate business, and in 2015, he became the 62nd governor of Maryland. His election was seen as a surprise upset, as he was a Republican who won in a heavily Democratic state. Hogan's campaign focused on fiscal responsibility, improving education, and making Maryland more business friendly. 
As Governor, Hogan has implemented a number of initiatives aimed at improving the state's economy and education system. He has also been a vocal advocate for the Chesapeake Bay and has worked to increase funding for environmental protection and restoration projects. Hogan has also been a strong advocate for healthcare reform and has been praised for his work in expanding access to healthcare for Maryland residents. 
In 2003, someone named a star after Governor Hogan as a gift from International Star Registry. The star, which is in the Orion constellation, was recorded with the name Larry J. Hogan, and the date of recording was February 14, 2003. The coordinates of the star are Orion RA 5h 31m 6.35s D-01° 25′ 6.16″. 
Orion is a prominent constellation that can be seen in the night sky from all parts of the world. It is named after the mythical hunter Orion, who was said to be a great warrior and hunter. According to astrology, Orion is associated with strength, courage, and determination, and is believed to be a powerful symbol for those seeking to overcome challenges and obstacles in their lives. 
International Star Registry is a company that allows people to record a star name and have it officially published in their book Your Place in the Cosmos. The company offers a variety of star packages, including the ability to name a star after a loved one, record a star name for a special occasion, or simply buy a star package as a unique and meaningful gift. 
FAQ
Q. How do I go about naming a star for a loved one?
A. Naming a star for a loved one can be a unique and meaningful gift. One way to do this is by using a star naming service like International Star Registry. To name a star through the International Star Registry, you can visit their website and select a package that fits your budget and preferences. The packages typically include a star certificate, a star map, and other additional items.
Q.
Where is Governor Hogan's star located?
A. Governor Hogan's star is located in the Orion constellation. Orion is one of the most recognizable constellations in the night sky.
In conclusion, Governor Larry Hogan has had a long and successful career in public service, and his contributions to the state of Maryland have been significant. His work in improving the economy, education, and healthcare has made a positive impact on the lives of many Maryland residents. The fact that someone named a star after him is a testament to his enduring popularity and influence. International Star Registry is a unique and meaningful way to commemorate special occasions and honor loved ones and is a gift that can be treasured for a lifetime. 
References: